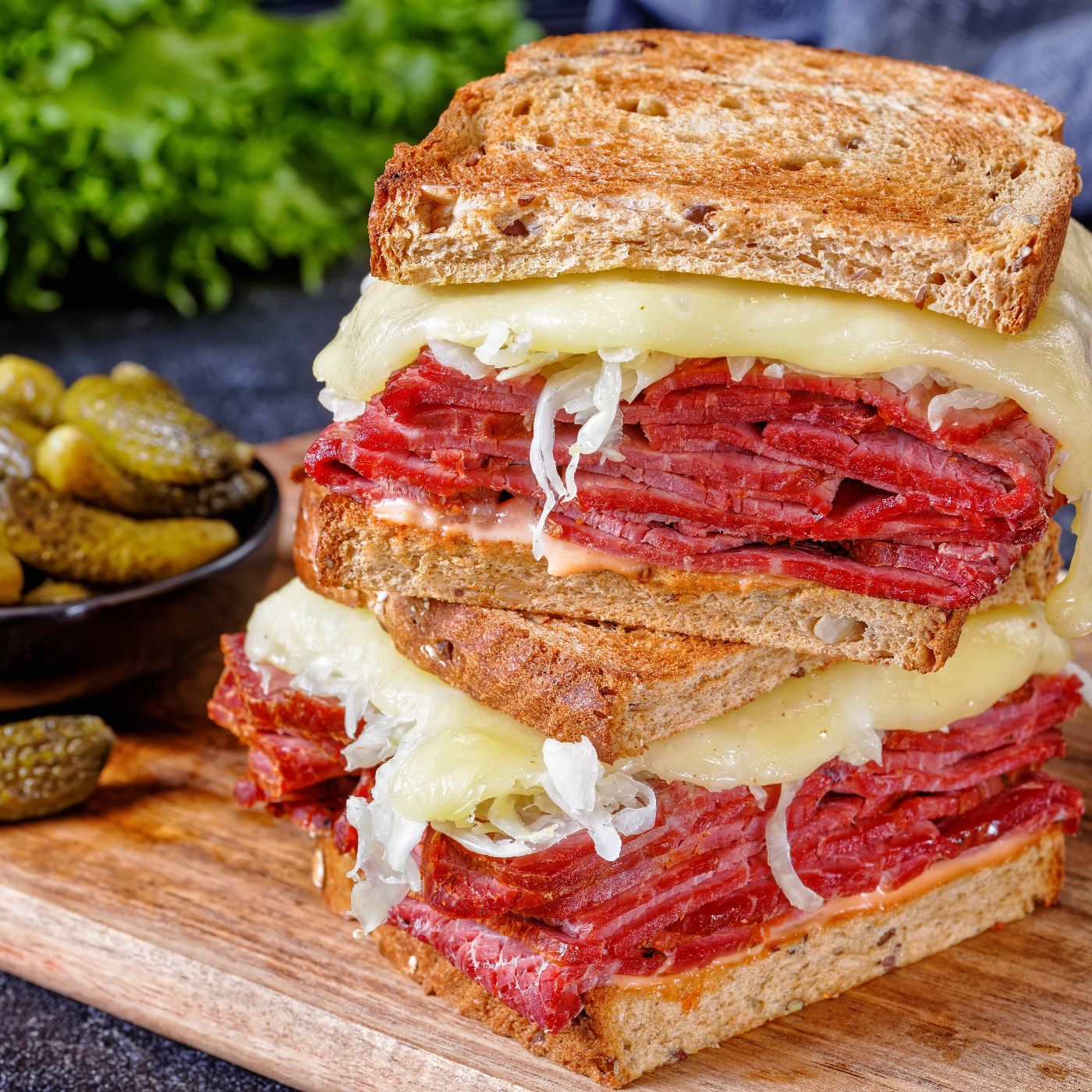 Reuben sandwich
You don't need to travel to New York to enjoy a classic Reuben Sandwich. With the winning combination of corned beef, Swiss cheese, sauerkraut, and a delicious homemade dressing, this is unmissable. Make it today!
How long will it take?
15 minutes
What's the serving size?
Serves 6
---
What do I need?
500 g cold corned beef, sliced
1 tsp olive oil
12 slices bread (rye is traditionally used)
4 tbsp unsalted butter, softened
1 cup sauerkraut, drained
12 slices Swiss cheese
For the dressing
½ cup mayonnaise
1 tsp Worcestershire sauce
1 tbsp onion, finely grated
2 cloves garlic, minced
2 tsp chilli sauce
1 tsp lemon juice
3 tsp horseradish sauce
¼ tsp smoked paprika
Salt, to taste
Freshly ground black pepper, to taste
How do I make it?
Prepare dressing first by combining all dressing ingredients in a small bowl and mixing well. Set aside.
Add olive oil to a frying pan over medium heat. When hot, add corned beef and cook until just heated.
Assemble sandwiches by adding dressing to the bread, then topping with corned beef, cheese and sauerkraut. Top with a second slice of bread and spread butter on the outside of the top slice of bread. Flip sandwich and add to a hot frying pan so that the buttered slice of bread is on the bottom. Butter the outside of the slice of bread that is now on top and cook the sandwich over medium heat for 2-3 minutes. Flip and cook for a further 2-3 minutes or until the cheese has melted and the bread is crisp.
Cut in half and serve immediately.
---
Share this recipe
---
More recipes like this