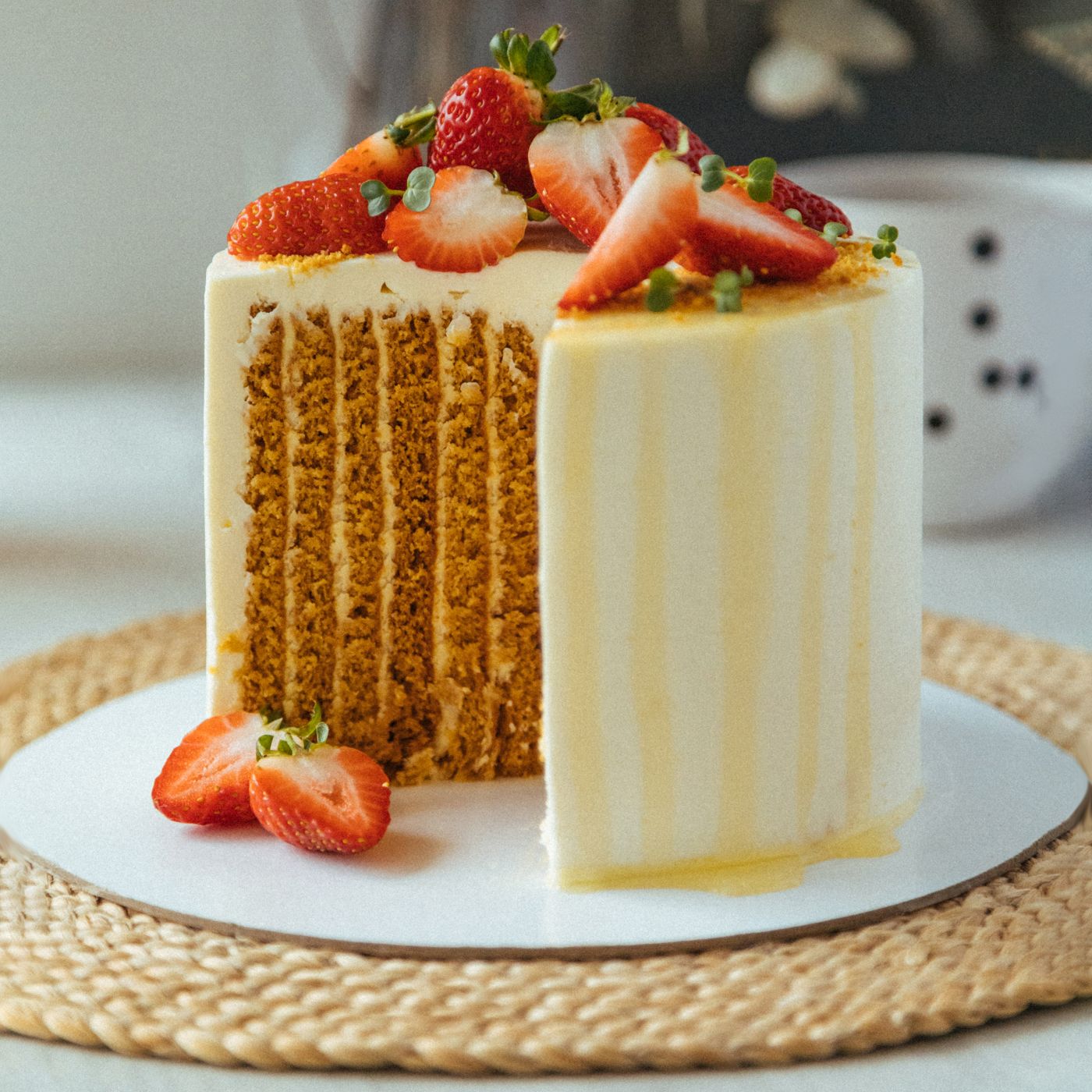 Honey Happiness Cake
It's our 21st birthday and what better way to celebrate than with cake? This golden, vertical layered honey cake is filled with creamy layers and frosted with a Swiss Meringue Buttercream. Follow the instructions carefully to get the vertical layering right. We'd love to see your creations so please share your cake with us on social media using the hashtag #myhappymoment
How long will it take?
1 ½ hours, plus cooling and setting time
What's the serving size?
Serves 10
---
What do I need?
For the cake
250 g runny honey
225 g unsalted butter
100 g brown sugar
3 large eggs, beaten
300 g self-raising flour
For the filling
250 mL thickened cream
1/3 cup cream cheese
For the Swiss meringue buttercream
2 large egg whites
110 g caster sugar
160 g unsalted butter, cubed and softened
Pinch of salt
1 tsp vanilla extract
To decorate
2 tbsp runny honey
Fresh strawberries
How do I make it?
Preheat oven to 180C.
Line two 23 x 33-centimetre rimmed baking trays with baking paper. Grease underneath and on top of the baking paper.
Add honey to a medium-sized saucepan with butter and brown sugar and melt slowly over low heat. When the mixture is liquid, increase the heat and boil for one minute, then remove from heat and set aside to cool for 20 minutes.
Add eggs to the honey mixture and mix well. Sift flour into a large bowl and add the honey mixture, beating with a wooden spoon until well combined.
Divide batter between the two prepared baking trays, spreading it out to evenly cover the trays.
Bake for 10 – 15 minutes, until the cakes are golden on top and spring back when poked.
Remove cakes from oven and turn out onto a sheet of baking paper dusted with icing sugar. Remove the baking paper that was on the base of the trays from the cakes and trim the edges so that you have two neat rectangles. Dust each cake with icing sugar. While the cake is still warm, start rolling from the short edge, so that the baking paper is inside. Allow the cake to cool completely, while rolled up; you can place in the fridge to speed this process up.
Meanwhile make the filling for the cake by adding cream to the bowl of an electric mixer. Whip until the cream starts to thicken. Beat cream cheese in a separate bowl to soften, then add it to the bowl of whipped cream and whip until medium peaks form.
Prepare Swiss Meringue Buttercream one hour before you are going to assemble the cake. Place egg whites and sugar in a heatproof bowl set over a small saucepan of gently simmering water. Stir frequently to dissolve the sugar until the mixture reaches 71C on a kitchen thermometer. Remove from heat and whisk until pale and thick in an electric mixer. Set aside to cool completely. Once cooled add the butter gradually one to two cubes at a time, ensuring the butter is fully incorporated before adding more. Continue until all butter has been added, then mix in salt and vanilla and set aside.
To assemble, unroll cooled cakes and remove baking paper. Use a sharp knife to cut each cake into two long strips. Spread filling evenly on top of each strip. Take one strip and gently roll the cake strip back up, then place this rolled strip on top of the next strip and continue rolling. Continue until you have used all four strips and you have a cake that resembles a large Swiss roll. Carefully turn the cake upright and place on a plate to decorate.
Frost the top and sides of the cake with the prepared Swiss Meringue Buttercream, using a spatula to smooth. Refrigerate until ready to serve.
To serve, drizzle the top of the cake with honey, allowing it to run down the sides and garnish with fresh strawberries.
---
Share this recipe
---
More recipes like this