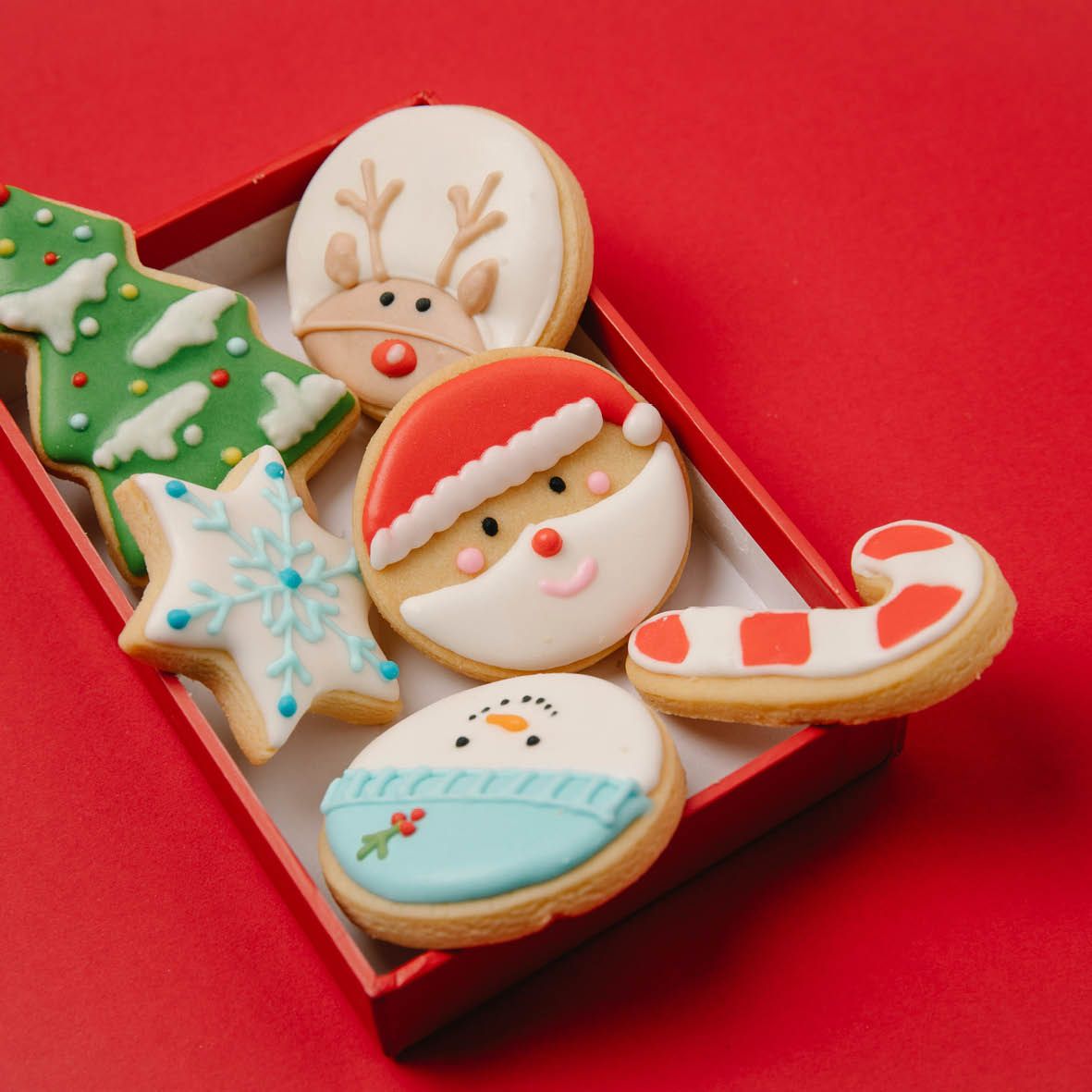 Christmas Cookies
These cookies are the ultimate hand-crafted gift. Use cookie cutters to make the shapes you prefer and then have some fun decorating them.
How long will it take?
Takes 30 minutes plus decorating time
What's the serving size?
Makes approximately 40 biscuits
---
What do I need?
For the cookies
225 g unsalted butter
220 g caster sugar
1 ½ tsp vanilla extract
1 egg
450 g plain flour
¾ tsp baking powder
¾ tsp salt
For the icing
500 g soft icing sugar
60 mL egg white
1 ½ tbsp glucose syrup
1 ½ tbsp water, add more if needed
Liquid or gel food colours of your choice
How do I make it?
Preheat oven to 180C.
Line 2 baking trays with baking paper.
Use an electric mixer to cream butter and sugar, then add vanilla and egg and beat until combined. Add flour, baking powder and salt, beating slowly to combine well.
Dust kitchen bench with some flour and remove dough from bowl. Use your hands to work the dough into a round shape, then use a knife to cut it in half. Form each half into a disc.
Roll dough out to a thickness of about 4 millimetres (note if your prefer crisp cookies roll to 3mm; if you prefer softer cookies roll to 6mm).
Cut shapes from dough using cookie cutters, then place them on baking trays.
Bake for 10 minutes or until the cookies are a pale gold colour and the edges just start to become golden brown. Remove from oven and set aside to cool completely.
Make the icing by combining icing sugar, egg white, glucose syrup and water in the bowl of an electric mixer and beating for 1 minute on medium speed (the icing should be smooth and glossy).
Divide icing into smaller bowls to add colouring. Add food colouring gradually until you reach your desired colour. If the icing becomes too thin after adding colouring, add a little extra icing sugar to get the right consistency.
Transfer icing sugar into piping bags or ziplock bags with the corner snipped off. Decorate cookies as desired
Note: this icing will set hard on the cookies so if you are adding sprinkles or other decorative elements, you should add them while the icing is still wet.
---
Share this recipe
---
More recipes like this