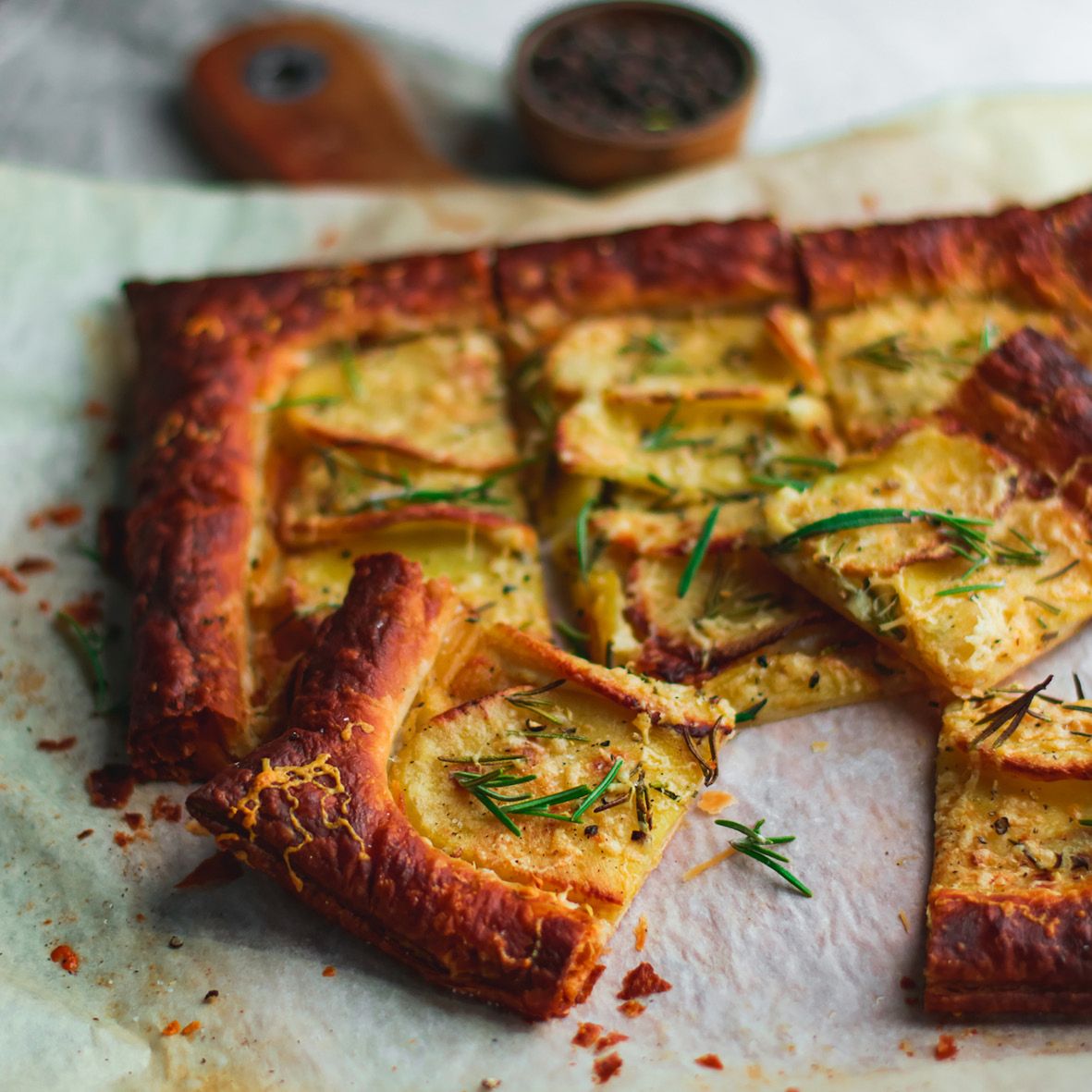 Miso potato bake tart
There's nothing more delicious and satisfying than the savoury combination of baked potato and crispy golden flakes of pastry. This Miso potato bake tart is sure to satisfy your comfort food cravings.
How long will it take?
1 hour
What's the serving size?
Serves 4
---
What do I need?
4 sheets of puff pastry
Half a head of cauliflower florets, roughly chopped
1 chicken stock cube
¾ cup coconut milk
¼ cup water
1 tbsp olive oil
1 leek, roughly chopped
3 tbsp cashews, soaked
2 cloves garlic
1 ½ tbsp. Meru Miso Fresh Mild Yellow Chickpea Miso
1 tbsp yeast
4 potatoes (Dutch Cream work well), peeled and thinly sliced
4 sprigs rosemary
Salt and pepper
Cheese (optional)
How do I make it?
To make the Miso Cream heat olive oil in a saucepan over medium heat and sauté the leeks, garlic and a big pinch of salt for a few minutes.
Toss in the cauliflower and mix around for another minute or so.
Add in coconut milk, water and stock cube and bring to the boil. Once boiling, reduce heat and simmer for 20 – 30 minutes, until the cauliflower is tender and almost all the liquid is absorbed.
Add in the Miso, yeast and cashews and stir to combine. Remove the saucepan from the heat and let the cauliflower cool before transferring it to a blender.
Once cooled, blend the cauliflower until it is silky smooth and creamy. Transfer to a jar and set aside.
Preheat oven to 180C. Place thinly sliced potatoes in a bowl with a drizzle of olive oil and a pinch of salt. Toss to coat.
Line baking trays with baking paper and place puff pastry on trays. Gently score a border about 2.5cm from the edge around the inside of each sheet of pastry. Prick the centre of the pastry with a fork.
Top the middle of the pastry with the miso cream and some sprigs of rosemary. Add a layer of potatoes and cook for 25 minutes in the oven.
Add more rosemary, cracked black pepper and cheese (if using) and cook for a further 3 – 5 minutes or until golden brown.
Recipe courtesy of Meru Miso https://merumiso.com/delicious-recipes
---
Share this recipe
---
More recipes like this