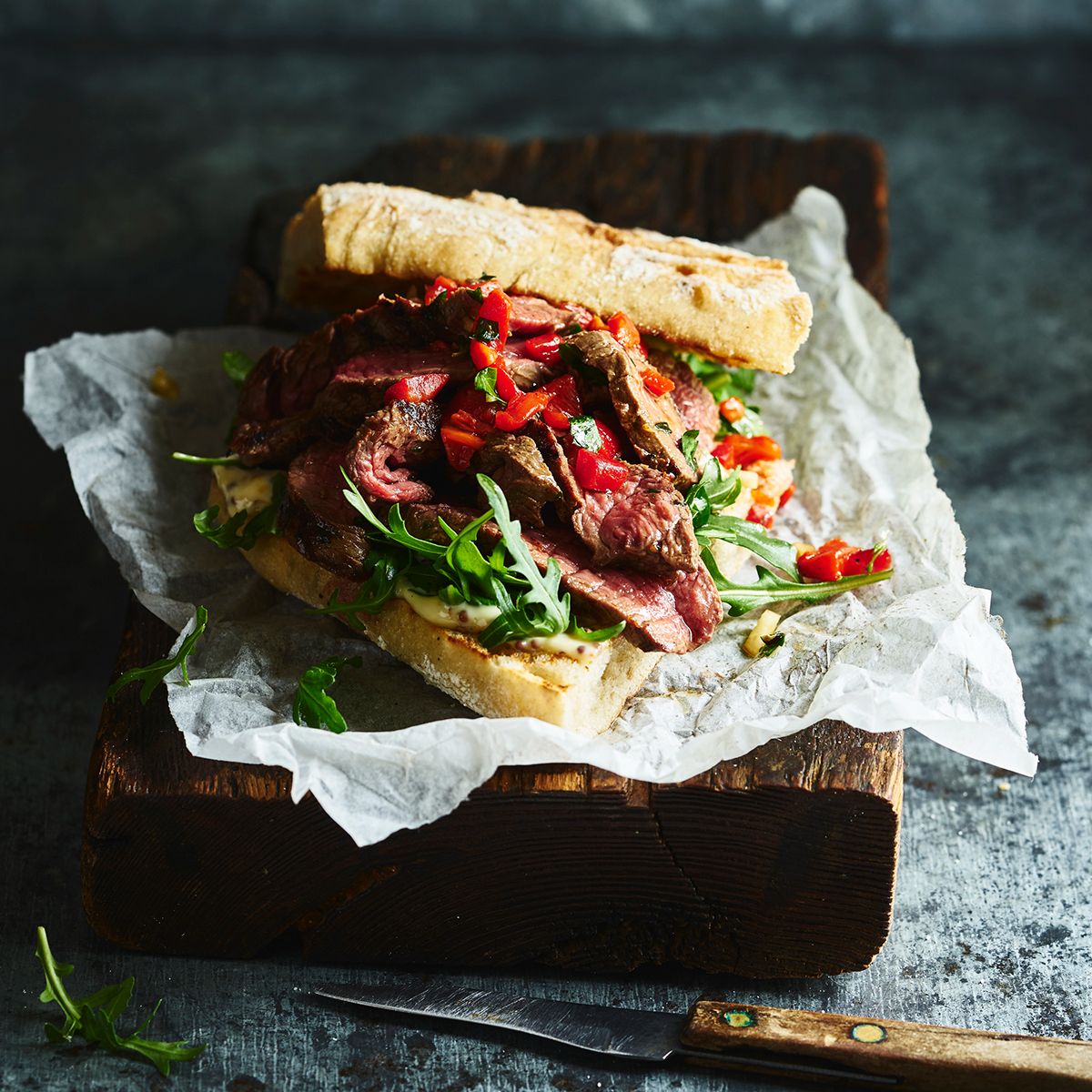 Super Special Steak Sandwich
This isn't just your run of the mill, ordinary steak sandwich; this is a super special steak sandwich. Meltingly tender slices of beef, topped with fresh rocket, roasted capsicum, and a homemade warm tomato chutney, sit inside thick slices of lightly toasted crusty bread. You're definitely going to want to make this one!
How long will it take?
30 minutes
What's the serving size?
Serves 4
---
What do I need?
2 tbsp olive oil
180 g cherry tomatoes
2 tsp balsamic vinegar
1 clove garlic, minced
3 tsp brown sugar
Salt
¾ cup mayonnaise
2 tbsp wholegrain mustard
1 tsp Dijon mustard
700 g rump steak
Freshly ground black pepper
1 tbsp vegetable oil
Crusty bread/rolls of your choice, lightly toasted
75 g rocket
100 g roasted red peppers, thinly sliced
How do I make it?
Make the chutney first by heating olive oil in a small saucepan over medium heat. Add tomatoes and cook for 3 minutes. Add balsamic vinegar, garlic, brown sugar and a pinch of salt and simmer for 10 minutes. Stir frequently and use the spoon to break down the tomatoes. Remove from heat, cover with foil to keep warm, and set aside.
Add mayonnaise and both mustards to a small bowl and stir to combine. Set aside.
Season steak generously with salt and pepper. Heat oil in a frying pan over high heat and cook steak to your liking, although medium rare is best for maximum tenderness and flavour. Remove steak from the heat onto a plate, and cover with foil to rest for 10 minutes.
Meanwhile, spread bread generously with the mayonnaise mixture and top with rocket. After steak has rested, slice thinly and layer on top of rocket. Add roasted red peppers, spoon over warm chutney, and serve immediately.
---
Share this recipe
---
More recipes like this