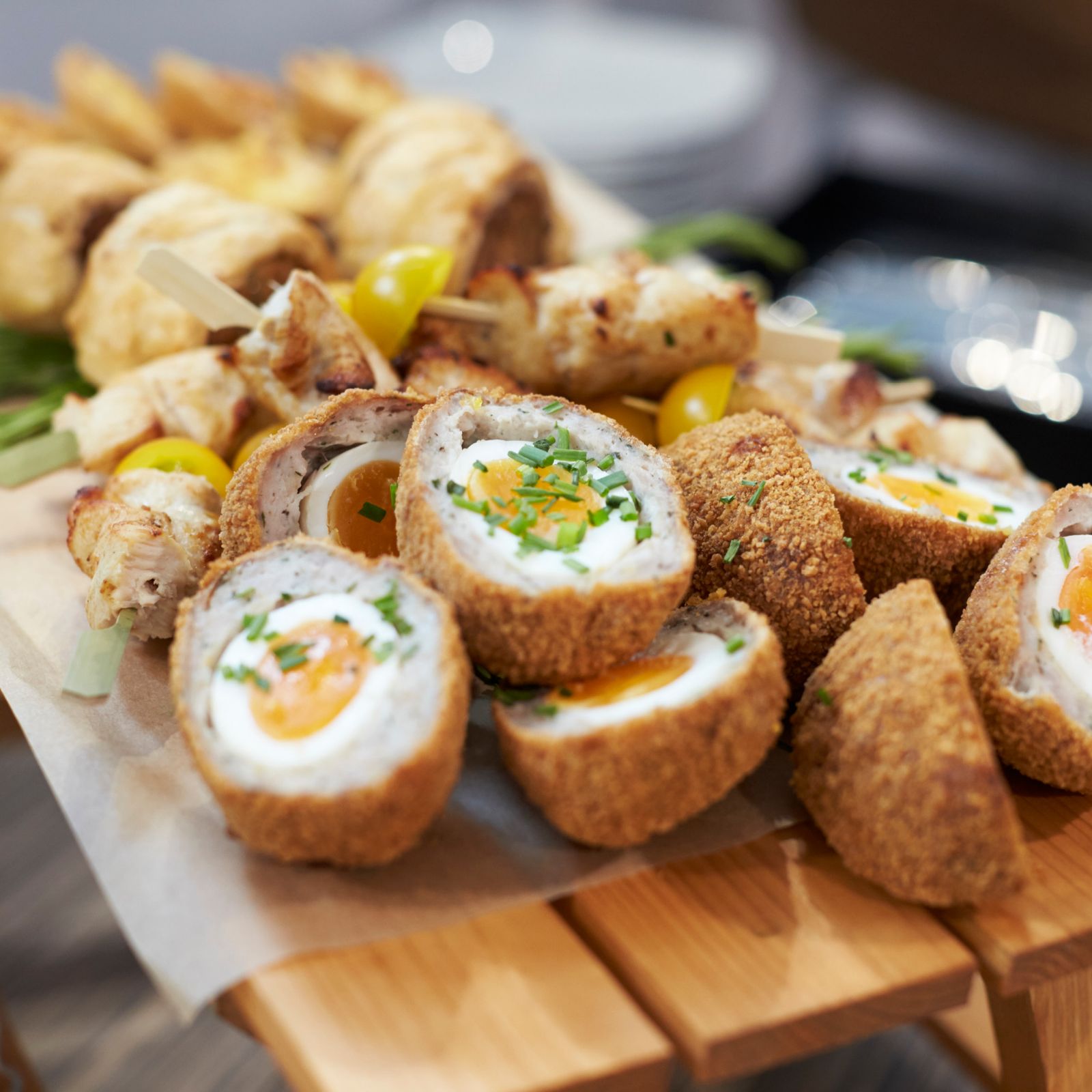 Scotch Eggs
Traditionally eaten cold with salad and pickles, scotch eggs are perfect for picnics or lunchboxes. To achieve the perfect soft-boiled egg, cook them for exactly three minutes, then plunge them into iced-water to stop them cooking.
How long will it take?
40 minutes
What's the serving size?
Serves 6
---
What do I need?
8 eggs
plain flour, to dust
500 g sausage mince
2 tbsp Worcestershire sauce
2 tbsp finely chopped chives, plus extra, to serve
breadcrumbs, to coat
vegetable oil, to deep-fry
How do I make it?
Place 6 eggs in a saucepan of water. Bring to the boil, then reduce heat to low and cook for 3 minutes for soft-boiled eggs.
Drain eggs and plunge immediately in a bowl of iced water until cool. Peel eggs and pat dry with paper towel. Dust with flour and set aside.
Meanwhile, place the sausage mince, Worcestershire sauce and chives in a bowl and knead until combined. Season with salt and pepper, then divide the mixture into 6 portions.
Whisk remaining 2 eggs with 1 tbsp water in a bowl. Place the whisked eggs and breadcrumbs in separate shallow bowls. Set aside until needed.
Flatten each portion of mince in the palm of your hand until 1 centimetre thick. Place a boiled egg in the centre and mould mince around egg to enclose, ensuring there are no cracks. Repeat with remaining mince and eggs.
Dip eggs in eggwash, then coat in breadcrumbs. Repeat process once more, then place on a plate and set aside.
Repeat double-crumbing process for all 6 eggs.
Fill a deep-fryer or large saucepan one-third full with oil and heat over medium heat to 170°C (or until a cube of bread turns golden in 15 seconds). Working in 2 batches, gently drop eggs into the oil and fry, turning halfway, for 6 minutes or until crisp and golden. Remove with a slotted spoon and drain on paper towel. Cut eggs in half and scatter with extra chives to serve.
---
Share this recipe
---
More recipes like this