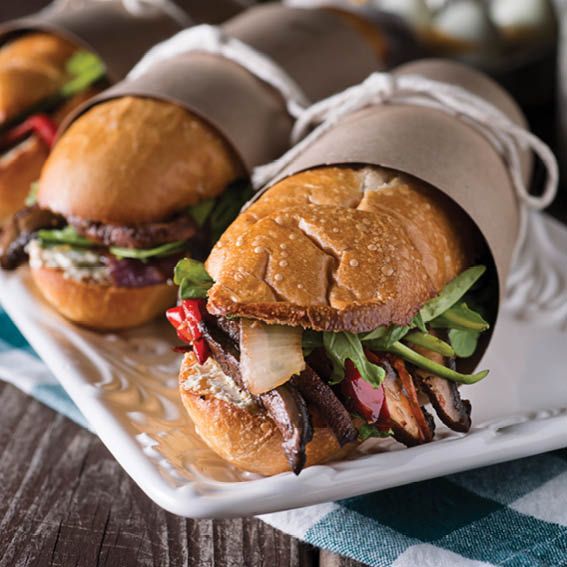 Roasted Vegetable and Goat Cheese Sandwich
This will change your sandwich game forever
How long will it take?
1 hour
What's the serving size?
Serves 6
---
What do I need?
1 medium eggplant, cut into 1cm slices
Salt
2 tbsp butter
2 large onions, thinly sliced
3 to 4 large mushrooms, stems removed
¼ cup olive oil
1 medium zucchini, cut into ½cm slices
175g goat cheese, crumbled
2 red capsicum, roasted
6 crusty bread rolls
How do I make it?
Preheat oven to 230C. Place eggplant slices on a rimmed baking tray lined with a double layer of paper towel. Season well on both sides with salt and leave to rest for 30 minutes, turning once half way through, to allow excess moisture to be extracted. Top with a double layer of paper towels and press down very firmly on each slice to compress. Set aside.
Cook the onions by melting butter in a large heavy-bottomed saucepan over medium-high heat. Add onions and cook, stirring frequently, until bottom of saucepan is glazed in a pale brown colour, approximately 8 minutes. Add 2 tablespoons water and scrape the glaze from the bottom with a wooden spoon. Continue to cook, stirring frequently until the glazed coating has built up again, about 3 minutes longer. Add 2 more tablespoons of water and scrape up browned bits. Repeat cooking, adding water and scraping until onions are completely softened and a deep, dark brown, about 20 minutes in total. Season to taste with salt and transfer to a bowl and set aside.
When eggplants are drained and compressed, toss in a large bowl with 1 tablespoon oil. Score a faint cross into the top of each mushroom. Rub the mushrooms with a tablespoon of oil and season with salt. Transfer eggplant and mushrooms to a wire rack set in a rimmed baking tray. Transfer to the oven and cook for 10 minutes. Flip eggplant slices and mushrooms and continue cooking until mushrooms are tender and well browned, about 10 minutes longer. Transfer mushrooms to a plate and set aside. Continue cooking eggplant until golden brown but not burnt, about 10 minutes longer. Remove from oven and set aside.
Heat remaining 2 tablespoons olive oil in a large frying pan over medium high heat. Add as many zucchini slices as will fit in one layer, season with salt, and cook, swirling pan occasionally, until golden brown on first side, about 3 minutes. Carefully flip slices using a thin metal spatula, season with salt, and cook until the second side is browned, about 3 miutes longer. Tranfer to a paper towel lined plate to drain and repeat with any remaining zucchini slices.
To assemble the sandwiches – split the rolls in half using a bread knife. Spread caramelised onions onto the bottom of the roll, top with roasted capsicum, eggplant, goat cheese, mushrooms and goat cheese. Place the other half of the roll on top and serve.
---
Share this recipe
---
More recipes like this