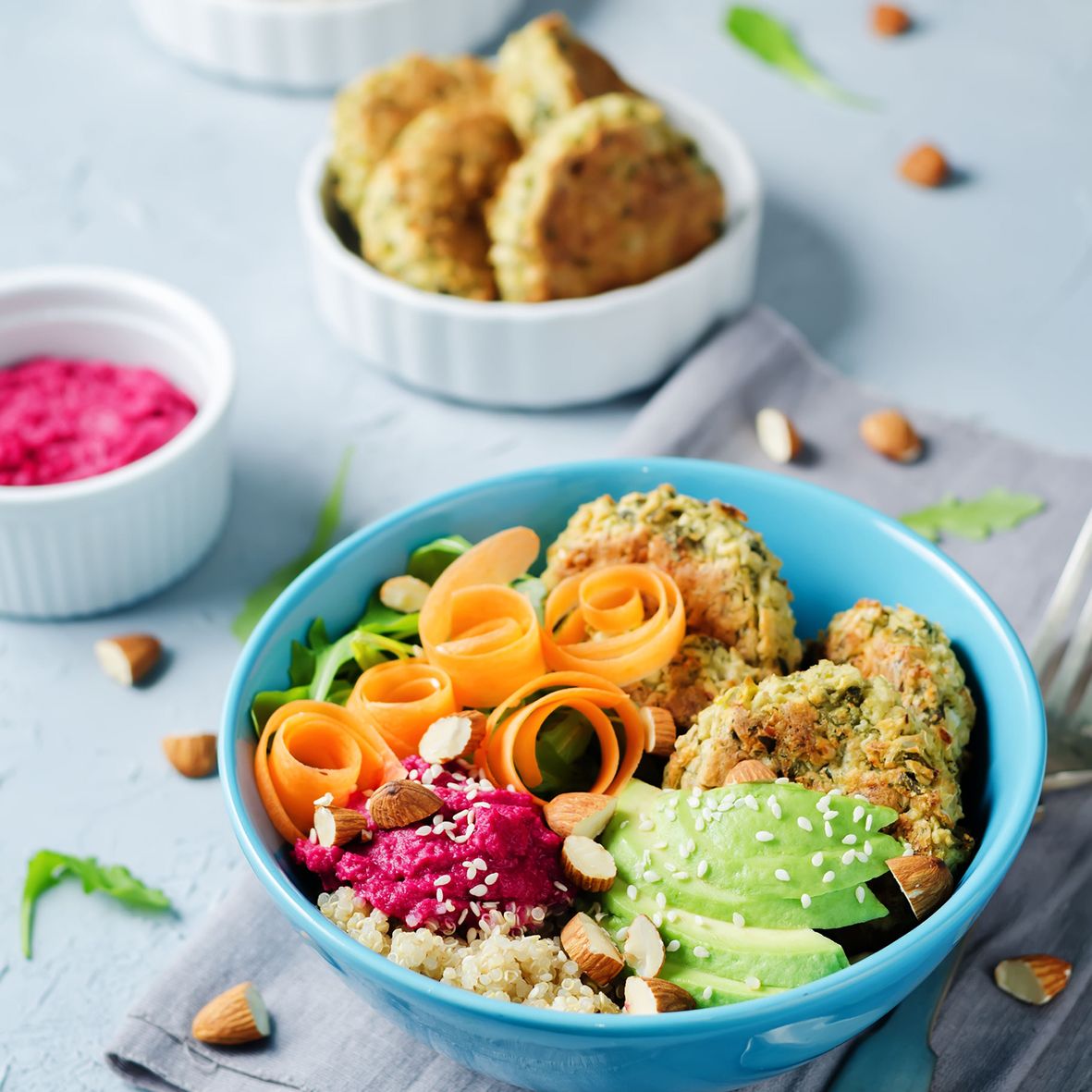 Quinoa and Falafel Bowls
Fresh, colourful and healthy, these quinoa bowls make a tasty lunch or dinner option. You can use the toppings that we have or experiment with other flavours.
How long will it take?
2 hours plus overnight soaking time
What's the serving size?
Serves 6
---
What do I need?
For the Quinoa
2 cups quinoa
4 cups water
For the Falafels
1 cup dried chickpeas, soaked overnight
½ cup brown onion, roughly chopped
1 cup parsley, roughly chopped
1 cup coriander, roughly chopped
3 cloves garlic
1 tsp cumin
1 tsp salt
½ tsp cardamom
¼ tsp black pepper
2 tbsp chickpea flour
½ tsp bicarbonate of soda
For the bowls
2 cups wild rocket leaves
2 avocados, sliced
2 carrots, peeled and cut into thin ribbons
1 x 230 g tub Hill Street Beetroot Dip
100 g almonds, roughly chopped

How do I make it?
Begin preparing the falafels the night before by soaking the dried chickpeas in water. Make sure the water covers the chickpeas by at least 7 centimetres because the chickpeas will swell in size.
Drain and rinse the chickpeas and add them to a food processor with onion, parsley, coriander, garlic, cumin, salt, cardamom and pepper. Pulse until the mixture comes together and looks like coarse sand. Put mixture into a bowl and add chickpea flour and bicarbonate of soda. Stir, cover and refrigerate for 1 hour.
Meanwhile make the quinoa, by adding quinoa and water to a saucepan. Bring water to a boil, then reduce to a simmer and cover. Cook for 15 minutes or until the water has absorbed. Remove pan from heat and fluff quinoa with a fork. Set aside to cool.
Preheat oven to 200C.
Use your hands to form the falafel into balls. Lightly spray a baking tray with cooking spray. Put falafel on the baking tray, pressing them gently to flatten. Spray the tops with a little cooking spray and bake in the oven for 25 to 30 minutes, flipping halfway through.
To assemble bowls, add quinoa and then top with rocket, falafels, avocado, carrot ribbons and a generous dollop of Beetroot Dip. Scatter with chopped almonds and serve.
---
Share this recipe
---
More recipes like this