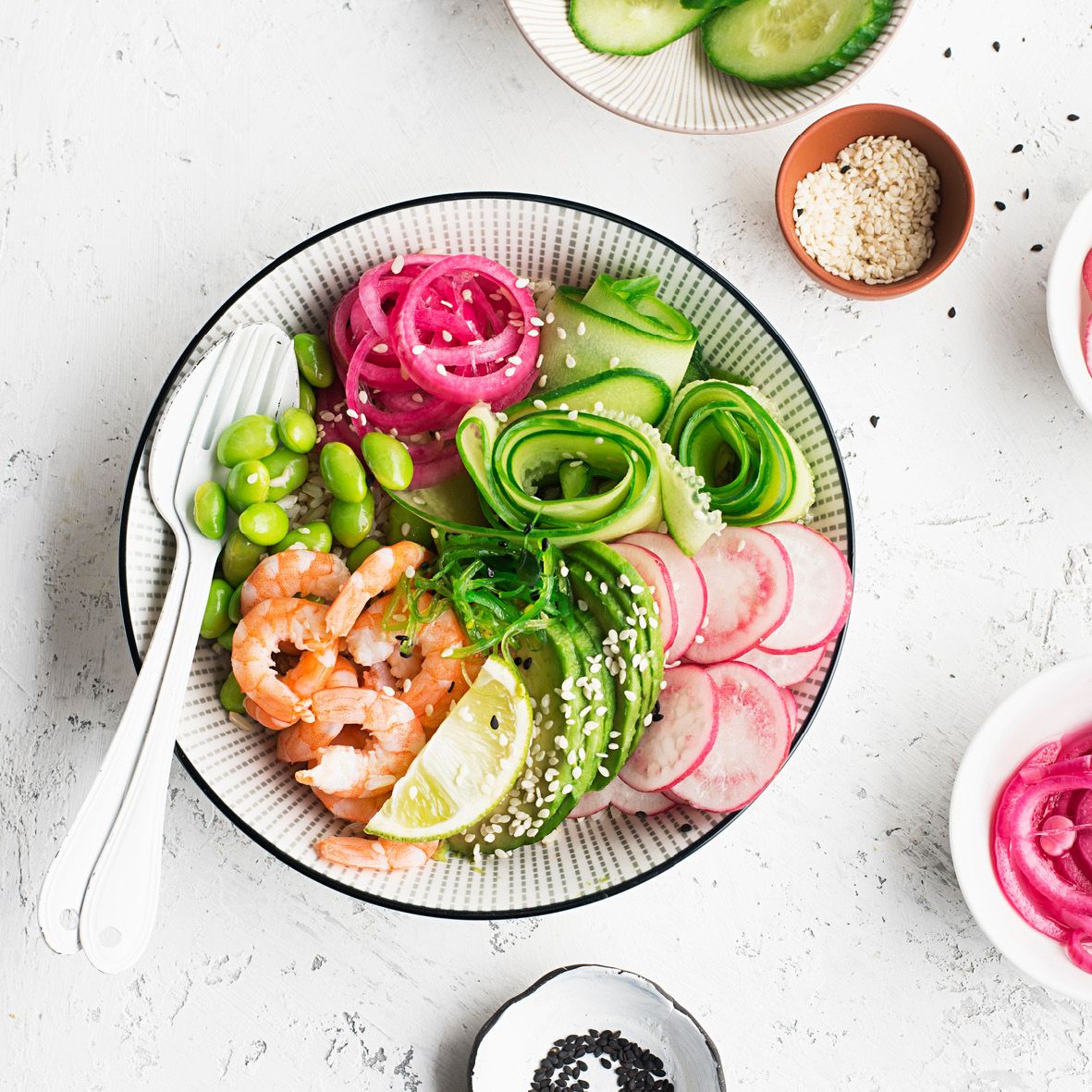 Pickled vegetable and prawn poke bowl
Freshness abounds in this prawn poke bowl.
How long will it take?
1 hour
What's the serving size?
Serves 2
---
What do I need?
500g cooked prawns
200g cooked brown rice
1 radish, finely sliced
Handful of edamame beans, cooked
Sesame seeds
1 avocado, finely sliced
Lemon to serve
For the sweet pickled onions
1kg red onions
2 bay leaves
1 tsp peppercorns
½ tsp mustard seeds
1 tsp fresh ginger, chopped
1 cup apple cider or white vinegar
1/4 cup water
½ cup sugar
1 tbsp salt
For the cucumber pickles
2 tbsp lime juice
1 tsp fish sauce
1 tbsp caster sugar
1 large cucumber, thinly sliced into ribbons
How do I make it?
For the cucumber pickles
In a medium bowl, beat lime juice, caster sugar and fish sauce untl the sugar is dissolved. Add the cucumber and toss to coat. Cover and refrigerate for 30 minutes to soften.
For the sweet pickled onions
Thinly slice the onions and place in a large jar.
Cover onions with bay leaves, peppercorns, mustard seeds and ginger.
Heat vinegar, water, sugar and salt in a saucepan until the water and sugar dissolve.
Pour the vinegar mix over the onions and herbs, leaving room at the top of the jar. Put the lid on the jar, allow to cool slightly and then place in the fridge to cool completely.
Assemble poke bowl by placing cooked brown rice in bottom of bowl and topping with other ingredients.
---
Share this recipe
---
More recipes like this