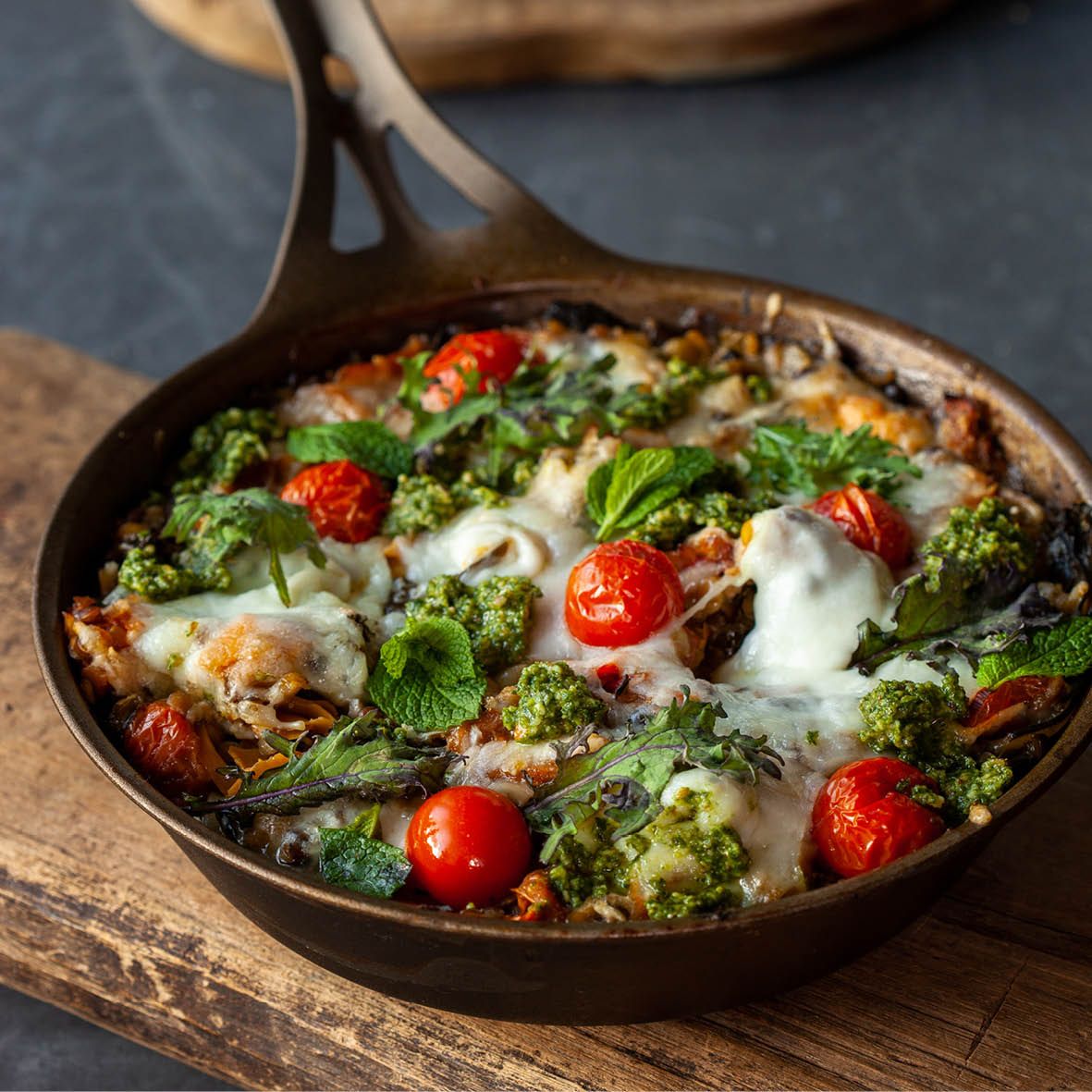 One-pot Lentil Bake with Kale Pesto
Hearty, healthy and versatile; you can make this one-pot wonder your own by using any veggies or herbs you prefer or have available.
How long will it take?
1 hour
What's the serving size?
Serves 3-4
---
What do I need?
100g French Puy lentils
150g Red lentils
60g kale, stalks removed, leaves torn
1 small zucchini, shaved
1 carrot, shaved
200g cherry tomatoes, plus 50g for finishing
2 tbsp mint leaves, torn, plus extra for garnish
1 tbsp thyme leaves
4 spring onions, finely chopped
2 cloves garlic, crushed
1 tbsp apple cider vinegar
3 tbsp olive oil
1 large ball Buffalo Mozzarella (200g)
50g parmesan, grated
Salt and pepper
For the Pesto
¼ cup roasted almonds
¼ cup roasted cashews
2 cups (80g) baby kale leaves, plus extra for garnish
2 tbsp apple cider vinegar
20g parmesan, grated
100ml olive oil
How do I make it?
Pre heat the oven to 180C. Rinse both lentils until the water runs clear.
In a large bowl mix together the lentils, vegetables, 200g of the cherry tomatoes, the herbs, garlic, vinegar, oil, 350ml water, ½ teaspoon of salt and ¼ teaspoon pepper. Mix well and place in a medium sauté pan. Bring to the boil, cover with a lid and bake in the oven for 40 minutes, or until the lentils are aldente.
Meanwhile make the pesto; Place all ingredients in a blender and blitz to combine. Add more oil if needed, then season generously with salt and pepper. Cover until ready to use (leftover pesto will keep for a week covered in the fridge.)
Sprinkle the bake with a light coating of parmesan. Top with torn pieces of mozzarella and the remaining cherry tomatoes. Bake, uncovered, for a further 10 minutes, until the cheese is melted.
Garnish with pesto, mint and baby kale, and serve with crusty bread.
---
Share this recipe
---
More recipes like this