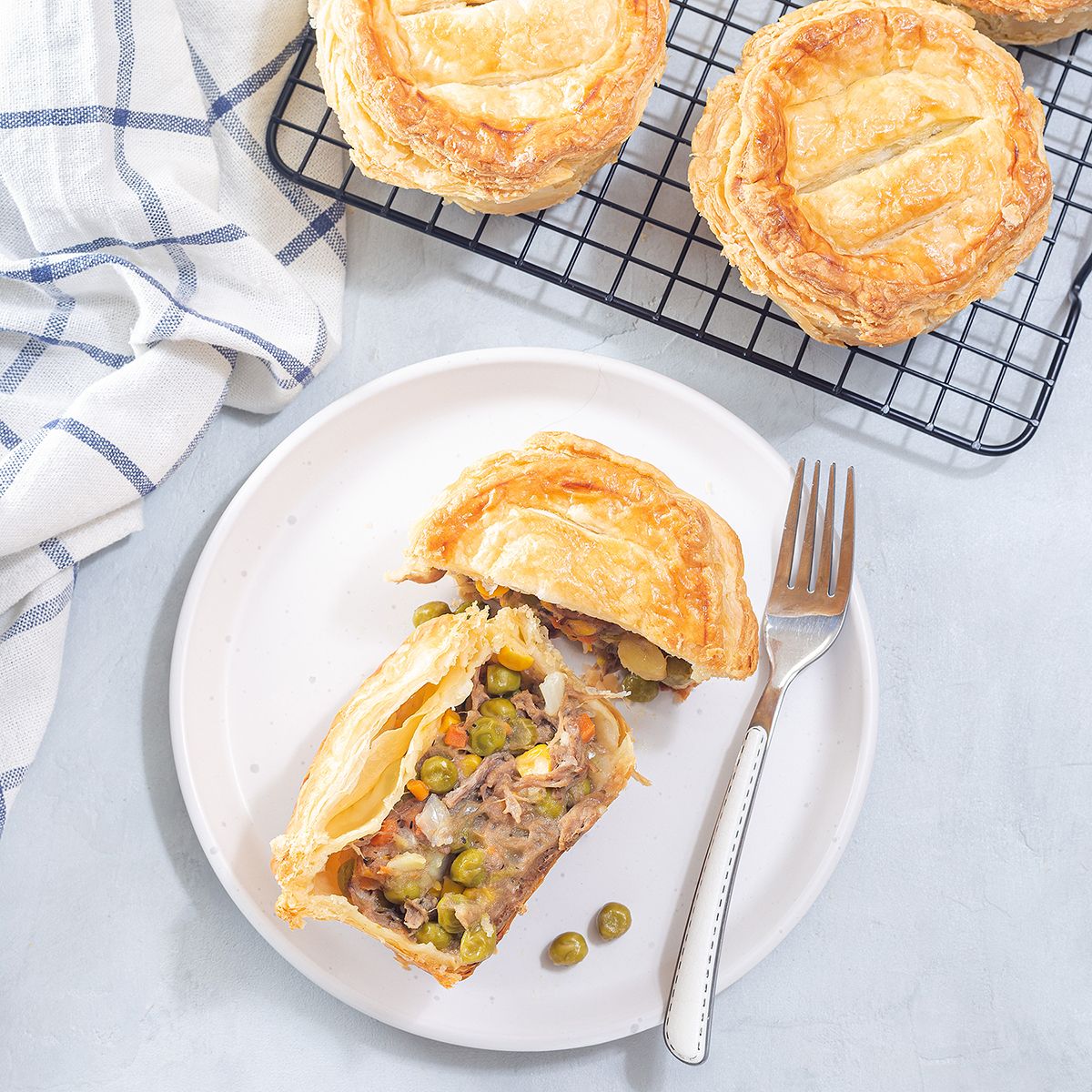 Lamb Party Pies
Get grand final ready with these tasty party pies. Filled with lamb and vegetables, in a rich sauce, they're a guaranteed winner.
How long will it take?
1 hour
What's the serving size?
Makes approximately 10 -12
---
What do I need?
2 tbsp olive oil
500 g diced lamb
150 g brown onion, diced
1 large carrot, grated
1 tbsp plain flour
80 mL red wine
200 mL beef stock
1 ½ tbsp tomato paste
30 g butter
3 sheets ready rolled puff pastry
1 egg
How do I make it?
Heat 1 tbsp olive oil in a large saucepan over medium-high heat. Add lamb in batches and cook uncovered until browned all over. Remove lamb from pan and set aside.
Heat remaining oil in the saucepan and add onion. Cook, stirring until the onion has softened, then add carrot and flour and cook, stirring for 2 minutes. Pour in wine, beef stock, and tomato paste and cook, stirring until the mixture boils and thickens. Return lamb to the saucepan and add peas. Reduce heat to low and cook for 5 minutes, then remove from heat and set aside to cool for 15 minutes while you prepare the pastry.
Preheat oven to 200C. Grease holes of a muffin pan with butter.
Cut 10 large and 10 smaller rounds from the pastry (large rounds should be big enough to fit the base and sides of the muffin pan). Place large rounds in the muffin pan and prick the bases with a fork.
Spoon lamb mixture into pastry cases.
Lightly beat egg, and brush a little around the top of the pastry, then top with the smaller rounds and gently press the edges to seal. Cut a small slit in the top of each pie to allow steam to escape during cooking. Brush pies with the remaining egg and bake for 15 minutes or until lightly browned.
---
Share this recipe
---
More recipes like this