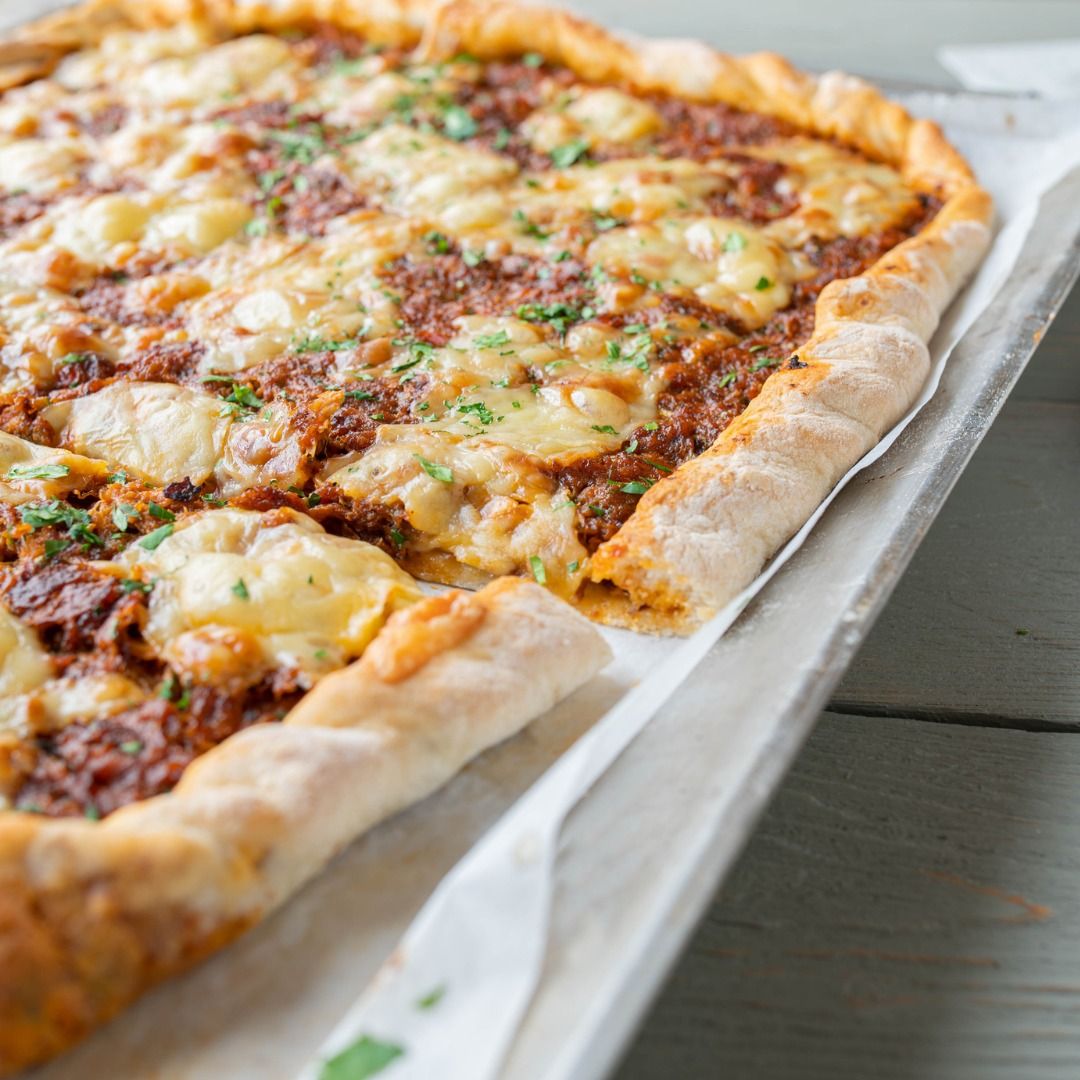 Homestyle Pizza
Who needs delivery when you can create your own mouth-watering masterpiece? Get ready to indulge in the deliciousness of our homestyle pizza topped with budget-friendly beef mince and ooey, gooey mozzarella.
How long will it take?
50 minutes
What's the serving size?
Serves 6
---
What do I need?
For the pizza base
3 cups self-raising flour
2 cups Greek yoghurt
1 tbsp olive oil
For the pizza sauce
35 g tomato paste
100 g passata
¼ tsp dried oregano
1 clove garlic, minced
¼ tsp onion powder
¼ tsp freshly ground black pepper
¼ tsp sugar
For the topping
250 g beef mince
2 cloves garlic, minced
¼ tsp dried oregano
¼ tsp dried basil
¼ tsp salt
¼ tsp freshly ground black pepper
200 g grated mozzarella
200 g fresh mozzarella, sliced into rounds
How do I make it?
For the pizza dough add flour and yoghurt to the bowl of an electric mixer. Use the dough attachment to combine flour and yoghurt together and then continue beating for 2 minutes. Turn out onto a floured surface and knead for 2-3 minutes.
Preheat oven to 220C.
Lightly grease a baking sheet with 1 tbsp olive oil.
Use a rolling pin to roll pizza dough out into a rectangle shape to fit the baking sheet, then transfer the dough to the sheet while you prepare the remaining ingredients.
Make the pizza sauce by adding tomato paste and passata to a bowl. Add remaining ingredients and mix to combine. Taste and adjust seasoning if desired. Spread sauce onto the pizza dough, leaving a 1 ½ centimetre border around the edges. Sprinkle grated mozzarella over the dough.
Make the topping by working beef mince, garlic, oregano, basil, salt, and pepper together in a bowl. Heat a non-stick frying pan over medium-high heat and add mince mixture. Cook, using a spoon to break the mince up into crumbles, until the beef is cooked through.
Add cooked mince to the pizza, then arrange mozzarella slices on top.
Bake for 20 minutes or until the crust is golden brown and the cheese has melted.
Remove from oven and allow to cool for 5 minutes before slicing and serving.
---
Share this recipe
---
More recipes like this