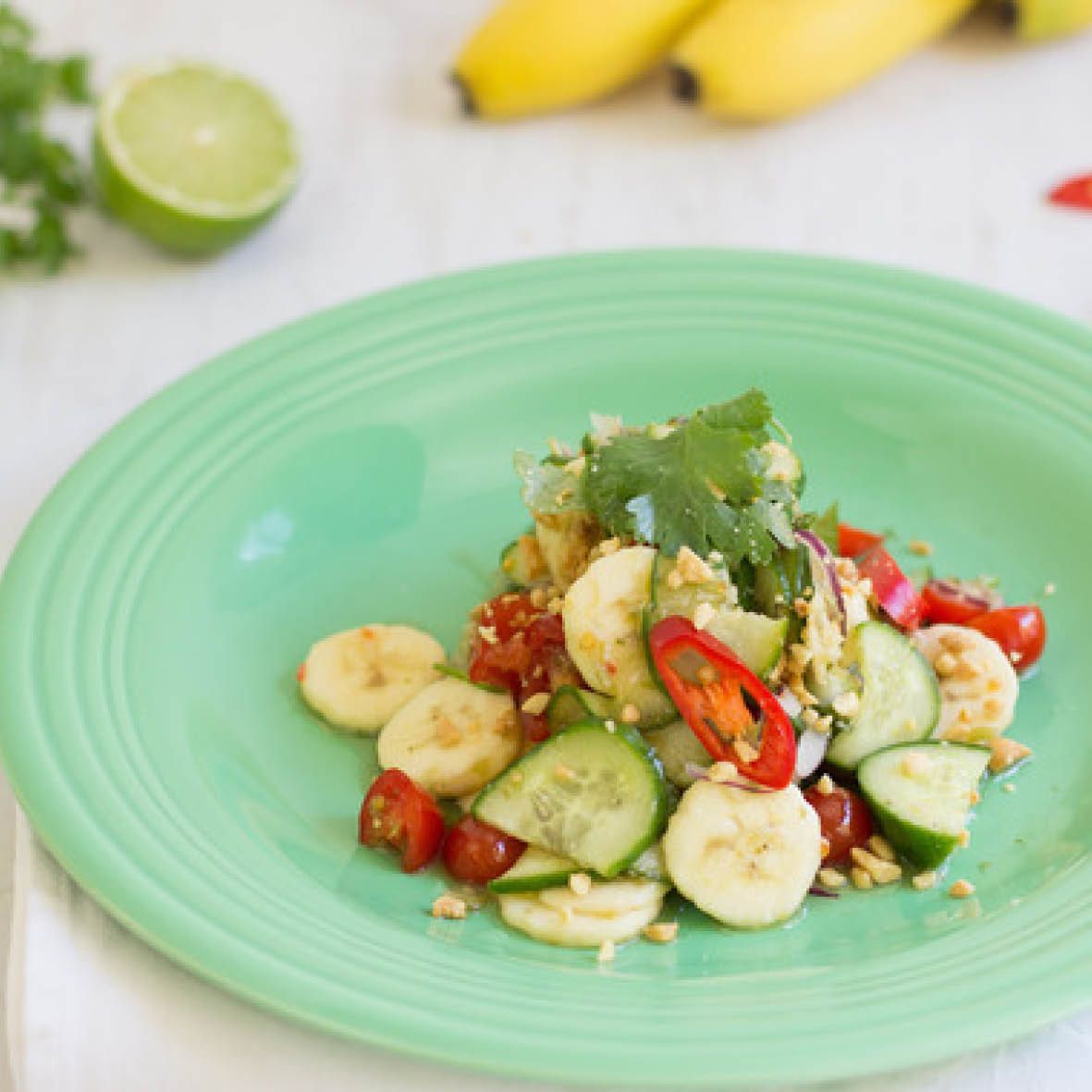 Green banana som tum Thai salad
This is a great way to use green bananas. The natural sweetness of the bananas balances the chilli.
How long will it take?
15 minutes
What's the serving size?
Serves 2
---
What do I need?
2 green or just ripe bananas sliced (last minute)
60 gm or 1/3 cup light palm sugar crushed
2 x cleaned coriander roots and some stems (the best flavour) chopped
1 clove of garlic
1 small red chilli, chopped
¼ cup lemon or lime juice
2 teaspoons fish sauce
1 x 250 gm punnet cherry tomatoes (chopped)
½ a small Spanish onion (or to taste) - shredded very finely
1 ½ cups sliced Lebanese cucumber or 1 large one shredded
¼ cup crushed dry roasted peanuts
How do I make it?
Put the crushed palm sugar and 2 tablespoons of boiling water in a bowl and set aside to cool
Put the coriander, chilli, lemon juice, sugar and water, fish sauce and garlic in the food processor and process till fine. Pour into a medium sized bowl.
Add the chopped tomatoes, Spanish onion and cucumber to the bowl. Then add the very finely sliced green banana. Toss well. Sprinkle with peanuts and a bit of extra coriander.
Use a food processor or pestle and mortar to crush the dressing ingredients. The secret of this salad is to really shred and chop all the ingredients except the bananas. Make this just before you want to eat and serve as a side or with seafood or chicken.
Recipe from Australian Bananas
---
Share this recipe
---
More recipes like this