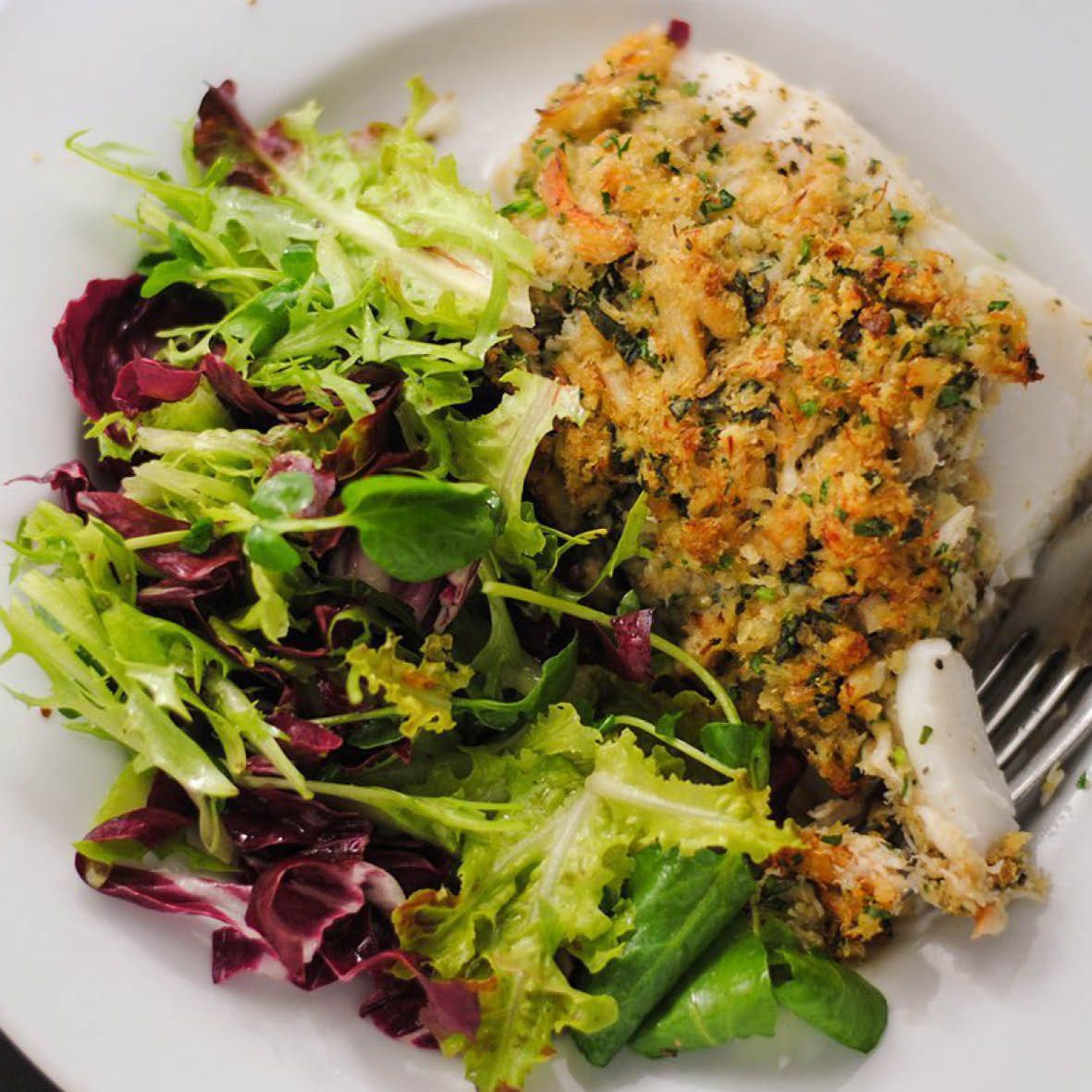 Cray Crusted Pink Ling with Lemon Chive Sauce
Fresh pink ling fillets get the rock-star treatment with a crunchy, golden crust of crayfish and herbs and a tangy lemony sauce. This easy-to-make dish would be a great dinner-party dish, although it is equally as good as a mid-week meal for the family to enjoy.
How long will it take?
30 minutes
What's the serving size?
Serves 4
---
What do I need?
4 x 200 g fillets of pink ling
Salt and freshly ground black pepper
For the Cray Crust
300 g cooked Southern Rock Lobster (crayfish) meat, finely diced
3 tbsp mayonnaise
Juice of ½ a lemon
2 tbsp chopped chives
Dash of Tabasco sauce
For the Crumb
50 g fine white breadcrumbs
25 g Parmesan, grated
For the Lemon Chive Sauce
4 tbsp mayonnaise
200 g crème fraiche
Juice of ½ a lemon
3 tbsp chopped chives
Dash of Tabasco sauce

How do I make it?
Preheat oven to 200C.
Line a baking tray with baking paper.
Pat pink ling fillets with paper towel to remove excess moisture, then season with salt and pepper and place on baking tray.
Add crayfish meat to a bowl with other Cray Crust ingredients. Mix to combine. Spread mixture over the top of the pink ling fillets.
Mix breadcrumbs and parmesan together in a small bowl and sprinkle over the top of the Cray Crust.
Bake for 15-20 minutes, or until the fish is cooked through and the breadcrumbs have turned golden and crunchy.
Combine all sauce ingredients together in a bowl or jug and serve with the fish.
---
Share this recipe
---
More recipes like this