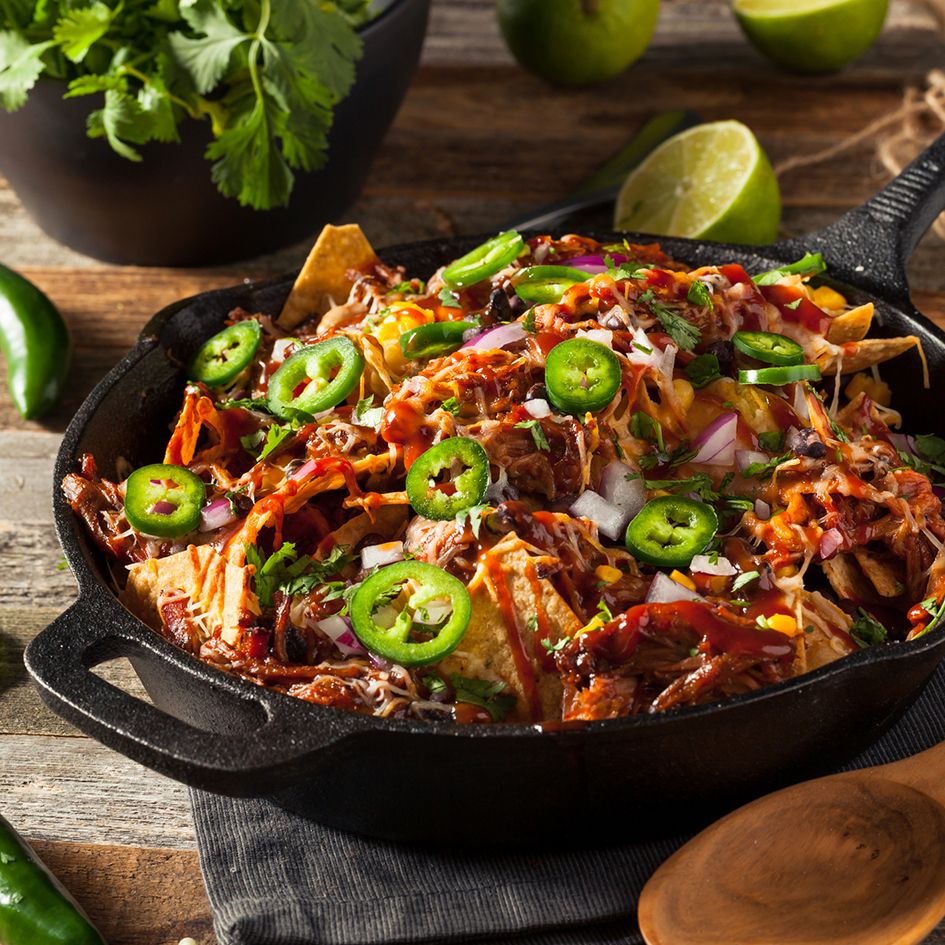 Barbecue Pulled Pork Nachos
Spice up your evening with these seriously tasty nachos
How long will it take?
Prep time 1 hour, Cooking time 5 to 7 hours
What's the serving size?
Serves 4-6
---
What do I need?
For the pork rub
1/4 cup smoked paprika
1/4 cup sea salt
1/4 cup brown sugar
1/4 cup chilli powder
1/4 cup ground cumin
2 teaspoons ground black pepper
For the pork
2kg pork shoulder
1 can or bottle of your favourite beer
For the barbecue sauce
2 cups tomato sauce
1 cup whole-grain mustard
1/2 cup apple cider vinegar
1/4 cup bourbon
1/4 cup reserved pork rub
For the nachos
1 large bag tortilla or corn chips
1 can black beans, drained and rinsed
crumbled goat cheese
grated cheddar cheese
red onion, sliced or diced
thinly sliced spring onion
thinly sliced green chilli
sour cream to serve
How do I make it?
Barbecue sauce
Combine all your ingredients in a small pot, and whisk them to incorporate together.
Put the pot on the stove over medium heat, and wait for the sauce to start bubbling, stirring occasionally.
Let it bubble for about a minute (while stirring a little bit), and then pull it off the heat and set aside, or refrigerate if making ahead.
Pulled pork
Preheat the oven to 150C, and then combine all the dry ingredients for your pork rub, making sure you mix the ingredients well so that everything is evenly distributed.
Now rub down your pork. There's a possibility you'll have more rub than you need depending on how big your pork shoulder is, but that's ok.
Put rubbed-down pork in a baking dish and pour in the beer. Cover with foil and place in the oven. Every hour after the first couple hours you can go in and baste it. Depending on your oven and the size of your shoulder it'll take 5-7 hours.
Remove it out of the oven and let it cool before you start pulling it apart with a fork.
Mix the pulled pork with enough sauce (reheated if made ahead) to coat to your liking.
Nachos
Preheat the oven to 180C, then arrange a thick layer of tortilla or corn chips on a foil and baking paper wrapped baking tray.
Top nachos with pork, goat cheese, red onion, beans, cheddar cheese, spring onion and chilli.
Cook in oven for 20-30 minutes or until the cheese is fully melted and starting to crisp. Serve with sour cream and guacamole if desired.
---
Share this recipe
---
More recipes like this