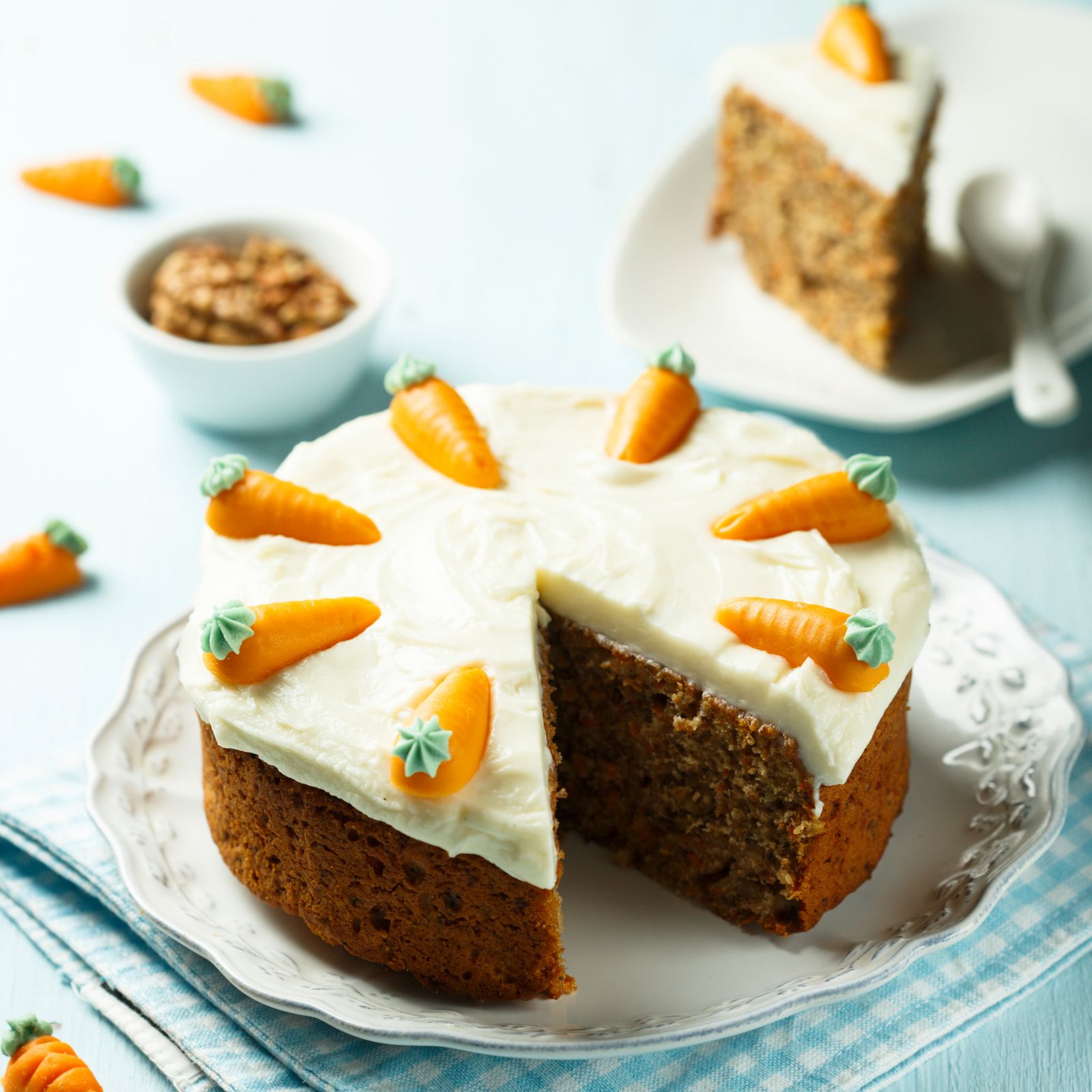 Vegan Carrot Cake
If you're looking for an easy to make, moist and appetising cake, this is it! This carrot cake is vegan and made in one bowl, so less washing up. Winning!
How long will it take?
1 hour
What's the serving size?
Serves 12
---
What do I need?
2 flax eggs (2 Tbsp flaxseed meal + 5 Tbsp water)
2 cups plain flour
1 tsp baking powder
1 tsp bicarbonate of soda
½ tsp salt
2 tsp cinnamon
1 tsp nutmeg
250g grated carrot
1 ½ cups brown sugar
½ cup olive oil
1 tsp vanilla extract
1 tbsp apple cider vinegar
1 cup chopped walnuts
For the Frosting
3 ¾ cups icing sugar
3 tbsp vegan butter
1 tsp vanilla extract
2 tsp apple cider vinegar
3-4 tbsp freshly squeezed lemon juice
How do I make it?
Preheat oven to 180C.
Grease a 20 cm cake tin and line the bottom with baking paper.
Sift flour, baking powder, bicarb soda, salt, cinnamon and nutmeg into a mixing bowl.
Add carrot and brown sugar.
Add flax eggs and oil, vanilla and apple cider vinegar.
Mix everything together with a wooden spoon.
If the batter is too dry after mixing, let it sit for a couple of minutes as the carrots will release moisture. If it is still too dry, add a little almond or coconut milk but only as much as you need to get the consistency wet enough to mix properly.
Add chopped walnuts and stir through.
Place mixture into prepared cake tin and bake for 30 minutes or until a skewer inserted in the centre comes out clean.
Allow the cake to cool completely while you prepare the frosting.
Combine icing sugar, vegan butter, vanilla, apple cider vinegar and 3 tbsp lemon juice in a bowl. Blend with a stick blender. If the frosting is too thick add more lemon juice until you achieve the desired consistency. If it is too thin add more icing sugar.
Add frosting to the cool cake and decorate.
---
Share this recipe
---
More recipes like this