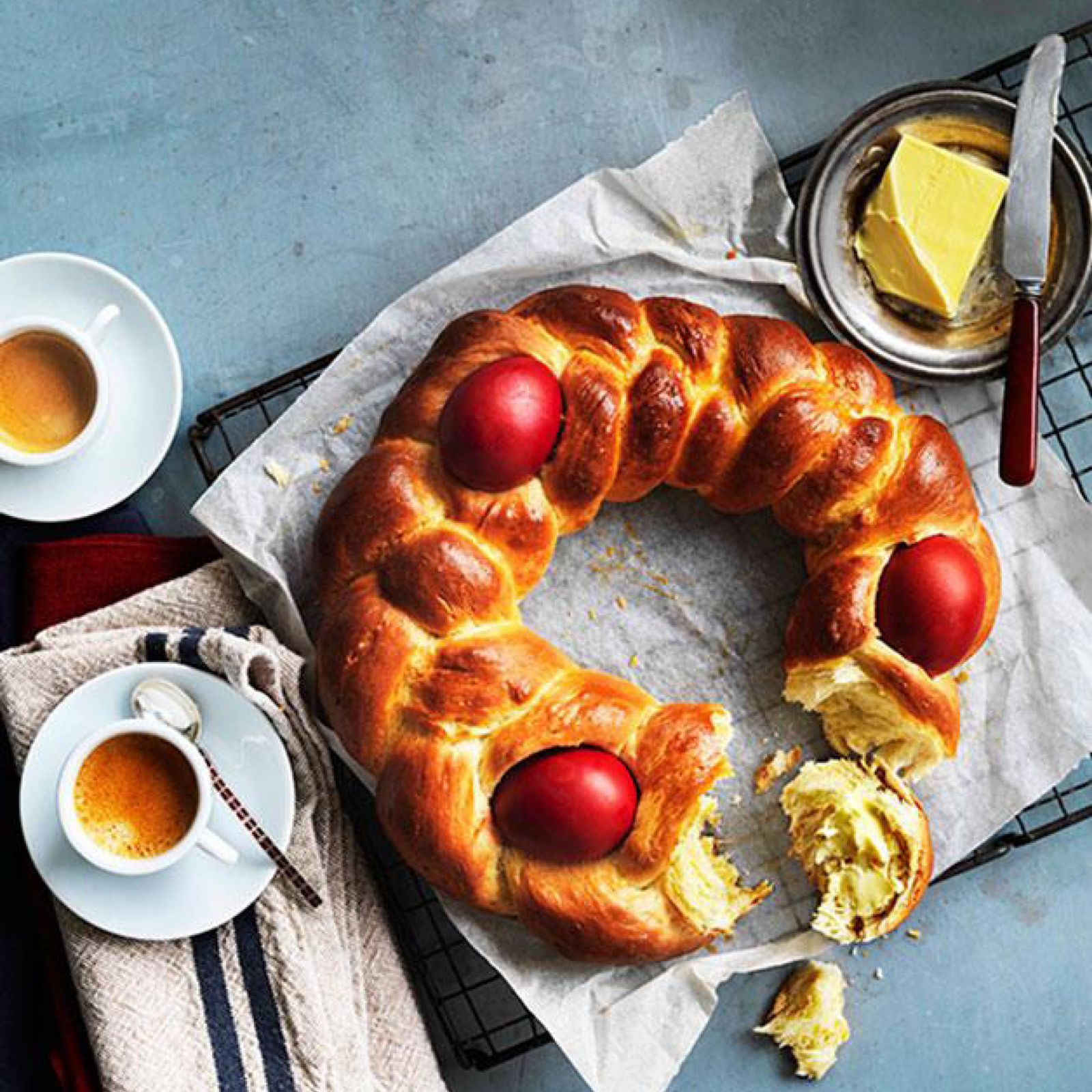 Tsoureki (Greek Easter bread)
Laden with tradition and symbolism, this fragrant Greek sweet bread is similar to brioche in taste and texture. Tsoureki is usually made into a plaited loaf or a wreath, the ring shape representing the Easter theme of renewal. The red eggs that adorn Tsoureki symbolise Christ's blood and rebirth and are placed into the soft dough and baked with the bread.
How long will it take?
2 hours 30 minutes
What's the serving size?
Serves 10
---
What do I need?
500g plain flour
21g dried yeast
50g caster sugar
125ml milk
100ml lukewarm water
2 eggs, lightly beaten, plus extra for brushing
Rind of 2 oranges, finely grated
2 tsp mahlepi or cardamom
75g softened butter, coarsely chopped, plus extra to serve
3 eggs for the red eggs
½ tsp white vinegar
100ml boiling water
10 drops red food colouring
5ml vegetable oil
How do I make it?
Begin by making the red eggs. Place the eggs in a saucepan with water and simmer for 7-10 minutes.
Remove eggs from the water and place in a deep bowl.
Add food colouring and boiling water. Ensure that the eggs are fully submerged. If they are not add more boiling water and a few extra drops of food colouring.
Leave eggs in the coloured liquid for 15 minutes before removing with a spoon and placing on paper towel to dry.
Rub eggs with a little vegetable oil and refrigerate until you are ready to use them.
Combine flour, yeast and a pinch of salt in the bowl of an electric mixer fitted with a dough hook.
Add milk, eggs, sugar, orange rind, mahlepi or cardamom and 100ml lukewarm water and mix until a soft dough forms.
Gradually add butter, mixing until a smooth soft dough forms. Place in a lightly greased bowl, cover and set aside until the mix has doubled in size (approximately 1 hour).
Preheat oven to 180C.
When dough has risen, knock it back and divide into three pieces. Roll each piece into a 45 centimetre long cylinder, plait pieces together, then bring the ends together to form a wreath and squeeze to join. Place on an oven tray lined with baking paper and set aside to prove for 20 minutes.
Brush wreath with eggwash and gently push the red Easter eggs into the wreath and bake until it is golden and cooked through (approximately 30 minutes).
Remove from oven and cool on a wire rack.
---
Share this recipe
---
More recipes like this