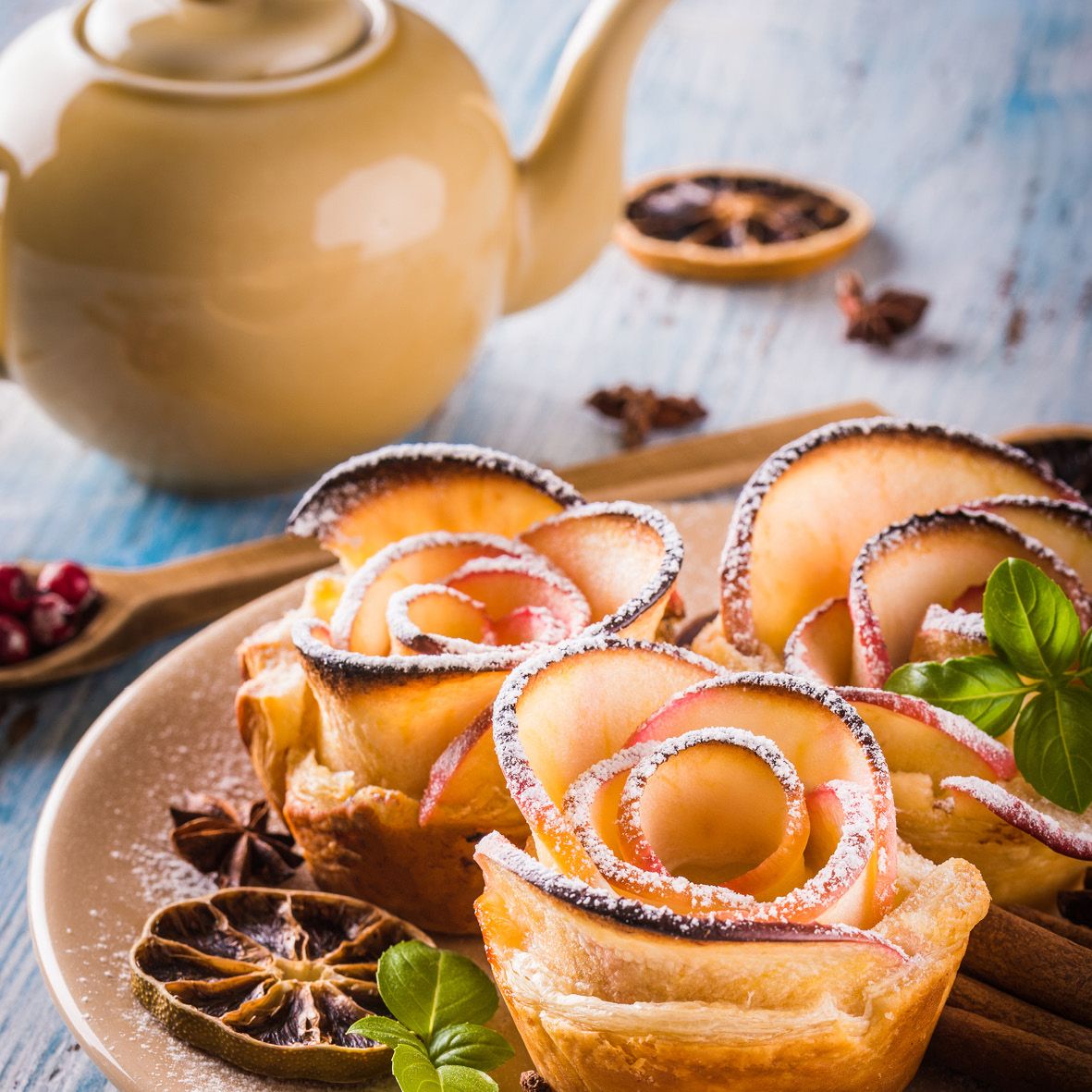 Sweet apple roses
These gorgeous apple desserts almost look too good to eat! They taste just like apple pie with their pastry base and the sweet apple slices. They taste amazing eaten warm and crisp, straight from the oven but they can also be stored in an airtight container for up to two days and enjoyed cold.
How long will it take?
65 minutes
What's the serving size?
Serves 6
---
What do I need?
1 - 2 sheets puff pastry, thawed
2 red apples
Juice of half a lemon
2 tbsp brown sugar
2 tbsp unsalted butter, melted
½ tsp ground cinnamon
¼ tsp ground nutmeg
1 tbsp plain flour
3 tbsp apricot or strawberry jam
Icing sugar for dusting
Muffin pan
How do I make it?
Grease and flour the muffin pan.
Preheat oven to 190C.
Cut apples in half, remove the core and cut the apples into paper-thin slices (a mandolin works well if you have one). Do not remove the peel. Toss apples in lemon juice to prevent discolouration.
Combine butter, sugar, cinnamon and nutmeg in a bowl. Toss apples through the butter, sugar and spices.
Microwave the apple slices for 45 seconds. They should be soft enough to bend but not break.
Place the puff pastry on a lightly floured surface. Cut out 6 rectangular strips of dough that are 5 centimetres wide.
In a small bowl combine jam with 2 tablespoons of water and microwave for 30 seconds. Stir and then spread the jam evenly over each strip of dough.
Place apple slices lengthwise in a straight line, slightly overlapping, on a strip of dough. Make sure the skin side of the apples sticks out a little at the top of the dough.
Fold up the bottom of the dough carefully.
Starting from one end, carefully roll the dough, keeping the apple slices in place. Seal the edge at the end by pressing it with your finger. Place inside muffin pan.
Repeat for remaining dough strips.
Bake for 40-45 minutes until fully cooked. If the apples start to burn before the pastry is completely cooked, cover loosely with foil for the last part of cooking.
Remove from the oven and allow to cool slightly for a few minutes before dusting with icing sugar and serving.
---
Share this recipe
---
More recipes like this