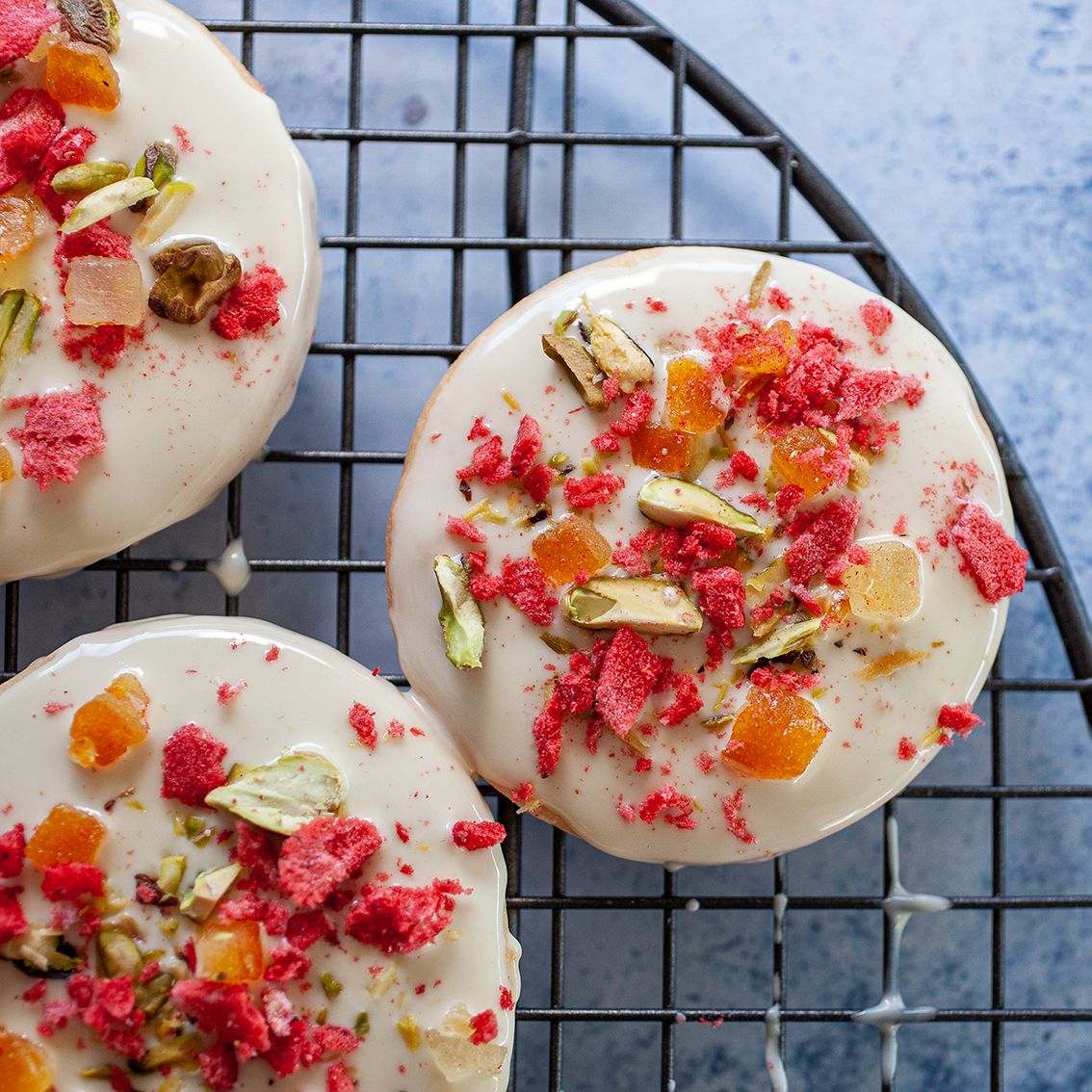 Strawberry, Pistachio and White Chocolate Biscuits
These beautiful biscuits are just the thing for a Mother's Day high tea, or they also make a stunning homemade gift.
How long will it take?
2 hours
What's the serving size?
Makes about 40 biscuits
---
What do I need?
230g unsalted butter
1 cup caster sugar
40ml milk
1 large free range egg, lightly beaten
½ tsp vanilla extract
3 cups plain flour
½ tsp baking powder
¼ tsp salt
To decorate
170g white cooking chocolate, melted
½ cup freeze-dried strawberries, chopped
½ cup crushed pistachios
½ cup candied citrus, diced
How do I make it?
Use an electric mixer to cream together butter and sugar until pale. Slowly add milk, egg and vanilla and mix well.
In a separate bowl sift together flour, baking powder and salt.
Add flour mix to butter mixture and mix until a soft dough forms.
Gently knead the dough on a floured surface until smooth. Cut dough into two discs, wrap in clingfilm and refrigerate for 1 hour.
Preheat oven to 175C.
Lightly flour a clean surface. Roll out 1 disc of dough to ½ centimetre thickness. Use a 7-centimetre round cookie cutter to cut out biscuits.
Place biscuits on a baking tray lined with baking paper, leaving a couple of centimetres between them. Bake for 10 minutes or until the biscuits just start to brown at the edges.
Remove from oven and transfer to a rack to cool.
Repeat process for remaining dough or you can freeze dough to use later if desired.
Once biscuits have cooled completely, melt chocolate. Dip the top of each biscuit into the melted chocolate, allow the excess to drip back into the bowl. While the chocolate is still soft, top each biscuit with a sprinkle of freeze-dried strawberries, crushed pistachios, and candied citrus.
Set biscuits aside in a cool place to allow the chocolate to set fully before serving.
---
Share this recipe
---
More recipes like this