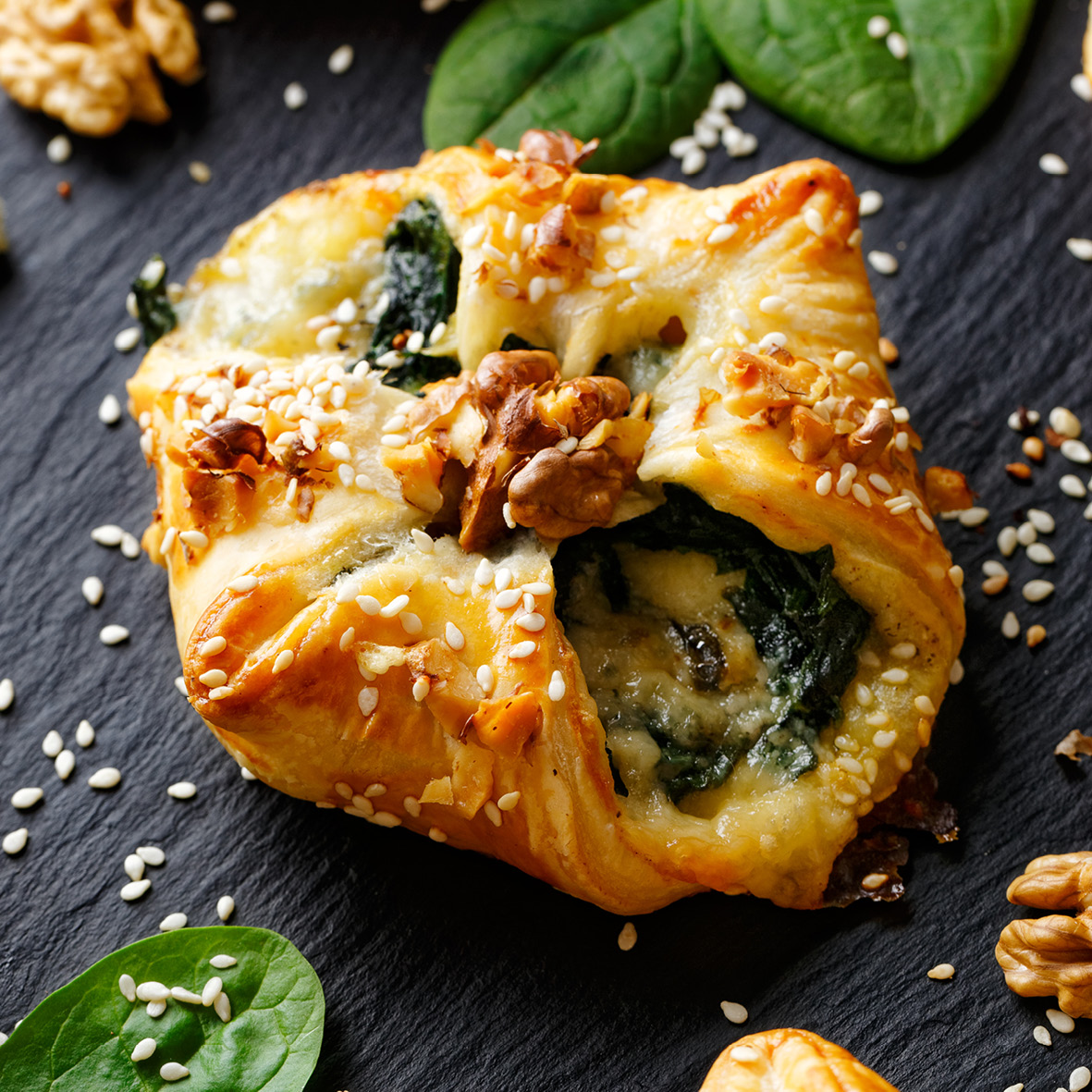 Spinach, Blue Cheese and Walnut Puffs
The perfect flavour combination … you won't be able to stop at one!
How long will it take?
40 minutes
What's the serving size?
Makes 4 to 6
---
What do I need?
6 cup muffin tin
300g frozen spinach, thawed
½ cup crumbled King Island Discovery Ash Blue
¼ cup onion, very finely chopped
1 tablespoon olive oil
1 tablespoon chopped dill
1 teaspoon minced garlic
Salt and freshly ground black pepper
2 large eggs
30cm x 30cm sheet of puff pastry, thawed and chilled
Handful of walnut halves
How do I make it?
Squeeze as much water out of the spinach as possible.
Mix spinach, cheese, onion, olive oil, dill and garlic in a bowl. Season with salt and pepper.
Beat one egg to blend and then fold into the spinach mix.
Cut the pastry into three equal strips. Put one strip aside for later. Cut the remaining strips into three squares for a total of six squares.
Place one square in each muffin cup, pressing into the bottom and up the sides and leaving the corners pointing up.
Divide the spinach filling among the cups. Fold the pastry over the filling, pressing the corners together to meet in the centre and then place a half walnut over the join in the pastry.
Preheat oven to 200C.
Beat the remaining egg and brush the egg wash over the pastry.
Bake until the pastry is golden brown and puffed, approximately 25 minutes.
Let the puffs cool in the pan for 10 minutes before removing to serve.
---
Share this recipe
---
More recipes like this