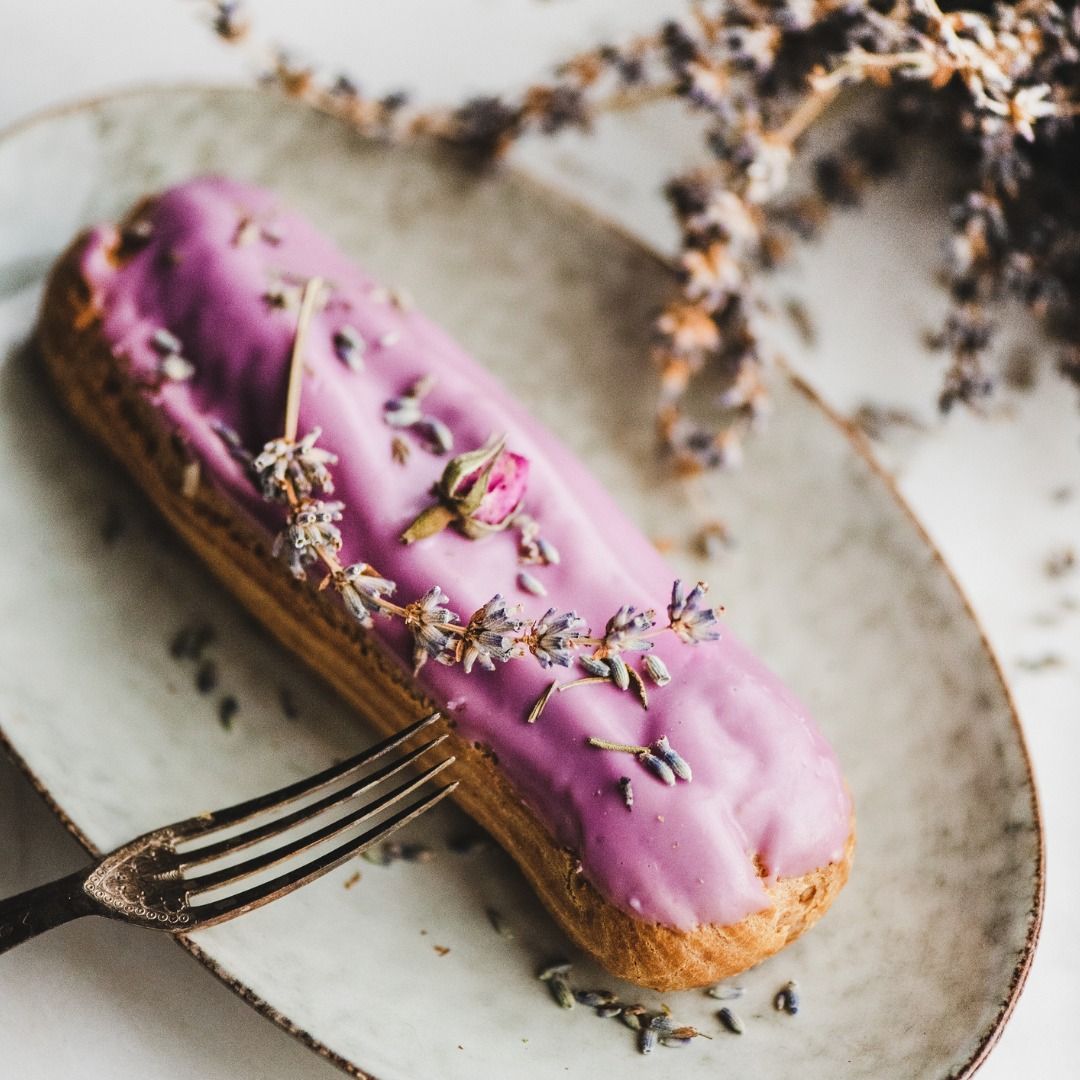 Rose Eclairs
Sweeten up mum's day with these exquisite Rose Eclairs. From the pastry to the velvety rose crème patisserie, every bite shows your love and appreciation.
How long will it take?
2 hours
What's the serving size?
Makes 20
---
What do I need?
For the Eclairs
½ cup full fat milk
½ cup water
115 g unsalted butter
¼ tsp caster sugar
1 cup plain flour
5 eggs, at room temperature
For the Rose Creme
2 cups milk
6 tbsp caster sugar
Pinch of salt
2 ½ tbsp cornflour
½ tbsp vanilla extract
3 egg yolks
1 egg
3 tbsp unsalted butter
Rose water, to taste
For the Rose Glaze
100 g icing sugar
Rose water, to taste
Red food colouring
Blue food colouring
Water, as needed
Edible dried flowers, to decorate (optional)
How do I make it?
For the Eclairs, line 2 baking sheets with baking paper. Set aside.
Fit a pastry bag with plain ½ centimetre tip nozzle and drape the bag over a large glass.
Preheat oven to 220C.
In a heavy bottom saucepan combine, milk, water, butter, sugar and salt. Bring to a boil. Once the mixture is at a rolling boil, add the flour all at once, reduce heat to medium and start mixing the dough with a wooden spoon vigorously. Continue doing so for another 2-3 minutes to evaporate some of the moisture. Transfer the dough to the bowl of a mixer fitted with the paddle attachment and start stirring the dough on medium speed for 1-2 minutes to cool it down slightly. Add the eggs to the mixture one at a time, allowing the mixer to incorporate each egg fully before adding the next. The dough might separate at first, but it will come back together as you continue mixing and adding more eggs. The mixture should be thick but still fall off the paddle attachment in a thick ribbon.
Transfer the warm dough to the piping bag and pipe out 7-centimetre logs onto the baking trays spacing them about 5 centimetres apart. Bake for 15 minutes, then reduce the heat to 190C and continue baking until golden in colour, about 25 minutes. DO NOT open the door before the éclairs are golden, they will deflate. When cooked, remove from oven and set aside to cool.
Make the Rose Crème by adding milk to a saucepan over medium-high heat. Bring to a simmer, almost to a boil. While the milk is being heated, place the sugar, salt, cornflour, vanilla extract, egg and yolks in a bowl and whisk until you have a smooth mix. When the milk starts to bubble, remove it from the heat and slowly pour half the hot milk into the egg mixture, whisking constantly. Add mixture back into the hot milk in the saucepan and heat over medium heat, whisking vigorously until it starts to thicken, 1 – 2 minutes. While whisking allow the custard to come to a boil, then when you see the first bubbles break the surface, lower the heat and cook for a further 1 minute. Remove from heat and add butter, whisking until it is incorporated. Pour custard into a bowl and add rose water, to taste, stirring to thoroughly mix. Cover bowl with cling film, to prevent a skin forming on the surface. Refrigerate until completely cooled.
Fill eclairs with the Rose Crème using a piping bag fitted with a plain tip nozzle. Prepare Rose Glaze by mixing icing sugar with 3 drops of red food colouring and 1 drop of blue food colouring. Mix together, adding rose water to taste, and water to achieve the consistency you desire. Spoon glaze over filled eclairs and decorate with dried roses and lavender if desired.
---
Share this recipe
---
More recipes like this