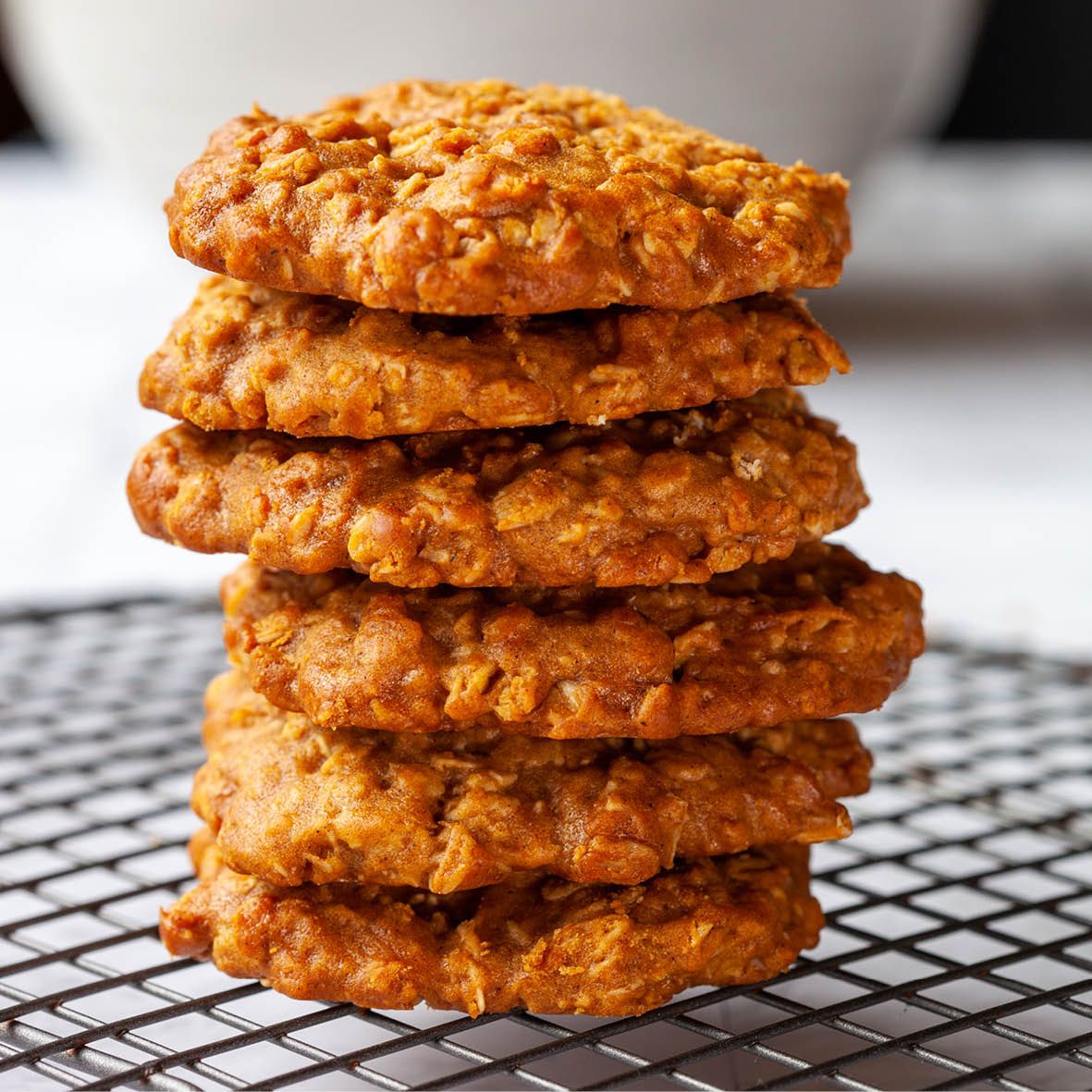 Pumpkin oatmeal cookies
Take your cookie game to the next level with these soft, chewy treats. The mix can be balled and frozen before baking, allowing you to cook a smaller batch at a time. Simply defrost and cook them as you need. They are best the day they are baked but will last up to 5 days in an airtight container.
How long will it take?
25 minutes
What's the serving size?
Makes about 18 cookies
---
What do I need?
1 cup plain flour

½ teaspoon bicarbonate of soda

½ teaspoon nutmeg

½ teaspoon ginger

1 teaspoon ground cinnamon

¼ teaspoon salt

115 grams unsalted butter softened

100 grams brown sugar

50 grams caster sugar

1 large egg yolk

1 teaspoon pure vanilla extract

1/3 cup pureed pumpkin

1 ½ cups rolled oats
How do I make it?
Preheat oven to 180°C.
Whisk flour, bicarb soda, spices and salt in a large bowl. Set aside.
Cream together the butter, brown sugar, and caster sugar for 1-2 minutes until well combined. Add the egg yolk and vanilla extract and mix until fully combined. Then mix in the pumpkin puree until well combined.
Slowly add the dry ingredients, mixing well. Finally fold through the rolled oats until just combined.
Cover the cookie dough and refrigerate for 30 minutes.
Line two baking trays with baking paper. Remove dough from fridge, scoop out a heaped tablespoon of dough and roll into a ball. Gently flatten with your hand and then place on the baking tray. Repeat with remaining dough. Leave room between each cookie on the tray as they will spread during cooking.
Bake in separate batches for 9-12 minutes or until the edges of the cookies are lightly browned and the top is set. Remove from the oven and cool on the baking tray for 5 minutes, then transfer the cookies to a wire rack to finish cooling.
---
Share this recipe
---
More recipes like this