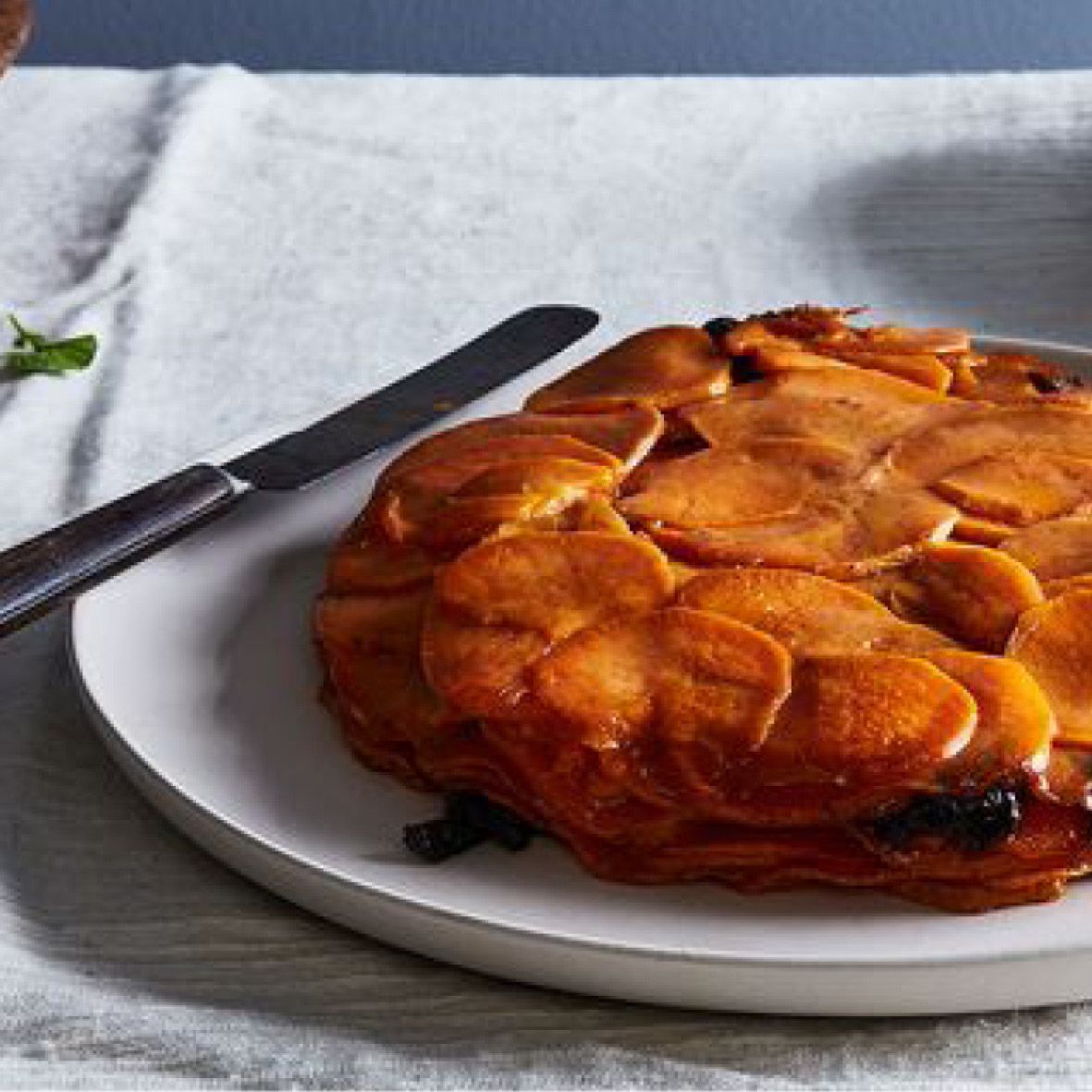 Pommes Anna
This layered sweet potato gratin comes out of the oven caramelized on the edges and glistening with butter. The potatoes in the centre are soft, their layers embedded with prunes; the ones around the edges are so crisp and sweet from the port, they taste candied. Slice the potatoes thinly - use a mandoline if you have one - and check the potatoes after 35 minutes in the oven.
How long will it take?
1 hour 10 minutes
What's the serving size?
Serves 6-8
---
What do I need?
5-6 sweet potatoes, sliced very thinly using a mandoline
225g butter
1 cup port
10 pitted prunes
How do I make it?
Melt 225g butter and clarify. (Skim off the foam & milk solids until all that remains is clear butterfat.)
Heat a cup of port and soak ten pitted prunes until slightly plumped, about 20 minutes.
Drain and chop the prunes coarsely.
Preheat oven to 220C. Brush clarified butter onto a 20cm round baking dish or oven-proof frying pan.
Put a layer of potatoes, overlapping in circles, in the dish. Brush with clarified butter, and salt and pepper. Put another layer of potatoes and about half the prune pieces and season with salt and pepper. Brush with clarified butter.
Repeat two more layers, embedding the rest of the prunes at the end and brushing each layer with clarified butter and salt and pepper.
You should have 4-6 layers of tightly packed potatoes.
Bake at 220C for 45-60 minutes until crisp and tender. Remove from oven when crisp and tender. After a few minutes, flip onto a serving plate.
Recipe from Food52
---
Share this recipe
---
More recipes like this