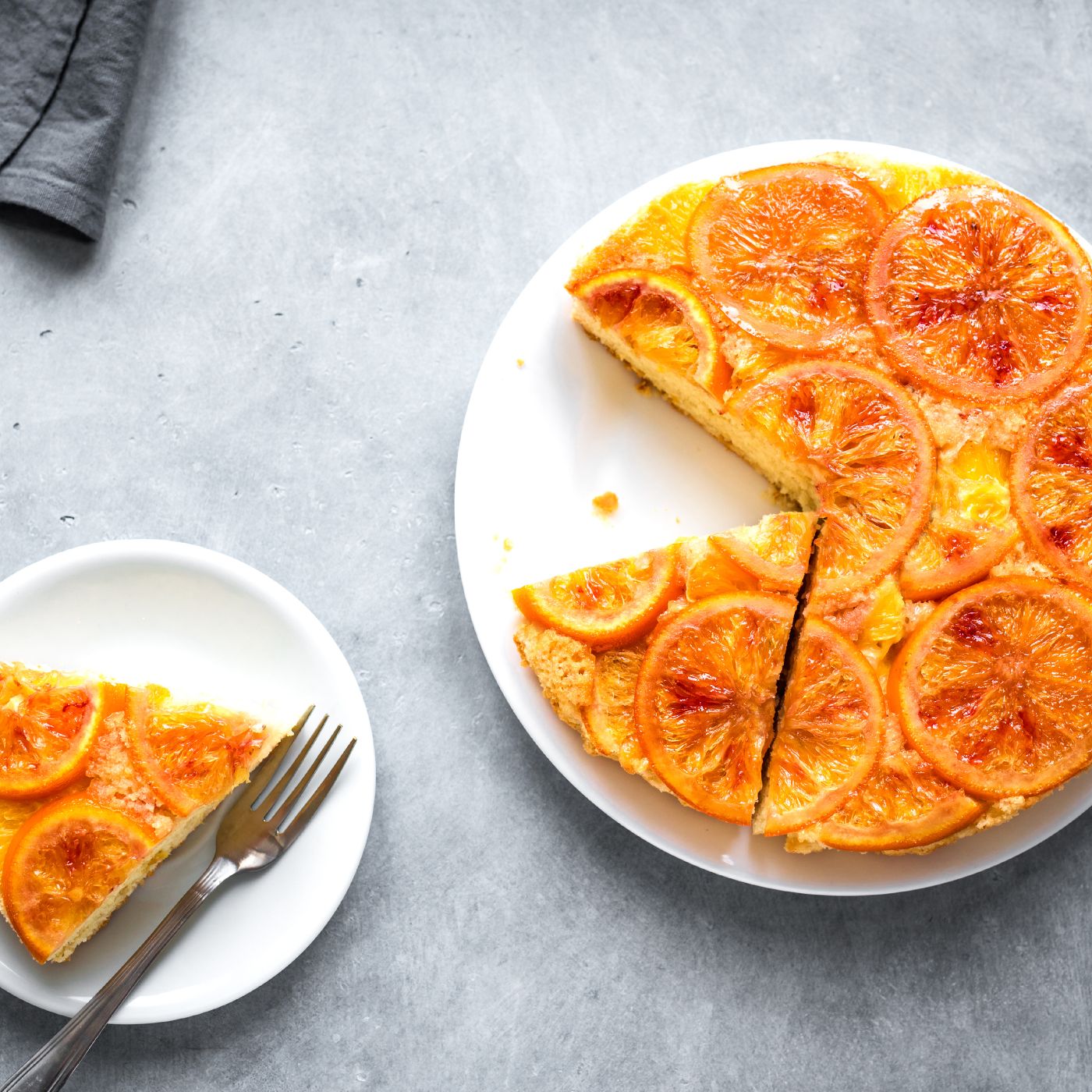 Orange Polenta Upside Down Cake
Get a tasty hit of vitamin C with this fabulously orangey cake. With its sticky glaze, it is versatile enough to serve as dessert with some fresh cream, whipped mascarpone, or crème fraiche.
How long will it take?
1 hour and 10 minutes
What's the serving size?
Serves 8
---
What do I need?
For the oranges
60 g unsalted butter
150 g caster sugar
Pinch of salt
2 oranges, sliced ½ millimetre thick
For the cake
60 g polenta
¾ cup buttermilk
160 g plain flour
1 ½ tsp baking powder
¼ tsp bicarbonate of soda
½ tsp salt
200 g caster sugar
2 tsp finely grated orange zest
115 g unsalted butter, softened
2 eggs
For the Glaze
3 tbsp orange juice
2 tbsp caster sugar
1 tbsp marmalade
How do I make it?
Preheat oven to 180C.
Heat 60 g butter in the microwave until just melted. Use a pastry brush to brush butter over the base and sides of a 23-centimetre cake tin. Sprinkle 150 g caster sugar over the butter and then arrange the orange slices over the top of the sugar on the base, ensuring that the whole base is well covered. Set aside.
Prepare the cake by adding polenta and buttermilk to a small bowl and whisking to combine. Set aside.
Add flour, salt, baking powder, and bicarb soda to a medium bowl and stir. Set aside. Add sugar to a separate bowl with orange zest. Use your fingers to rub the zest into the sugar, then add mixture to the bowl of a stand mixer. Add butter and beat with the sugar on medium speed until light and fluffy. Add eggs, one at a time, beating after each addition. Add half the flour mixture and mix on low speed, then add the polenta and buttermilk mix and continue beating on low speed until fully combined. Add remaining flour and mix for a further 1 minute.
Pour cake mixture over the orange slices in the cake tin and smooth the top. Bake for 45 minutes, or until a skewer inserted comes out clean. Cool in tin for 10 minutes before inverting onto a serving plate to cool completely.
Make the glaze by combining orange juice and sugar to a small saucepan. Bring to the boil and then reduce heat to medium-low and simmer until the glaze thickens. Add marmalade, stir well, and remove from heat. Allow the glaze to cool for 10 minutes, then pour or brush over the cake, and serve.
---
Share this recipe
---
More recipes like this