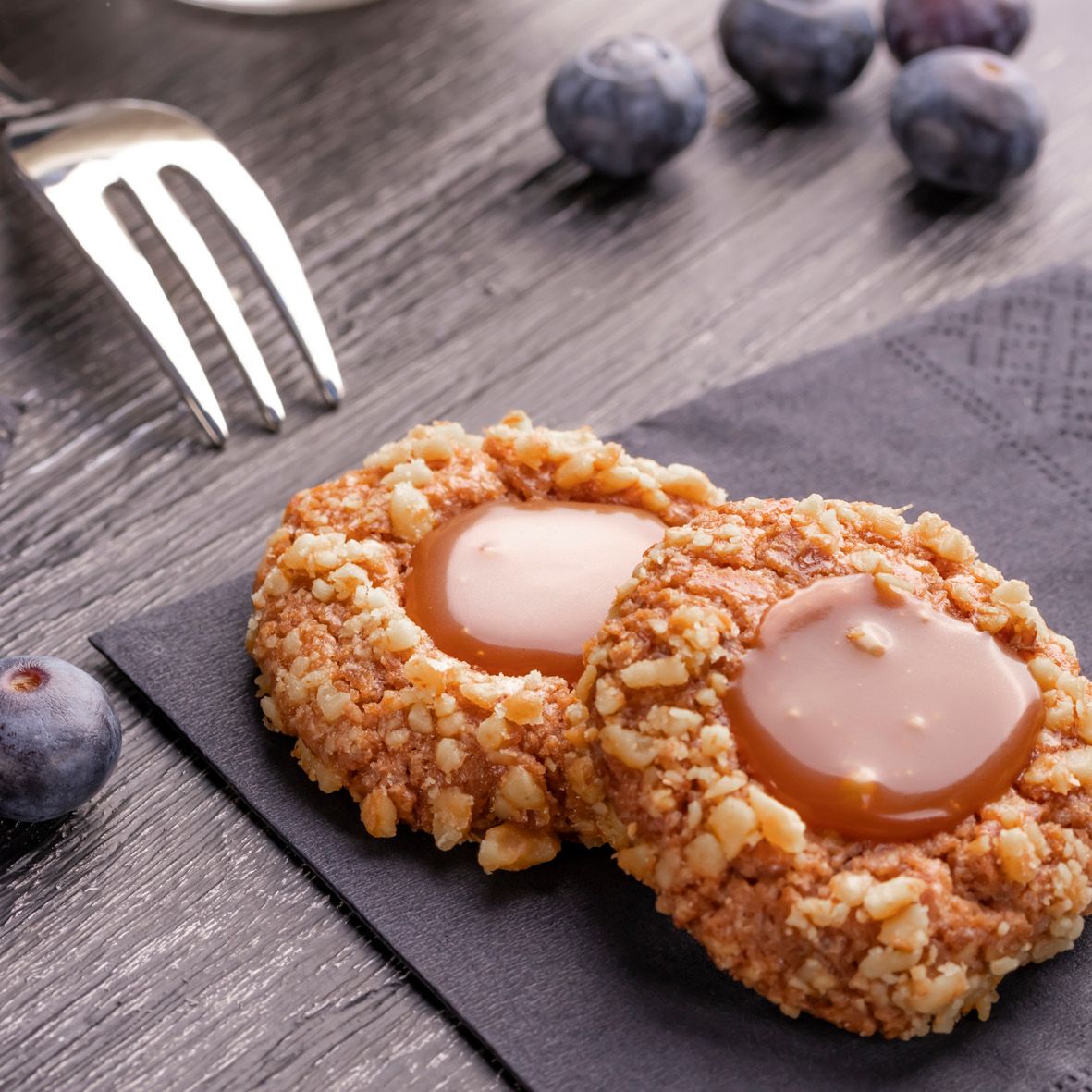 Oat Biscuits with Caramel Jam
Oat biscuits are lovely just the way they are, however the addition of caramel jam makes for an interesting addition. When making the Caramel Jam don't be tempted to rush it; the lower the heat and the longer the cooking time, the smoother the caramel will be. This recipe will make about 2 cups of caramel jam, which is more than you will need for the biscuits. You can store leftover caramel jam in the fridge for up to two months. Try it drizzled over ice-cream or other desserts.
How long will it take?
2 hours
What's the serving size?
Makes 35
---
What do I need?
For the Oat Biscuits
2 cups rolled oats
1 cup plain flour
2/3 cup caster sugar
¾ cup golden syrup
125g unsalted butter
1 teaspoon bicarbonate of soda
2 tablespoons hot water
For the Caramel Jam
4 cups full-fat milk
1 ¾ cups caster sugar
¾ tsp salt
1 whole vanilla bean, slit lengthwise
How do I make it?
Preheat oven to 160°C. Place the oats, flour, sugar and coconut in a bowl and mix to combine.
Place the golden syrup and butter in a saucepan over low heat and cook, stirring, until melted. Combine the bicarbonate of soda with the water and add to the butter mixture. Pour into the oat mixture and mix well to combine.
Place tablespoonfuls of the mixture onto baking trays lined with non-stick baking paper and flatten to 7cm rounds, allowing room to spread. Bake for 8–10 minutes or until deep golden.
Remove from oven and while still hot, use the back of a spoon to make a slight well in the centre of each biscuit to hold the caramel jam. Allow to cool on baking trays for 5 minutes before transferring to wire racks to cool completely.
To make the caramel jam place all ingredients in a medium saucepan. Bring to a boil over medium-high heat, then immediately reduce heat to the lowest possible setting – below a simmer.
Stir every 20 minutes for the first hour. When stirring, press the vanilla bean against the side of the pan and scrape the vanilla seeds back into the milk.
Once the jam begins to thicken, stir it every 5 to 10 minutes to prevent scorching.
When the caramel is the consistency of melted chocolate turn off the heat. Remove the vanilla bean and stir any remaining seeds into the jam.
Allow to cool completely. The jam will thicken as it cools. When cooled, whisk until smooth and glossy.
Place jam into sterile jars and refrigerate.
When ready to serve, spoon a dollop of caramel jam into the well in each Oat biscuit.
---
Share this recipe
---
More recipes like this