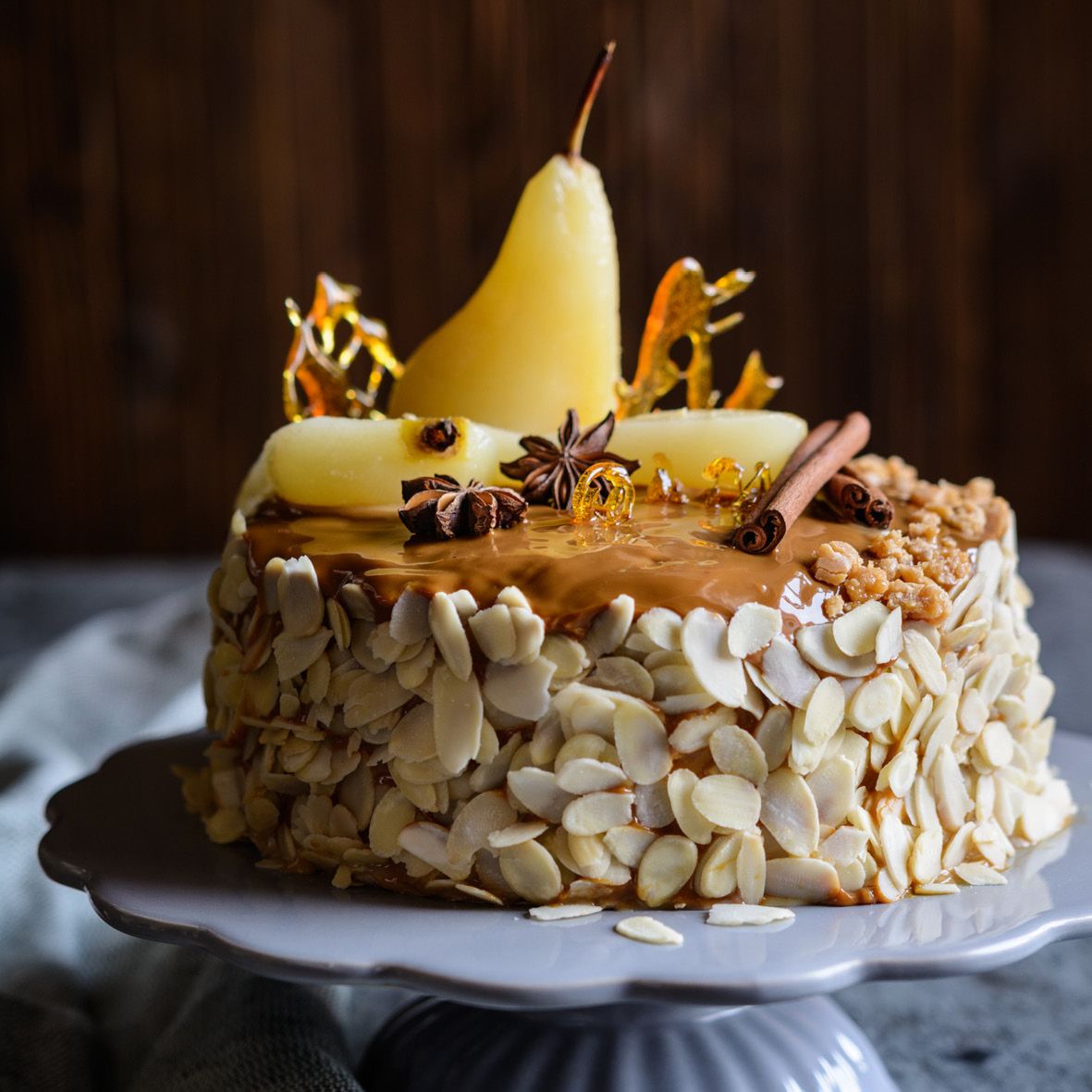 Layered Almond and Honey Cake with Caramel Pears
With Autumn in full-swing and beautiful Tasmanian pears at their prime we couldn't resist making a cake that showcases their delicate flavour in the most delicious way possible. Say hello to our Layered Almond and Honey Cake with Caramel Pears. The pears are gently poached in honey, cinnamon and star anise to give them a lovely flavour that tastes amazing with the almond cake and caramel glaze that is drizzled over the cake. Make this cake for your next dinner party and we guarantee your friends will be asking you for the recipe.
How long will it take?
2 hours plus cooling time
What's the serving size?
Serves 16
---
What do I need?
For the cake
400g self-raising flour
200g almond meal
440g caster sugar
400g softened butter
150g honey
8 eggs
½ tsp salt
800g crème fraiche
600ml thickened cream
150g sliced almonds (to decorate)
For the Caramel Pears
750g caster sugar
250g honey
3 cinnamon sticks
3 star anise
4 packham pears, peeled and cored
200ml thickened cream
25g butter
½ tsp salt
How do I make it?
Begin by making the Caramel Pears. Combine sugar, cinnamon and star anise in a saucepan with 1.5 litres of water. Place over medium-high heat and stir until sugar has dissolved. Reduce heat and allow to gently simmer for 15 minutes.
Add pears to poaching syrup. Turn heat up so that the liquid is simmering and then place a piece of baking paper on top of the pears and cover with a small plate to make sure the pears are fully submerged in the liquid. Reduce heat to low and simmer until the pears are tender (approx 25 minutes).
Remove pears from the liquid and place in a bowl. Cover pears with half the poaching syrup and leave to cool completely.
Simmer the remaining liquid over medium-high heat until it turns to caramel (approx 20 minutes). Remove from heat and add cream and butter, stirring to combine. Set aside to cool (you can place in the fridge to cool completely).
Preheat oven to 160C. Grease and line two 25 centimetre round cake tins.
Beat butter, sugar, honey and salt until pale and fluffy.
Add eggs, one at a time, beating well between additions.
In a medium bowl combine flour and almond meal.
Add flour and almond meal mix and 300g of crème fraiche alternatively, mixing well.
Divide the cake batter between the two tins. Bake for 55 minutes or until the centre springs back when pressed. Leave in tins to cool completely.
Whisk remaining crème fraiche, cream and 60ml of the caramel in an electric mixer until peaks form, then refrigerate until ready to assemble.
To assemble, cut each cake in half horizontally to form four layers. Place one layer of cake on a serving plate and brush with a little of the reserved poaching syrup that the pears are sitting in. Next spread over some of the crème fraiche mixture. Repeat with remaining layers, making sure to keep some crème fraiche for the sides of the cake. Pour caramel sauce over the top of the cake. Spread remaining crème fraiche mixture around the sides of the cake and then place sliced almonds around the sides. Top cake with poached pears.
---
Share this recipe
---
More recipes like this