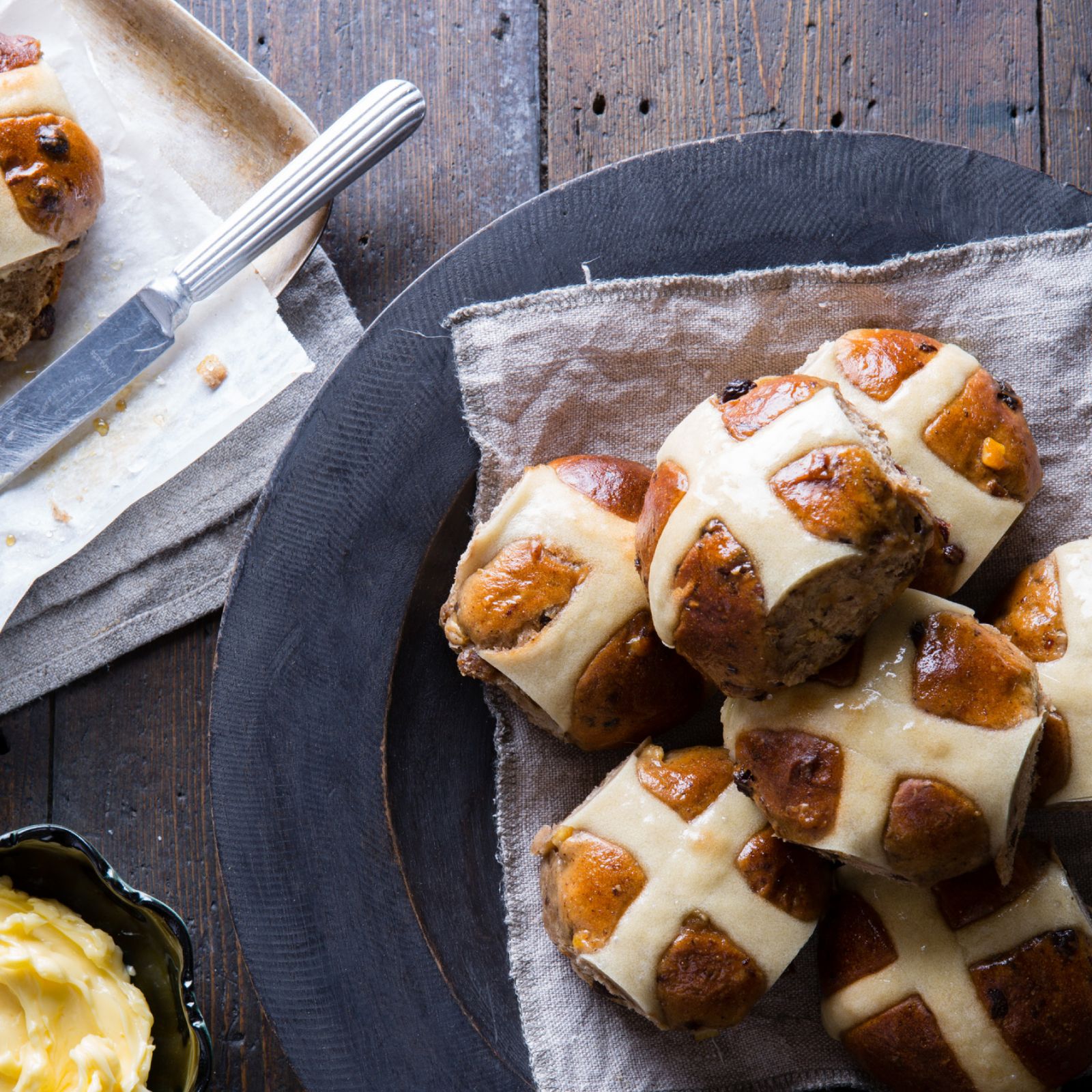 Fruity Hot Cross Buns
The perfect combination of fruit and spices to create the best homemade hot cross buns.
How long will it take?
55 minutes plus 2 hours proving time
What's the serving size?
Makes 12 buns
---
What do I need?
2 tsp dried instant yeast
500 g plain four
90 g sugar
1 tsp salt
1 tsp cinnamon
½ tsp ground all spice
¼ tsp fresh grated nutmeg
300 ml milk
60 g butter
1 large egg
140 g sultanas (or a mix of currants, sultanas and raisins)
30 g mixed peel (optional)
Crosses
2 tbsp self-raising flour
2 tbsp cold water
Glaze
⅓ cup sugar
¼ tsp cinnamon
150 ml boiling water
How do I make it?
Sift together yeast, flour, sugar, salt and spices to evenly distribute.
In a small saucepan, gently heat the milk over a low temperature and melt the butter into it.
In a separate bowl, beat the egg.
Add the milk and butter mixture to the flour and mix thoroughly. Add the egg and mix well to form a dough.
Work in the dried fruit and peel.
Turn out the dough onto a lightly floured surface and knead for 10 minutes or until it feels smooth and is no longer sticky. Place in a lightly oiled bowl, cover with plastic wrap and place in a warm spot to prove for one hour or until doubled in size.
Punch down the dough and then separate it into 12 equal portions.
Place the buns close together on a lightly greased baking tray. Cover and allow to rise for 1 hour or until doubled in size and very light.
Preheat oven to 220°C. To make the crosses, mix the flour and water thoroughly to form a thick paste. Spoon into a zip-lock bag, cut a little hole out of the corner of the bag and use it to pipe the mixture in crosses on top of the buns.
Bake the topped buns for 15–20 minutes.
To make the glaze, mix together all ingredients, dissolving the sugar in the boiling water. Brush glaze over the buns lightly while still hot.
---
Share this recipe
---
More recipes like this