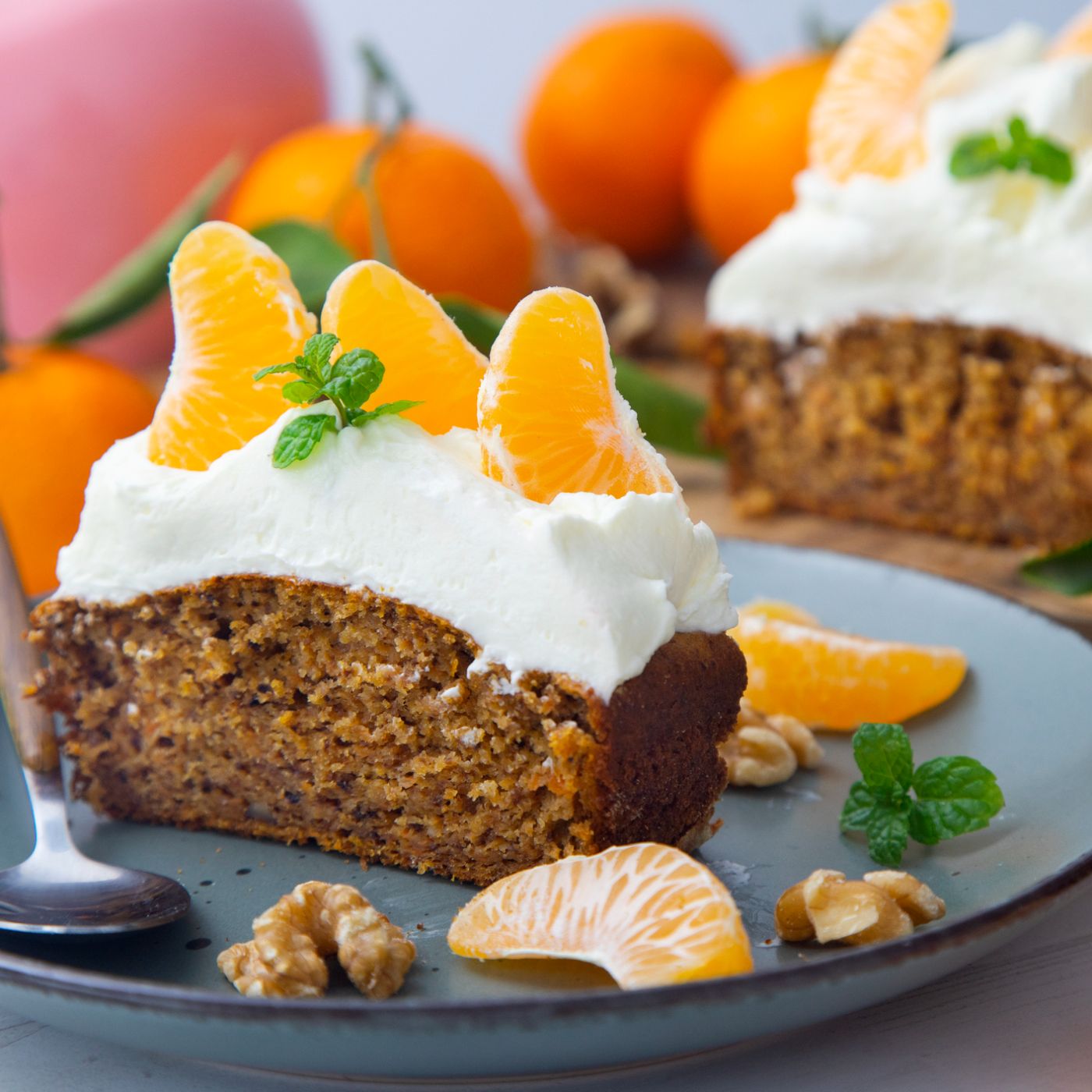 Fluffy Mandarin Cake
Forget peeling, this luscious, moist cake uses the whole mandarin! Topped off with a fluffy frosting it's citrusy deliciousness on a plate.
How long will it take?
1 hour, 20 minutes
What's the serving size?
Serves 8
---
What do I need?
250 g caster sugar
3 eggs
175 g plain flour
100 g wholemeal plain flour
2 ½ tsp baking powder
100 g unsalted butter, softened
100 g Greek yoghurt
1 tsp vanilla extract
300 g mandarins, washed and cut into pieces (remove any seeds), plus extra to decorate
¼ cup chopped walnuts
For the Fluffy Frosting
2 egg whites
1 ½ cups caster sugar
1/3 cup cold water
¼ tsp cream of tartar
1 tsp vanilla extract
How do I make it?
Preheat oven to 180C.
Grease and line a 24 x 13 x 6.5-centimetre loaf pan.
Add sugar and eggs to the bowl of an electric mixer and beat until light and fluffy. Add flours, baking powder and softened butter gradually, with the mixer on low speed. Once all ingredients are incorporated, add yoghurt and vanilla extract and mix to combine.
Add mandarins to a food processor and blitz until they are roughly pureed (you can leave some texture). Add the mandarins and walnuts to the cake batter and mix to combine.
Place batter in prepared loaf pan and bae for 50 – 60 minutes or until cooked through. Remove from the oven and set aside to cool before removing from the pan.
To make the Fluffy Frosting add egg whites, sugar, water and cream of tartar to the top of a double boiler or a heatproof bowl and mix well to combine.
Meanwhile simmer 5 centimetres of water in the bottom of a double boiler or a saucepan over medium heat. Place the egg mixture over the water and beat constantly using a handheld electric mixer on high speed until stiff peaks form, about 8 minutes.
Remove from heat, add vanilla and beat until thick.
To serve, spread a generous layer of Fluffy Frosting over the top of the loaf and decorate with mandarin pieces.
---
Share this recipe
---
More recipes like this