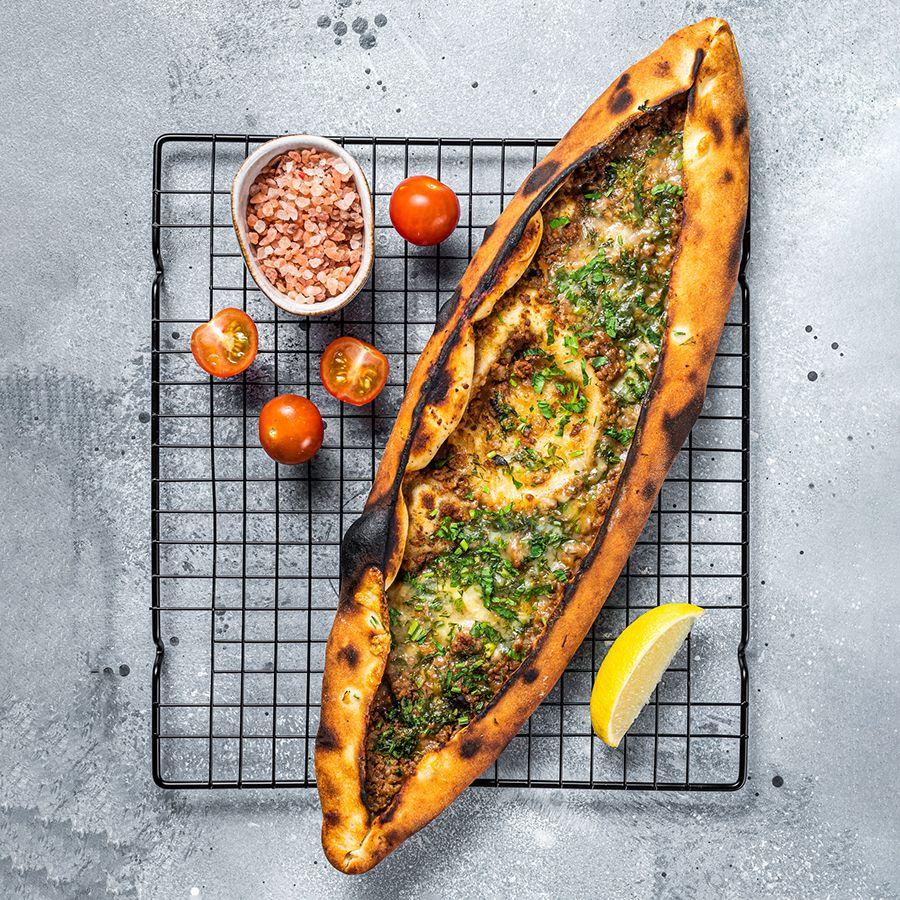 Cheesy Beef Pide
Doughy, cheesy, meaty … need we say more? This homemade filled pide is every bit as good as it looks. Enjoy it as a delicious dinner option with leftovers for lunch the next day.
How long will it take?
1 ¼ hours, plus 1 hour rising time
What's the serving size?
Makes 2
---
What do I need?
For the dough
14 g dried yeast
Pinch of white sugar
250 mL warm water
300 g plain flour
1 tsp salt
3 tbsp olive oil, divided
For the topping
1 brown onion, finely chopped
2 cloves garlic, minced
½ red capsicum, finely diced
2 tomatoes, diced
400 g beef mince
1 tbsp lemon juice
1 tbsp olive oil
1 egg, whisked with a fork
150 g mozzarella, grated
Flat leaf parsley, chopped, to serve
How do I make it?
Preheat oven to 180C.
Line 2 large baking trays with baking paper.
Add yeast and sugar to a small bowl and pour over half the warm water. Stir gently and set aside for 5 minutes.
Add flour and salt to a large bowl. Make a well in the flour and add 2 tablespoons olive oil, the yeast mixture, and the reserved warm water. Use your hands to work the mixture into a dough, then knead for 5 minutes, or until the dough is soft and smooth. The dough will become sticky when kneaded so add in the remaining 1 tablespoon olive oil and a little additional flour if needed. Cover dough with clingfilm and set aside in a warm spot for 1 hour, or until doubled in size.
Meanwhile prepare the filling by heating 1 tablespoon olive oil in a frying pan over medium-high heat. Toss in onion, garlic, and capsicum and cook, stirring often, until the onion and capsicum start to soften. Add tomatoes and cook for 2 minutes, then add lemon juice and stir well. Remove from heat and place in a bowl. Set aside to cool for a few minutes, then add beef mince and mix to incorporate.
When the dough has risen, turn it out onto a lightly floured surface and knead for 1 minute. Divide the dough in half and roll each piece into a ball. Roll the balls into ovals about 20-centimetres x 40-centimetres, and ½ centimetre thick.
Lay one oval shaped piece of dough on each baking tray. Spread half the filling over each, leaving a 2-centimetre border around the outside. Fold the sides up and in the make a "boat" shape with pointy ends. Use beaten egg to brush the edges of the dough, then bake for 20 minutes. Remove from oven and sprinkle with grated mozzarella, then return to the oven and cook for a further 15 minutes or until the cheese is melted and golden.
Serve, sprinkled with chopped parsley.
---
Share this recipe
---
More recipes like this