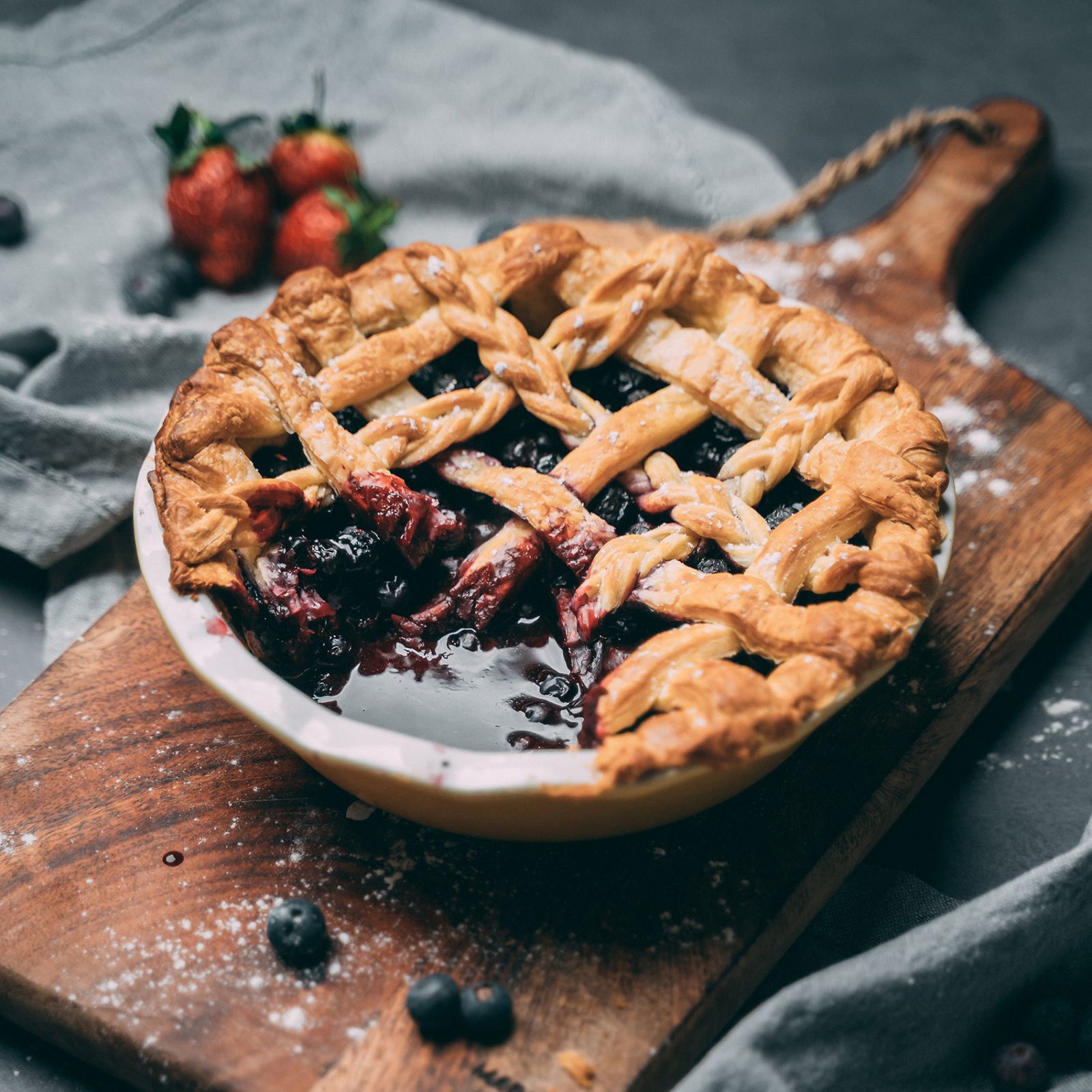 Blueberry Pie
Filled with blueberries and topped with lattice, this pie is definitely worth the time and effort. Making your own pastry is the trickiest and most time-consuming part, so if you're short on time you can always opt for store-bought pastry.
How long will it take?
2 ½ hours
What's the serving size?
Serves 6
---
What do I need?
For the pie pastry
325 g plain flour
1 tbsp caster sugar
1 tsp salt
1 cup unsalted butter, cubed
7 tbsp iced water
For the filling
900 g fresh or frozen blueberries
¼ cup plain flour
¼ cup caster sugar
3 tbsp lemon juice
1 tsp lemon zest
1 egg, beaten
1 tbsp milk
How do I make it?
Make the pie pastry by adding flour, sugar, salt and butter to a food processor. Pulse for 1 minute or until the mixture resembles breadcrumbs.
Slowly add the iced water and continue pulsing for another 1 minute.
Transfer the pastry to a floured surface and use your hands to roll it into a smooth ball. Divide the ball in half and flatten into 2 discs. Wrap discs in clingfilm and put in the fridge for 1 hour.
In a mixing bowl add blueberries, flour, sugar, lemon juice and zest and mix together. Set aside.
Unwrap the pastry discs and place between 2 sheets of baking paper. Roll each disc with a rolling pin into a 30 centimetre circle.
Transfer one circle into a prepared 22 centimetre pie dish. Use your fingers to push it into the corners and bottom to form the base of the pie.
Add blueberry mixture, distributing evenly.
Make the lattice by slicing the second pastry disc in half. Take one disc, roll out and cut into 15 strips each measuring 1 centimetres wide. Take 3 strips and squeeze the ends together. Braid strips by moving left strip across the middle strip, then right strip across the middle strip. Repeat this action until you reach the end and then squeeze to join the 3 ends together. Repeat for remaining pastry.
Take the third disc and slice into 5 strips each measuring 2 centimetres wide.
Place the 2 centimetre wide strips on top of the blueberry filling evenly spaced apart.
Fold back 2nd and 4th strips halfway and place the longest braided piece in the centre, perpendicular to the first 5 strips. Place the 2nd and 4th strips back over the braided strip.
Fold back the 1st, 3rd and 5th strips halfway and place another braided piece 2 ½ centimetres away. Fold 1st, 3rd and 5th strips back over the braided piece.
Continue adding and alternating braided strips to complete the lattice effect.
Press edges together to seal.
Combine milk and egg in a small bowl to make egg wash. Brush over lattice top. Cook pie in a 175C oven for 50 minutes.
Serve with cream or ice cream.
---
Share this recipe
---
More recipes like this