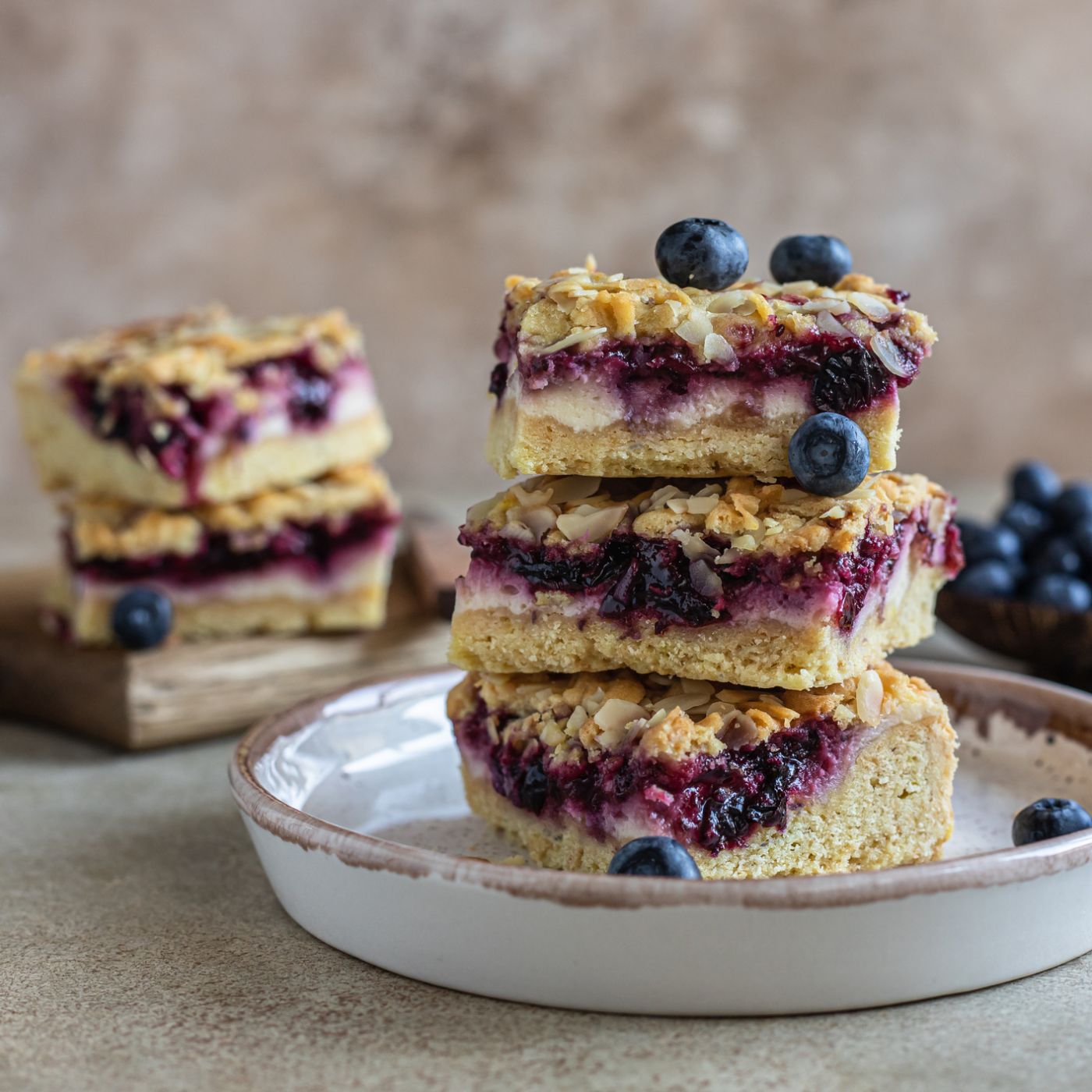 Blueberry Crumble Cheesecake Bars
Your new favourite afternoon tea recipe is here. These scrumptious bars feature a sweet buttery base beneath a layer of creamy blueberry cheesecake, and it's all crowned with a crumble top. Absolutely divine!
How long will it take?
1 hour plus 3 hours chilling time
What's the serving size?
Serves 12
---
What do I need?
For the base
1 ½ cups plain sweet biscuits, crushed
¼ cup butter, melted
2 tbsp brown sugar
Pinch salt
For the Cheesecake
480 g cream cheese, softened
½ cup caster sugar
2 eggs
½ cup sour cream
1 ½ cups blueberries (fresh or frozen)
For the Crumble
½ cup plain flour
¼ cup brown sugar
4 tbsp unsalted butter, chilled
½ cup rolled oats
¼ cup slivered almonds
How do I make it?
Preheat oven to 160C. Line a 23-centimetre square cake tin with baking paper ensuring plenty of overhang on the sides.
Add biscuits, butter, brown sugar, and salt to a bowl and mix to combine. Press into the base of the cake tin and bake for 10 minutes. Remove from oven and set aside.
Add cream cheese and caster sugar to the bowl of an electric mixer and beat until smooth. Add eggs and beat, then add sour cream and beat until the mixture is smooth. Pour mix over the prepared crust and sprinkle blueberries over the top.
Make crumble by adding flour, sugar, and butter to a bowl and use your fingers to work the butter into the flour and sugar. Add oats and almonds and stir to combine. Sprinkle crumble over the top of the blueberries and bake for 35 minutes. Remove from oven and set aside to cool slightly before refrigerating for at least 3 hours.
Use the baking paper to remove the cheesecake from the cake tin and cut into squares.
---
Share this recipe
---
More recipes like this