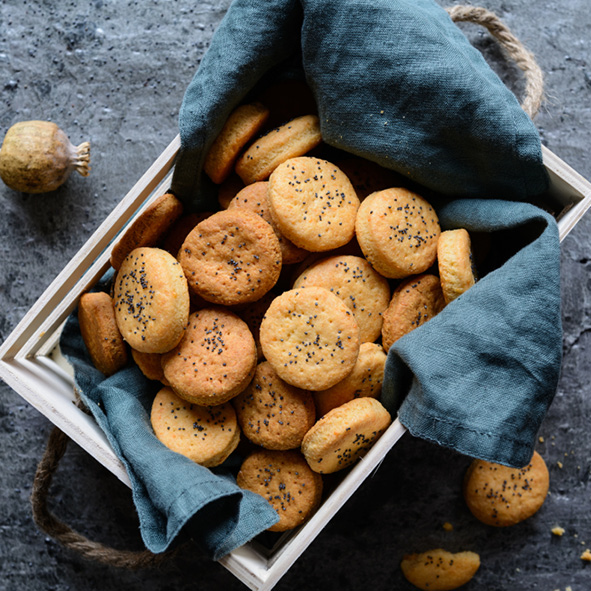 Blue Cheese Biscuits
Some blue cheeses are perfect for cooking and Saint Agur is one of those cheeses. Its melty texture means that it is ideal for baking and these crumbly, buttery biscuits are everything a blue cheese lover could want. When you first take the biscuits out of the oven they will have a very strong flavour so resist the temptation to eat them straight away. Leave them overnight and you will find that the flavour will mellow.
How long will it take?
4 hours 30 minutes
What's the serving size?
Makes 24 biscuits
---
What do I need?
18 tbsp butter, at room temperature
½ cup Saint Agur blue cheese, at room temperature
½ cup sugar
¼ tsp salt
2 egg yolks, at room temperature
2 ¼ cups plain flour
Poppy seeds (if desired)
How do I make it?
Beat butter and cheese with an electric mixer until they are completely blended.
Add sugar and salt and beat until just combined.
Add egg yolks, one at a time, beating until just mixed in.
Stir in flour using a spatula until it is all combined.
Roll the dough into a 5 centimetre thick log, wrap in plastic and refrigerate for 4 hours.
Preheat oven to 175C. Line a baking tray with baking paper. Slice the log into 1.5 centimetre thick biscuits and place them about 2.5 centimetres apart on the baking tray.
Sprinkle tops with poppy seeds.
Bake until the biscuits are a light golden brown, about 18-20 minutes.
---
Share this recipe
---
More recipes like this