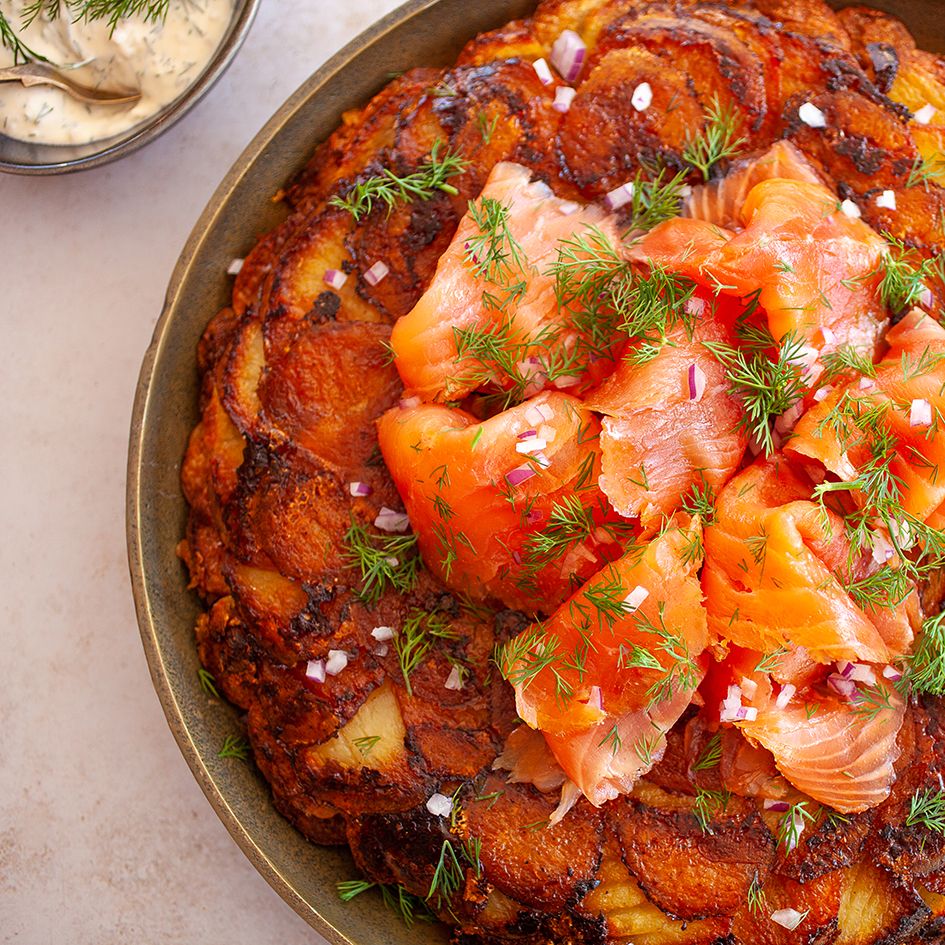 Potato Galette with Smoked Salmon and Dill Crème Fraiche
A crispy potato galette is dressed with smoked salmon and dill crème fraiche for a fabulously delicious meal.
How long will it take?
1 ½ hours
What's the serving size?
Serves 4
---
What do I need?
For the Galette
1.5 kg potatoes, peeled and sliced thinly (use a mandolin if you have one)
120g unsalted butter
3 garlic cloves, peeled and sliced
1 tsp salt
¾ tsp freshly ground black pepper
60g Parmigiano Reggiano, grated
To top the Galette
300 g smoked salmon
½ cup crème fraiche
1 small shallot, minced, divided
4 tbsp dill, finely chopped, divided
2 tsp fresh lemon juice
How do I make it?
Preheat oven to 210C.
Place peeled and sliced potatoes in a large bowl.
In an oven safe frying pan, melt butter over medium heat. Add garlic, salt and pepper and cook for 1 minute. Remove from heat and pour butter and garlic over the potatoes and toss to combine.
Start in the centre of the frying pan and arrange potatoes in a spiral, overlapping slices. When the base of the pan is covered, add some of the Parmigiano Reggiano and then repeat the layering until all potatoes and cheese are used.
Place pan in the oven and cook until the potatoes are well cooked and golden brown, about 1 hour. Remove from oven and leave to cool for a few minutes before flipping onto a serving plate.
Meanwhile make the crème fraiche sauce. Combine crème fraiche, half the shallot, 2 tablespoons of dill and lemon juice in a bowl and whisk to combine.
To serve dollop dill crème fraiche over the centre of the galette and top with smoked salmon. Garnish with remaining shallot and dill. Enjoy!
Video & photography by David Pyefinch, food by Sarah Joseph
---
Share this recipe
---
More recipes like this