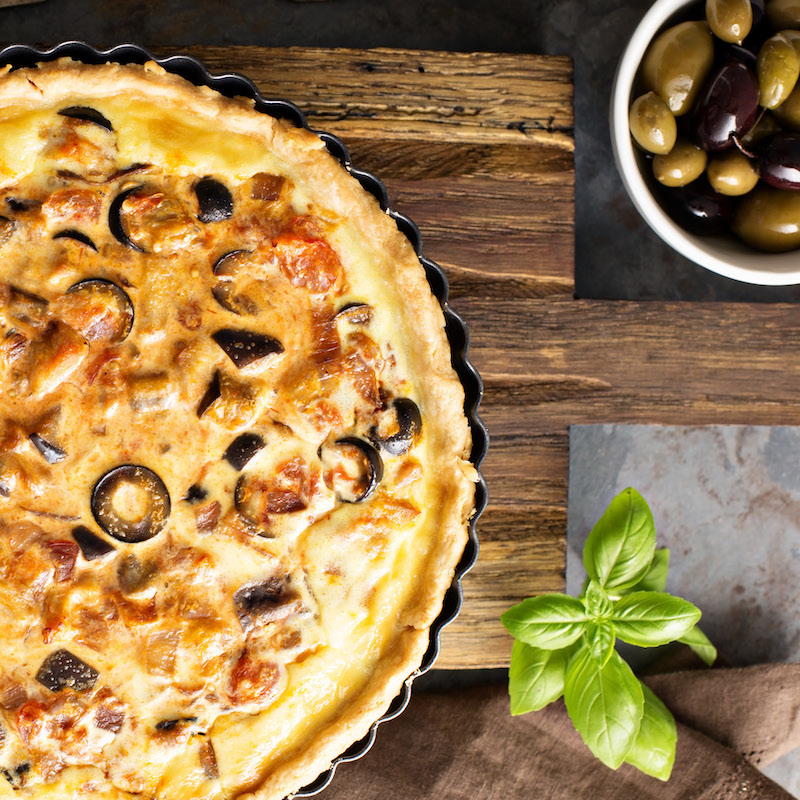 Caramelised onion tart with olives, brie and gorgonzola
An indulgent cheesy treat
How long will it take?
1 hour
What's the serving size?
Serves 4-6
---
What do I need?
2 tablespoons olive oil
4 cups of sliced onions
1 tablespoon brown sugar
2 tablespoons balsamic vinegar
½ teaspoon salt
½ teaspoon pepper
225g puff pastry
100ml cream
100ml milk
3 eggs
75g chilled Mon Pere brie, diced
50g gorgonzola
30g olives
How do I make it?
Caramelise the onions by heating oil in a large, deep pan on medium-high heat. Add onions and cook for about 10 minutes or until wilted and starting to brown. Add sugar, vinegar, salt and pepper.
Reduce heat and cook gently, uncovered for 20-25 minutes or until richly caramelised. Add a little water if the onions look like they are starting to dry out. Set aside to cool.
Roll pastry into a circle (or whatever shape suits you quiche dish). Place pastry into a greased quiche tin and prick all over with a fork to prevent the pastry from bubbling while cooking. Blind bake in a 200C oven for 10-15 minutes. Remove from oven and allow to cool slightly.
Spread caramelised onion over the pastry. Beat cream, milk and eggs together and pour over the onion and then dot the cheeses over the top. Add olives and push them slightly into the cheese.
Bake in oven for 25 minutes or until cheese has melted and pastry is crisp. Cool for 5 minutes and serve.
Hill Street Home have a selection of boards here perfect for serving you tart and a range of quiche tins available at the West Hobart or Devonport stores.
---
Share this recipe
---
More recipes like this