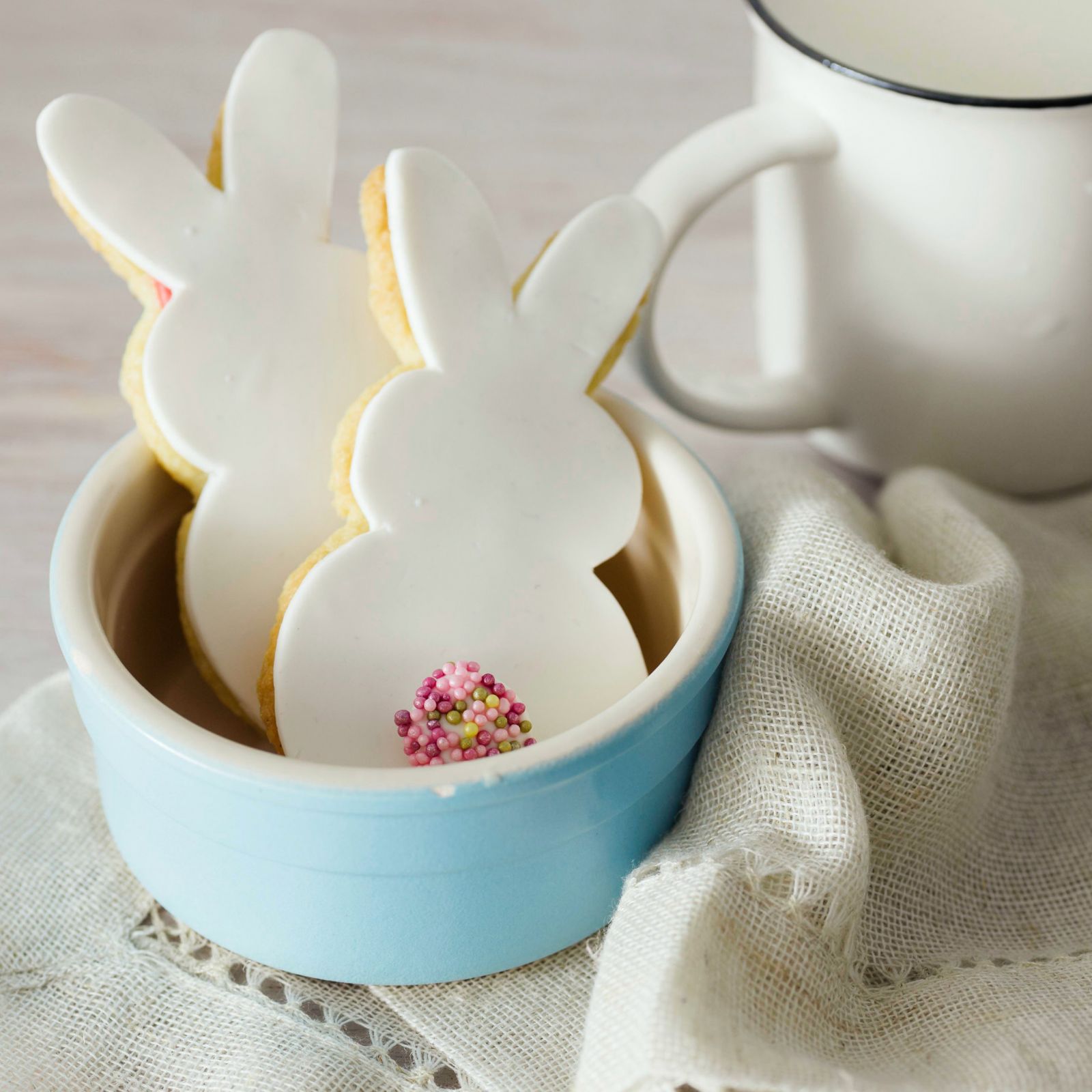 Easter Bunny Biscuits
If you're worried about chocolate overload at Easter, these cute little bunny biscuits are just what you need.
How long will it take?
1 hour
What's the serving size?
Makes about 30 biscuits depending on the size cookie cutter you use
---
What do I need?
For the biscuit dough
200g softened butter
150g caster sugar
2 large free range egg yolks
400g plain flour
1 level teaspoon mixed spice
1 level teaspoon ground cinnamon
2-4 tablespoons milk
For the icing
1 ½ cups pure icing sugar, sifted
1 egg white
½ teaspoon lemon juice
Food colouring if desired
How do I make it?
Preheat the oven to 180C. Lightly grease two baking trays and line with baking paper.
Measure the butter and sugar into a bowl and beat together until light and fluffy. Beat in the egg yolk. Sieve in the flour and spices and add enough milk to give a fairly soft dough. Bring together, using your hands, to make a soft dough.
Knead the biscuit dough mixture lightly on a lightly floured work surface. Roll out to a thickness of 5mm. Cut out using shaped cutters.
Place the biscuit shapes on the prepared baking trays and bake in the preheated oven for 10-15 minutes. Remove from the oven and lift on to a wire rack to cool.
To make the icing, whisk the egg white and lemon juice together in a bowl. Gradually add icing sugar, whisking constantly. You are aiming for a mixture that looks like thick whipped cream with soft peaks. This is the best consistency for piping.
If using food colouring, divide the icing into separate bowls and mix in food colourings of your choice until you achieve the correct shade.
Spoon a little icing into a piping bag and pipe your decorations on the biscuits. If you want to fill in an area with icing you should outline with the piping bag first, allow to dry for a few minutes and then flood the biscuit with a softer icing. To do this, add a little extra water, a few drops at a time, but make sure it is not so runny that it doesn't keep its shape.
When filling in shapes start from the outside and work towards the middle being careful not to put too much icing on. If air bubbles appear, prick them with a pin. Let the cookies dry overnight and then add any other decorations such as lollies or sprinkles the next day.
---
Share this recipe
---
More recipes like this