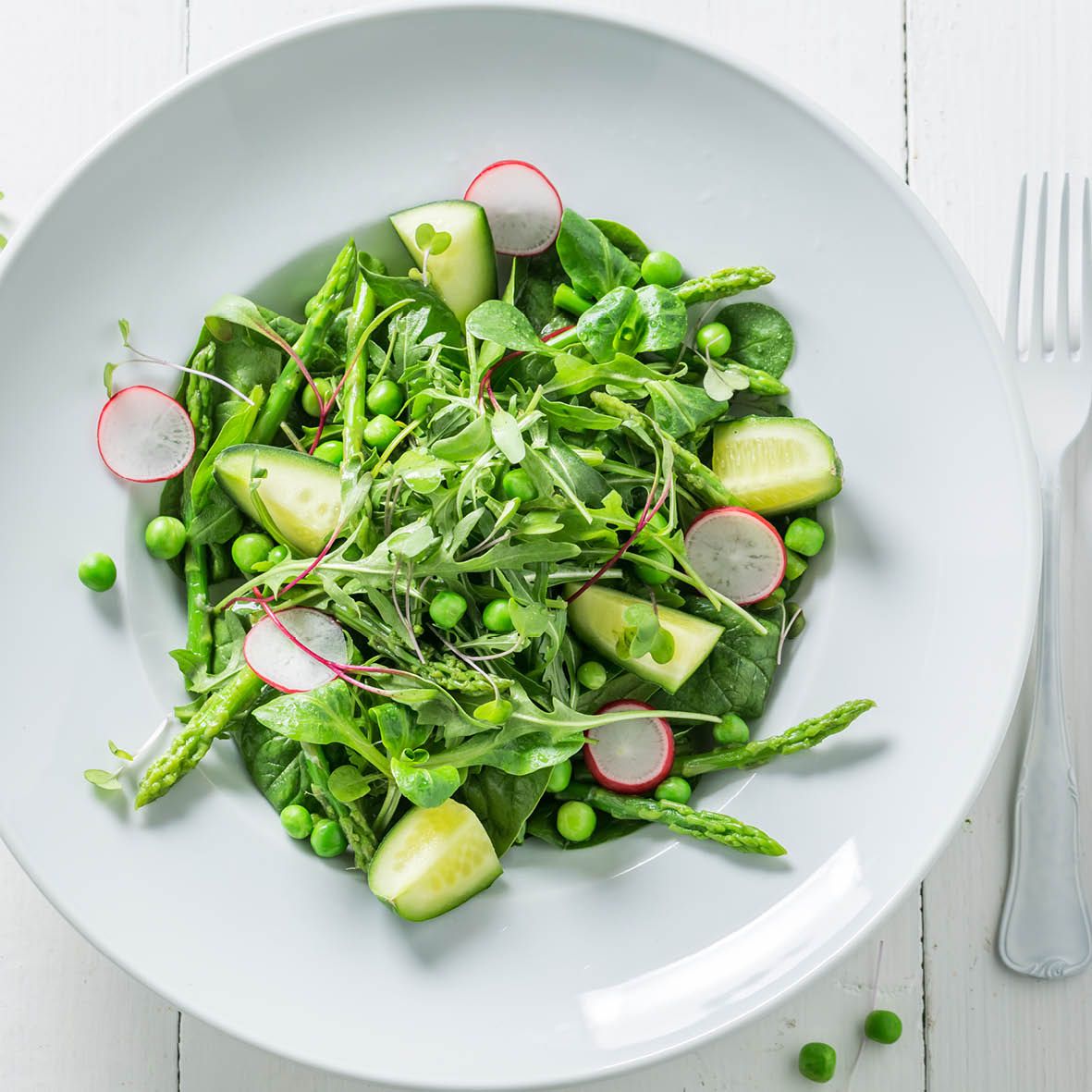 Summer Greens Salad with Peas, Asparagus and Radish
Crisp seasonal veggies tossed in a fragrant vinaigrette.
How long will it take?
30 minutes
What's the serving size?
Serves 6
---
What do I need?
1 ½ bunches asparagus, woody ends removed, cut in half
2 cups fresh peas
2 radishes, finely sliced
2 cups baby spinach leaves
1 continental cucumber, chopped into large pieces
For the Vinaigrette
1/3 cup olive oil
1 tbsp white wine vinegar
1 tsp honey
Juice and zest of 1 lemon
1 tbsp fresh thyme leaves
2 cloves garlic
Salt to taste
Freshly ground black pepper, to taste
How do I make it?
Bring a large saucepan of water to the boil and prepare an ice bath by filling a large bowl with cold water and ice.
Add asparagus and peas to the boiling water and cook for 2-3 minutes or until they start to become tender. Drain and put in the ice bath until completely cooled. When cooled drain and remove excess water with paper towel.
Add baby spinach, radish slices, cucumber, peas and asparagus to a salad bowl.
Make vinaigrette by adding all ingredients to a blender and blitzing until combined.
Drizzle vinaigrette over salad and serve.
TOP TIPS
- You can use frozen peas if fresh are unavailable. Cook them for the same time as the fresh peas.
- The vinaigrette can be made in advance and stored in the fridge. It will keep for 4 days. Shake well before serving.
---
Share this recipe
---
More recipes like this