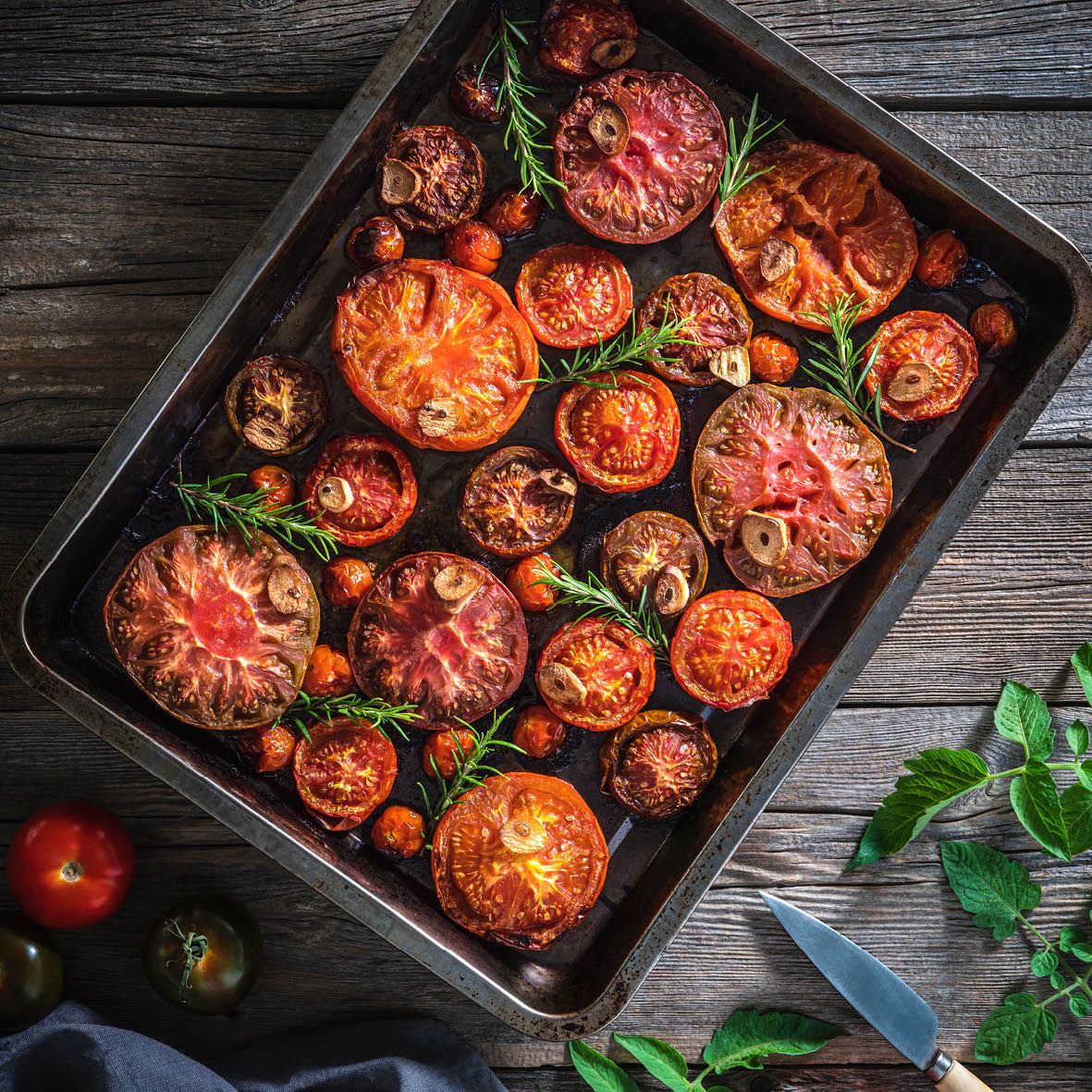 Roasted Heirloom Tomatoes with Dukkah
Slow-roasting tomatoes brings out their natural sweetness which combined with the nutty, fresh flavours of the dukkah results in a sublime side dish.
How long will it take?
2 ¼ hours
What's the serving size?
Serves 6
---
What do I need?
6 cups assorted heirloom tomatoes, halved or for larger tomatoes cut into thirds
3 tbsp olive oil
6 cloves garlic, peeled and finely sliced
For the Dukkah
½ cup almonds
½ cup pine nuts
5 tbsp sesame seeds
½ tsp fennel seeds
1 tsp ground turmeric
1 tsp ground cumin
1 tsp freshly ground black pepper
1 tsp salt
¼ tsp ground ginger
¼ tsp red chilli flakes
Zest of 1 lemon
How do I make it?
Preheat oven to 120C.
Toss tomatoes, garlic and olive oil together in a baking tray, then arrange tomatoes cut side up in the tray and roast for 2 hours.
Meanwhile make dukkah by toasting almonds and pine nuts in a frying pan over medium heat, until fragrant. Set aside to cool. When cool, blitz nuts and remaining dukkah ingredients in a food processor until well combined.
Remove tomatoes from the oven and sprinkle with dukkah, then serve.
TOP TIPS
- Leftover dukkah can be stored in an airtight container for 2 weeks in the fridge.
- Dukkah is delicious served on eggs, fish, meats, chicken, roasted vegetables, salads, soup, avocado, and pasta.
---
Share this recipe
---
More recipes like this