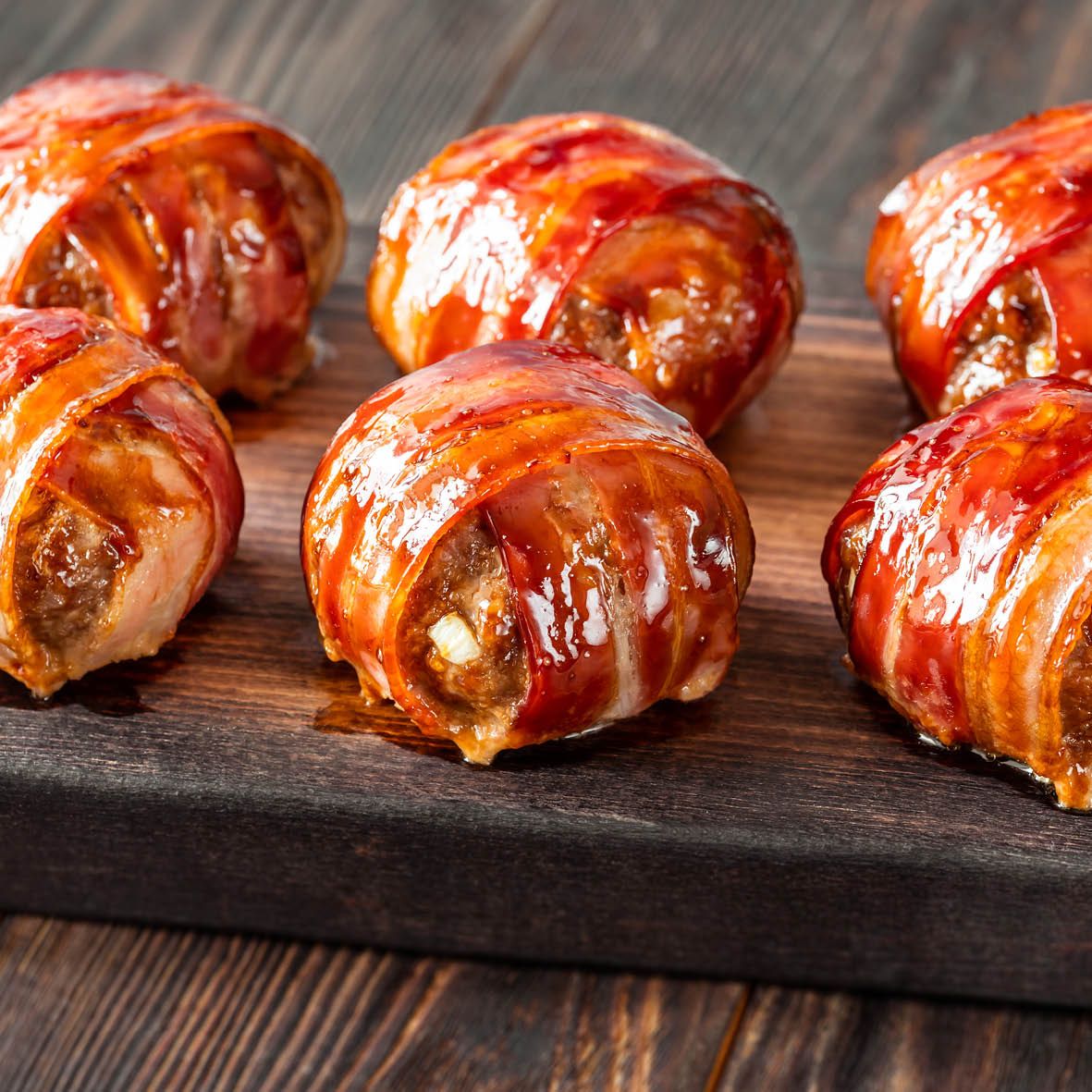 Bacon Wrapped Stuffing Bites
A fabulous fusion of crispy bacon and tasty stuffing, for the most delicious Christmas side you ever did eat.
How long will it take?
30 minutes
What's the serving size?
Makes 24
---
What do I need?
¼ cup olive oil
½ cup maple syrup
12 rashers bacon, sliced in half
¾ cup unsalted butter, plus extra for greasing
½ cup diced onion
½ cup diced celery
1 ½ tsp salt
½ tsp freshly ground black pepper
½ cup chicken stock
2 eggs
10 cups day old bread, cubed
½ cup chopped flat leaf parsley
How do I make it?
Preheat oven to 190C.
Whisk together olive oil and maple syrup. Set aside.
Line a baking pan with foil and place a wire rack on top. Spray the rack with cooking spray and arrange bacon on the rack. Roast for 4 minutes, or until the bacon just begins to shrink, but is still flexible. Remove from the oven. Brush with maple syrup and olive oil mixture and return to the oven for a further 2 minutes. Remove from oven and set aside to cool.
Line a baking tray with aluminium foil and lightly grease the foil with butter.
Melt butter in a frying pan over medium heat. Add onion and celery and cook, stirring until softened. Add salt and pepper and cook for a further minute. Set aside.
Combine chicken stock and eggs in a large bowl and toss in parsley and bread. Add onion and celery to the bowl and mix until combined.
Use your hands to shape into balls and then wrap each ball in bacon. Place balls onto prepared baking tray and brush with remaining maple syrup mixture. Return to oven and cook for 15 minutes or until the bacon is browned and crispy.
TOP TIPS
- Get ahead by making the stuffing portion of the bites in advance. Then you can wrap them in bacon and cook just before serving.
- Store leftovers in an airtight container in the fridge for up to three days.
- Bites can be frozen for up to 3 months. Place them on a baking tray, cover and freeze overnight, then transfer to a freezer-safe container or freezer bag. Thaw in the fridge when you want to eat them.
---
Share this recipe
---
More recipes like this