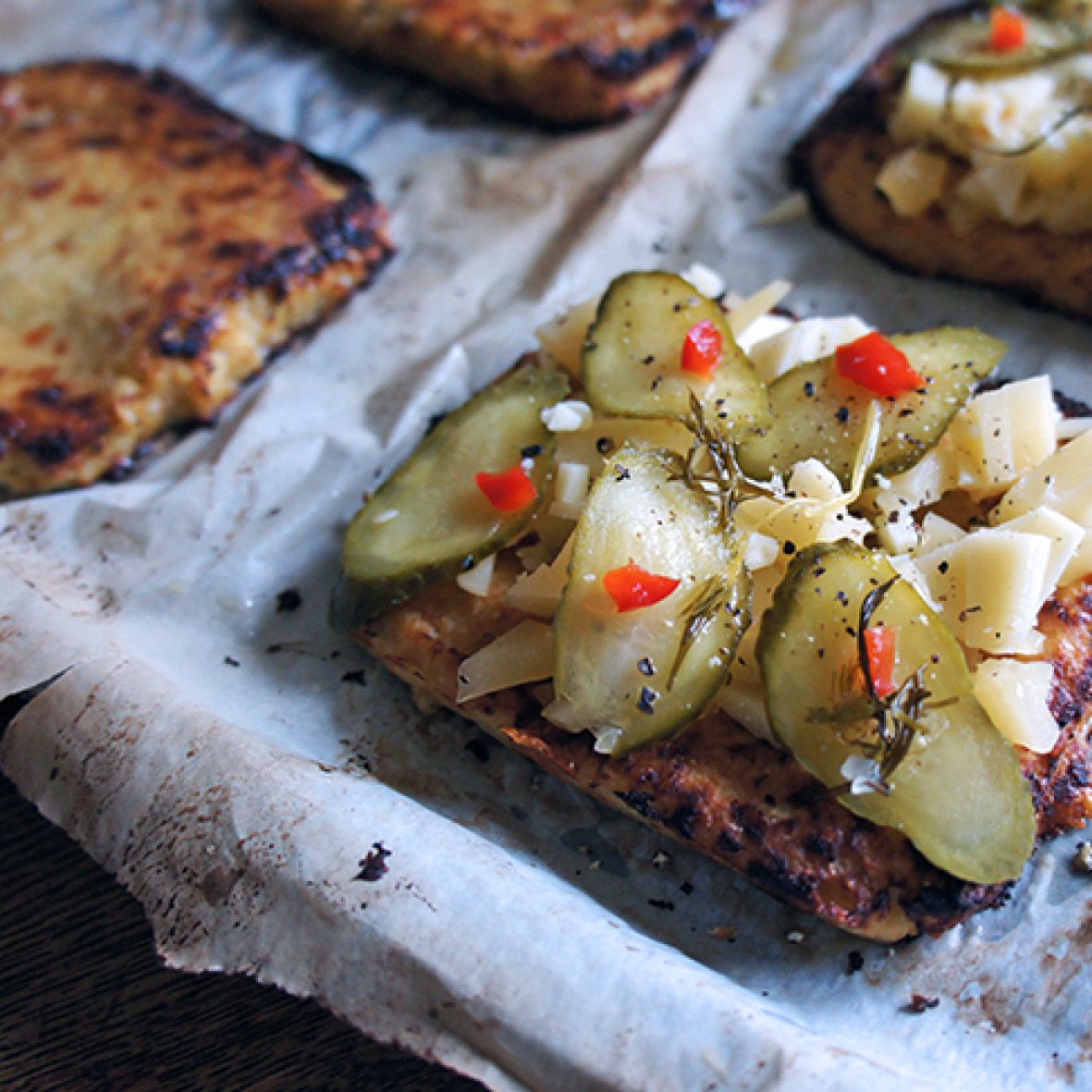 The flour in bread is swapped for cauliflower to create a gluten free and guilt free bread. Bake yourself up a few slices and you'll discover a whole new world of delicious flavour.
How long will it take?
5 minutes prep, 20 minutes cooking
What's the serving size?
Serves 2
---
What do I need?
1 small head cauliflower, cut into small florets (should yield 3 cups of cauliflower rice)
1 tablespoon olive oil, plus extra to grease
1 free-range egg, lightly beaten
25 g grated parmesan
25g grated comte or mature cheddar cheese, grated
1/4 teaspoon fine sea salt
How do I make it?
Preheat oven to 220°C/ 450°F
Line a baking sheet with parchment paper and liberally grease it with olive oil. Set aside.
In a food processor rice the cauliflower florets until they are a fine crumb.
Heat the olive in a large frying pan on a low-medium heat. Add the cauliflower rice (about 3 cups) and cook for 10-15 minutes, stirring continually or until soft. You want the water to evaporate as much as possible from the cauliflower without developing colour. The cauliflower rice needs to be almost completely dry, otherwise you'll end up with mushy dough.
Transfer the cauliflower rice to a mixing bowl, add egg, parmesan, comte, salt and mix well, then spread the mixture onto the lined baking sheet and shape into 4 bread squares. Place the baking tray in the oven and bake for about 12-15 minutes, or until golden. Remove and let cool for 10 minutes, then gently peel them off the parchment paper.
To make into a grilled cheese toastie heat a pan over medium heat. Butter one side of each slice of cauliflower bread and place the buttered side down in the pan. Cover the bread liberally with your chosen cheese and other toppings (if desired) and top with the remaining slice of cauliflower bread, buttered side up. Cook until golden brown, about 2 to 4 minutes, then gently flip and cook until golden brown on the other side.
Best enjoyed when hot and oozingly melty.
---
Share this recipe
---
More recipes like this