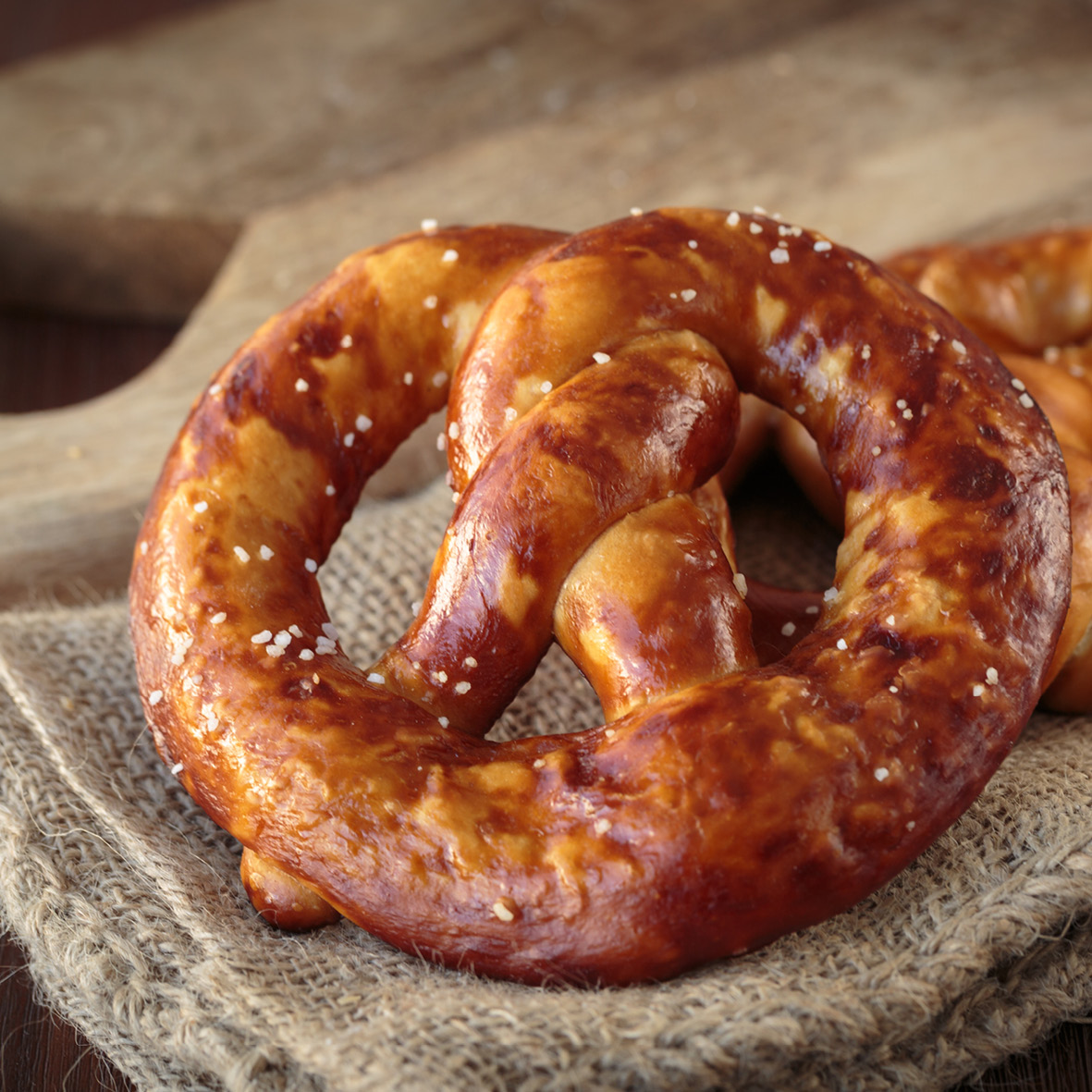 Brie Stuffed Pretzels with Rosemary and Sea Salt
Soft, cheesy and doughy inside with a crispy crust on the outside
How long will it take?
90 minutes
What's the serving size?
Makes 8 pretzels
---
What do I need?
1½ cup warm water
1 Tbsp sugar
2 tsp sea salt
2¼ tsp instant yeast
4½ cups plain flour
60g butter, melted
220g Mon Pere brie, sliced
8 cups water
½ cup baking soda
Olive oil, for brushing
Sea salt
Fresh rosemary, for garnish
How do I make it?
In the bowl of an electric mixer, mix together water, sugar, salt and yeast; let sit for 5 minutes until frothy.
Using the dough hook, add the flour and butter, mixing on low speed until dough pulls away from the sides of the bowl, approximately 5 minutes.
Transfer dough to a lightly oiled bowl, cover with plastic wrap and set aside in a warm place for about an hour or until the dough has doubled in size.
Turn the dough out onto a lightly floured surface and divide into 8 equal pieces.
Roll each piece into a 45 centimetre rope, then flatten rope so it's more of a long rectangle. Place brie cheese in the centre, then roll dough back into a rope shape, pinching the edges to ensure all the cheese is completely encased in the dough. Shape into pretzels.
When ready to eat, preheat the oven to 220°C. Line two large baking trays with baking paper; set aside.
Bring the water and baking soda to a boil in a large saucepan.
Using a flat spatula, drop the pretzels into the boiling water and boil for 30 seconds. Depending on the size of your saucepan you may need to boil one at a time.
Remove pretzels from the water, drain and place on the baking sheets. Brush the top of each pretzel with olive oil, sprinkle with sea salt and fresh rosemary.
Bake until golden and puffed, 12-14 minutes. Serve warm.
Recipe from Port and Fin
---
Share this recipe
---
More recipes like this