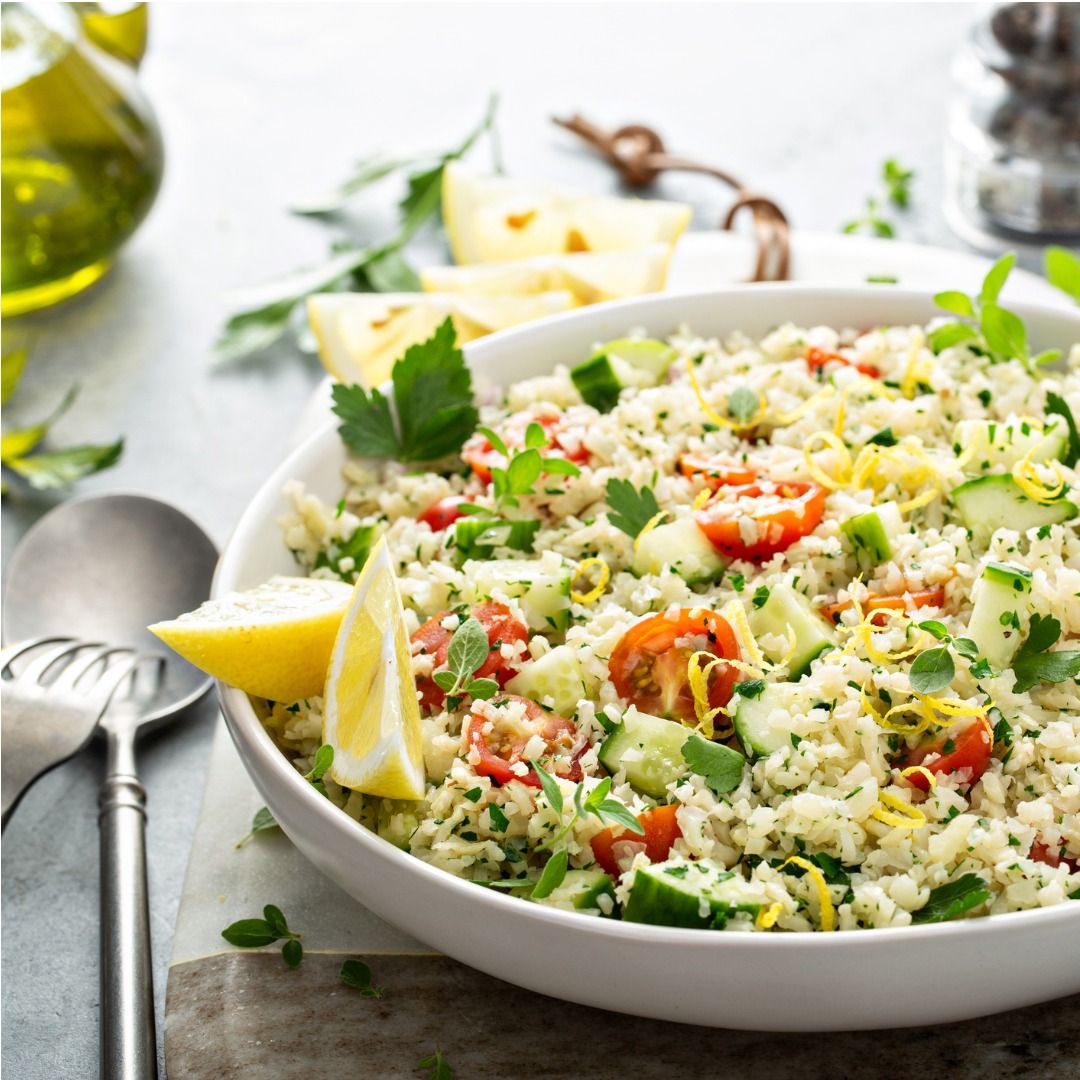 Tabbouleh Salad with Cauliflower Rice and Vegetables
This low-carb salad is a fantastic side with your favourite protein or equally as good to enjoy on its own. Making your own cauliflower rice is easy with a food processor but you can also use a box grater or even a sharp knife if you want to.
How long will it take?
15 minutes
What's the serving size?
Serves 4 as a side dish
---
What do I need?
1 large cauliflower
1 medium cucumber, chopped
175 g cherry tomatoes, halved
3 spring onions, chopped
1/3 cup mint leaves, chopped
1/3 cup flat leaf parsley leaves, chopped
Zest of ½ lemon
Lemon wedges to serve
For the dressing
¼ cup lemon juice
1 tbsp red wine vinegar
2 tbsp olive oil
1 clove garlic, minced
Salt
Freshly ground black pepper
How do I make it?
Cut cauliflower into large pieces and place in a food processor. If using a food processor, attach the grater attachment and grate into rice. If using a box grater, grate until pieces are the size of grains of rice. If using a knife, continue chopping until the cauliflower is finely chopped into rice-sized pieces.
Add cauliflower rice to a large bowl, then add cucumber, tomatoes, onion, mint, parsley, and lemon zest and toss to combine.
Whisk dressing ingredients together and season to taste. Pour dressing over cauliflower rice and vegetables and toss again.
Serve immediately with lemon wedges or store in the fridge before serving.
---
Share this recipe
---
More recipes like this