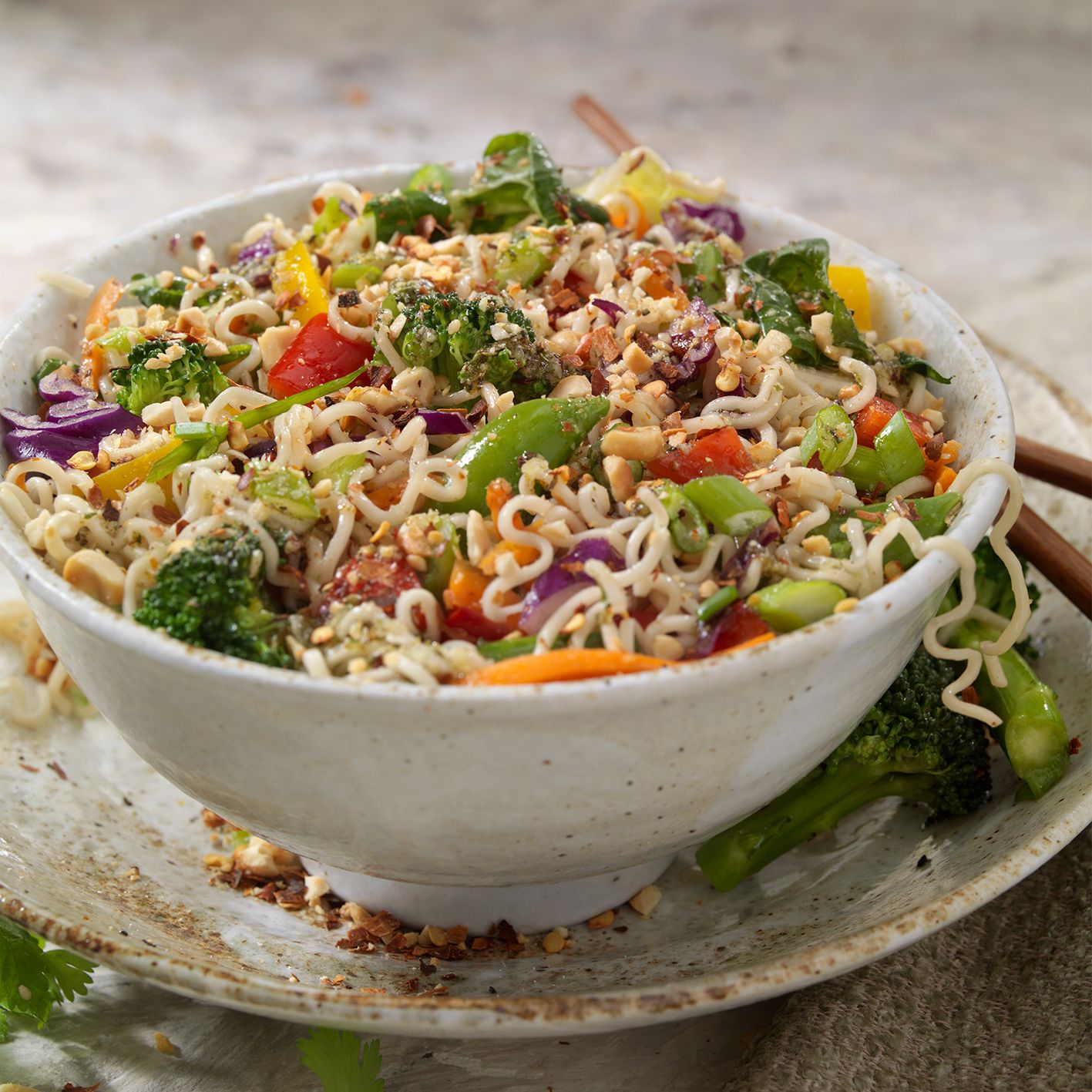 Instant Noodle Vegetable Salad
This tasty salad is easy to make and packed full of fresh vegetables to give it lots of flavour, colour and texture. It's great on its own or you could toss in some shredded barbecue chicken for added protein.
How long will it take?
20 minutes, plus cooling time
What's the serving size?
Serves 4
---
What do I need?
2 packets instant noodles
2 cups shredded red cabbage
1 cup broccoli florets
1 large carrot, peeled and cut into matchsticks
½ red capsicum, diced
½ yellow capsicum, diced
1 cup sugar snap peas
1 spring onion, green part only, sliced
¼ cup peanuts, chopped
For the dressing
1/3 cup vegetable oil
¼ cup rice wine vinegar
1 tbsp sugar
Seasoning from noodle packets
How do I make it?
Remove noodles from the packets and place in a large bowl, setting aside the seasoning packets.
Fill kettle and put on to boil. When kettle has boiled pour boiling water over the noodles to cover them completely. Allow to sit for 1 minute, then use a fork to separate noodles. Leave noodles in the boiling water until they are soft, then drain and place in the fridge to cool.
Meanwhile, place broccoli in a microwave-safe bowl with 3 tablespoons of water and cover with a lid or a plate. Microwave on high for 2 ½ minutes or until the broccoli is tender but still holding its shape. Remove from microwave and set aside.
When noodles have cooled add to a large bowl with shredded red cabbage, broccoli, carrot, yellow and red capsicum, sugar snap peas, and spring onion. Toss to combine all ingredients.
Add all dressing ingredients to a small bowl and whisk to combine.
Pour dressing over salad and toss to coat. Serve garnished with chopped peanuts.
---
Share this recipe
---
More recipes like this