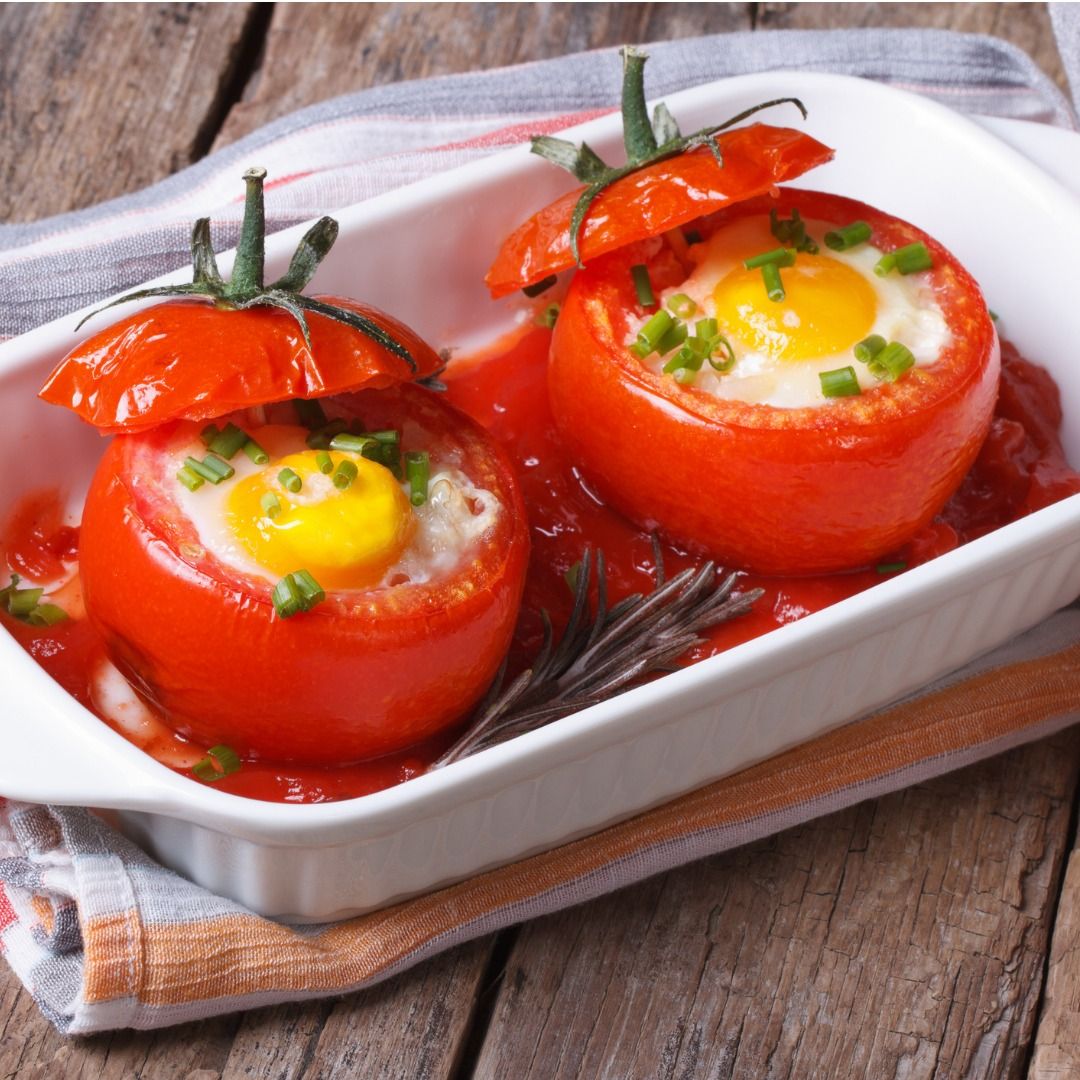 Eggs baked in tomatoes
It's Sunday morning and you feel like treating yourself to something yummy but different for breakfast. Bacon and eggs are good but there's no bacon in the fridge. Pancakes are delicious but too hands-on with all that flipping. No, you're hankering for something that you can prepare quickly and leave to cook while you get on with reading the Sunday paper/ checking Facebook / popping back to bed for an extra bit of snooze time. We've got that problem solved with this recipe that will kick-start your day perfectly.
How long will it take?
30 minutes
What's the serving size?
4 servings
---
What do I need?
2 tablespoons olive oil
8 medium tomatoes
8 large eggs
¼ cup milk
¼ cup grated Parmesan cheese
Salt and freshly ground black pepper
4 tablespoons chopped fresh herbs (like parsley, thyme, rosemary or a mixture)
How do I make it?
Preheat the oven to 190°C. Grease a large, oven-safe skillet with the olive oil.
Using a small paring knife, cut around the stems of the tomatoes and remove them. Use a spoon to scoop out all the insides of the tomatoes. (Reserve the insides and use them to make tomato sauce or salsa.)
Arrange the tomato shells snugly in the prepared skillet. Crack an egg into each tomato. Top each egg with 1 tablespoon milk and 1 tablespoon Parmesan. Season each egg with salt and pepper.
Bake until the tomatoes are tender, the egg whites are set and the yolks are still a little jiggly, 15 to 17 minutes. Let cool 5 minutes and then garnish with the fresh herbs. Serve immediately.
---
Share this recipe
---
More recipes like this