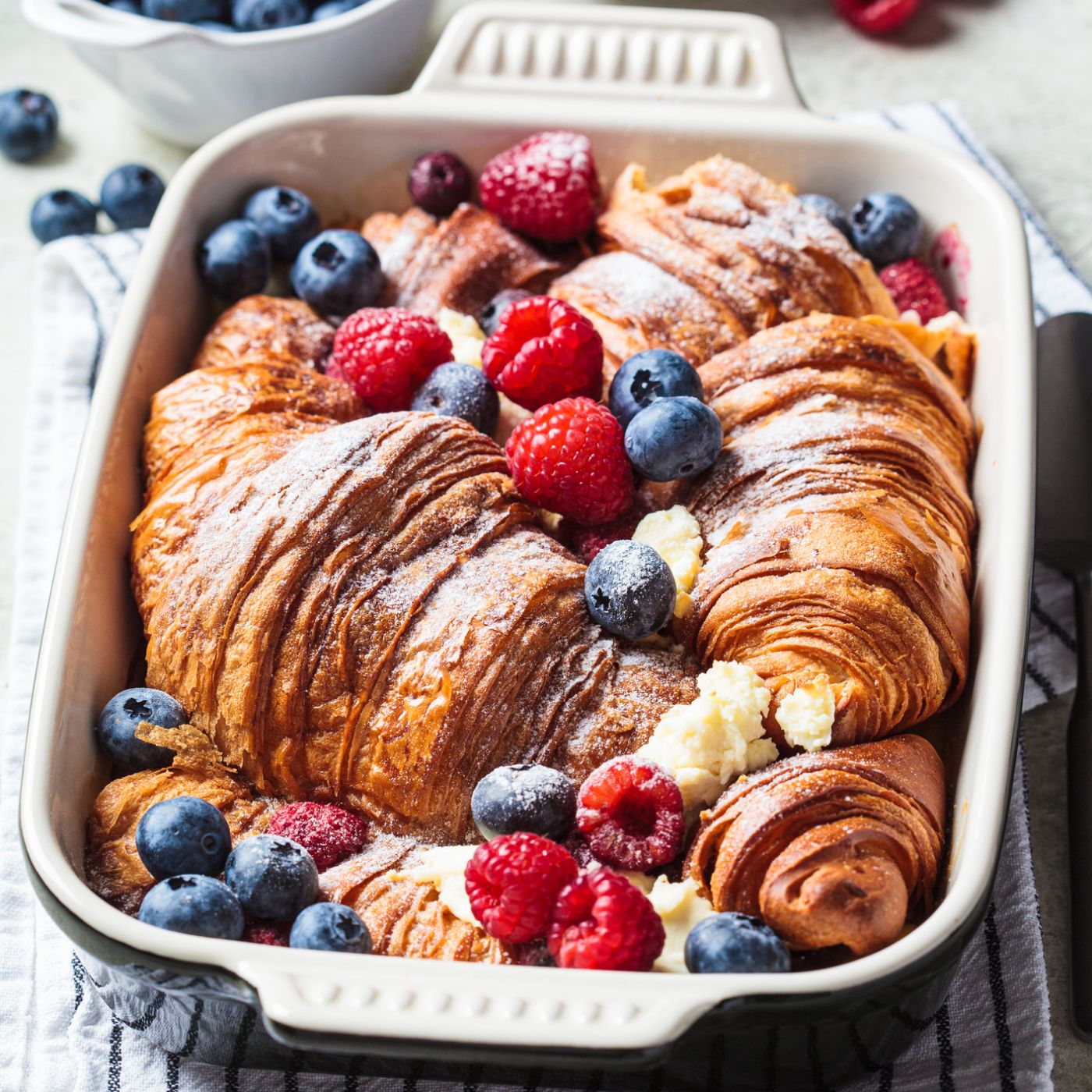 Baked Croissant French Toast
Ooh la la! Commemorate Bastille Day with this decadent celebration of French flavour. Featuring buttery croissants, a creamy custard, and fresh berries, it's perfect for breakfast or brunch and can be prepared the night before, so all you have to do is pop it in the oven.
How long will it take?
3 hours
What's the serving size?
Serves 8
---
What do I need?
8 croissants, cut in half lengthways
1 cup cream
1 cup milk
1 tsp vanilla extract
6 eggs
½ cup brown sugar
Pinch ground cinnamon
Pinch ground nutmeg
Pinch salt
2 cups berries of your choice (we used raspberries and blueberries)
Icing sugar to dust
How do I make it?
Butter a large casserole dish and set aside.
Whisk milk, cream, vanilla, eggs, sugar, cinnamon, nutmeg, and salt together in a large bowl. Dip croissant halves into mixture ensuring they are fully coated, then arrange in the casserole dish. Pour remaining milk mixture over the croissants.
Sprinkle half the berries over the croissants and use your fingers to gently push some into the gaps between the croissants. Cover with a lid or clingfilm and refrigerate for at least 2 hours.
Preheat oven to 180C.
Remove casserole dish from the fridge 20 minutes before baking and let stand at room temperature. Bake with the lid on or covered with foil for 30 minutes, then remove lid and bake for a further 15 minutes or until golden. Remove from oven and rest for 10 minutes, then dust with icing sugar and sprinkle with remaining berries. Serve with maple syrup and cream if desired.
---
Share this recipe
---
More recipes like this