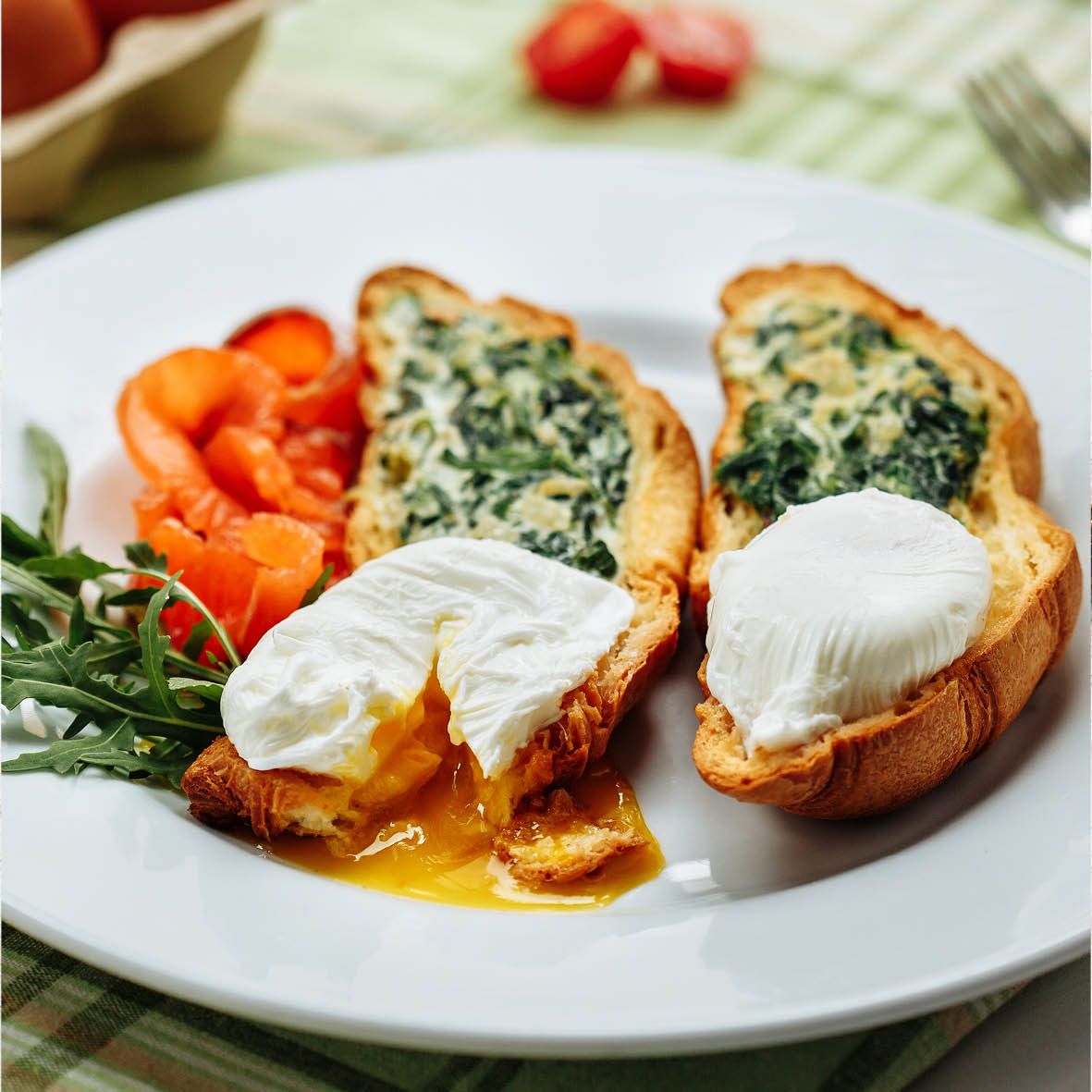 Ultimate breakfast croissant
Make brunch at home the best ever with this delicious savoury croissant. Featuring cheesy spinach and a perfectly poached egg, it's simple to make but packed with flavour.
How long will it take?
15 minutes
What's the serving size?
Serves 2
---
What do I need?
1 tbsp olive oil
2 cloves garlic, finely chopped
80ml cream
200g baby spinach
30g grated Grana Padano
2 croissants
4 eggs
2 tbsp white vinegar
Freshly ground black pepper
How do I make it?
Preheat oven to 160C.
Heat the olive oil in a frying pan over medium heat. Add garlic and cook for 1 minutes. Add cream and spinach and cook until the spinach has wilted. Turn off heat and add Grana Padano and stir through. Set aside.
Cut croissants in half lengthways and cook on a baking tray in the oven for 3 to 4 minutes. Remove from oven and spread each half of the croissants with a generous amount of the spinach mixture.
Bring a saucepan of water to the boil, then reduce the heat to low. Crack eggs one at a time into a fine mesh strainer over a small bowl and remove the liquid that remains in the bowl (this will leave the firmer part of the white and the yolk for cooking). Place the egg from the sieve into a ramekin.
Stir vinegar into the water and add the eggs and cook for 3 minutes. Remove from the water with a slotted spoon and place on top of the spinach. Season with freshly ground black pepper and serve immediately.
---
Share this recipe
---
More recipes like this