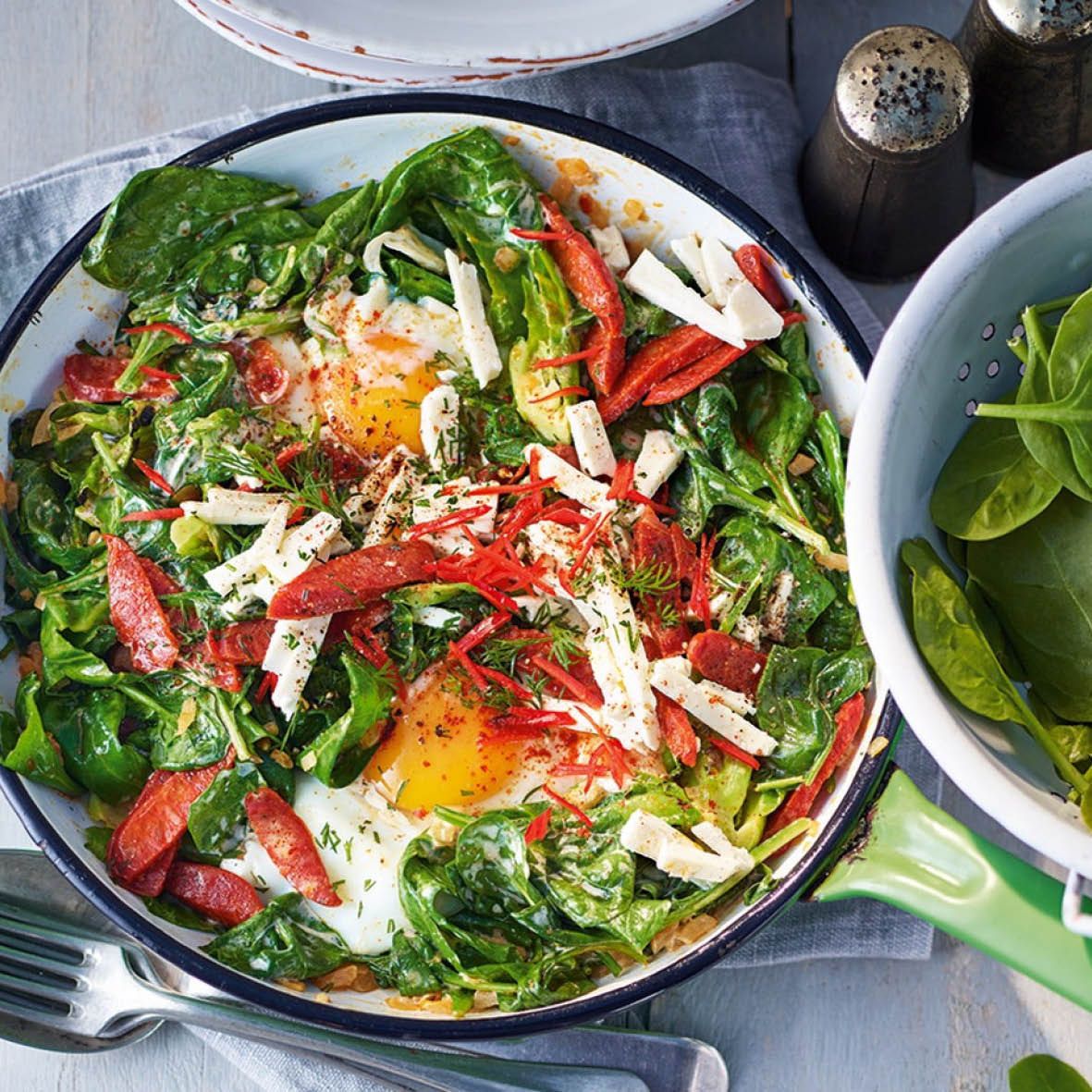 Sunday pick-me-up brunch
This is the perfect brunch for those Sunday mornings when you might be feeling a bit under the weather, either from a busy work week or perhaps a big Saturday night out. The spices will clear your head and wake you up and the eggs and spinach will give you essential protein and nutrients. Oh, and it tastes amazing!
How long will it take?
20 minutes
What's the serving size?
Serves 1-2
---
What do I need?
1 tbsp olive oil
2 eggs
1 onion, finely chopped
1 garlic clove, finely chopped
½ tsp ground cumin
½ tsp ground coriander
75g greens, sliced
150g baby spinach leaves
3 tbsp cream
1 tbsp lemon juice
75g feta, sliced
50g chorizo, sliced
½ red capsicum, sliced
Handful dill leaves, chopped
½ red chilli, seeded and finely sliced
Pinch smoked paprika
How do I make it?
Heat a frying pan over medium-high heat. Add chorizo and cook until it is crispy. Remove chorizo from pan and set aside.
Add olive oil to the frying pan and then add onion and cook over a low heat until softened. Add garlic and spices and cook for 2 minutes.
Next add coriander and spinach and season with salt and pepper. Cook until the spinach has just wilted.
Add cream and lemon juice to the pan. Use a wooden spoon to make two holes in the mixture and crack an egg into each. Scatter over the chorizo, feta, dill chilli, capsicum and paprika and cook for a further 8 minutes or until the whites of the eggs have set.
Serve immediately.
---
Share this recipe
---
More recipes like this