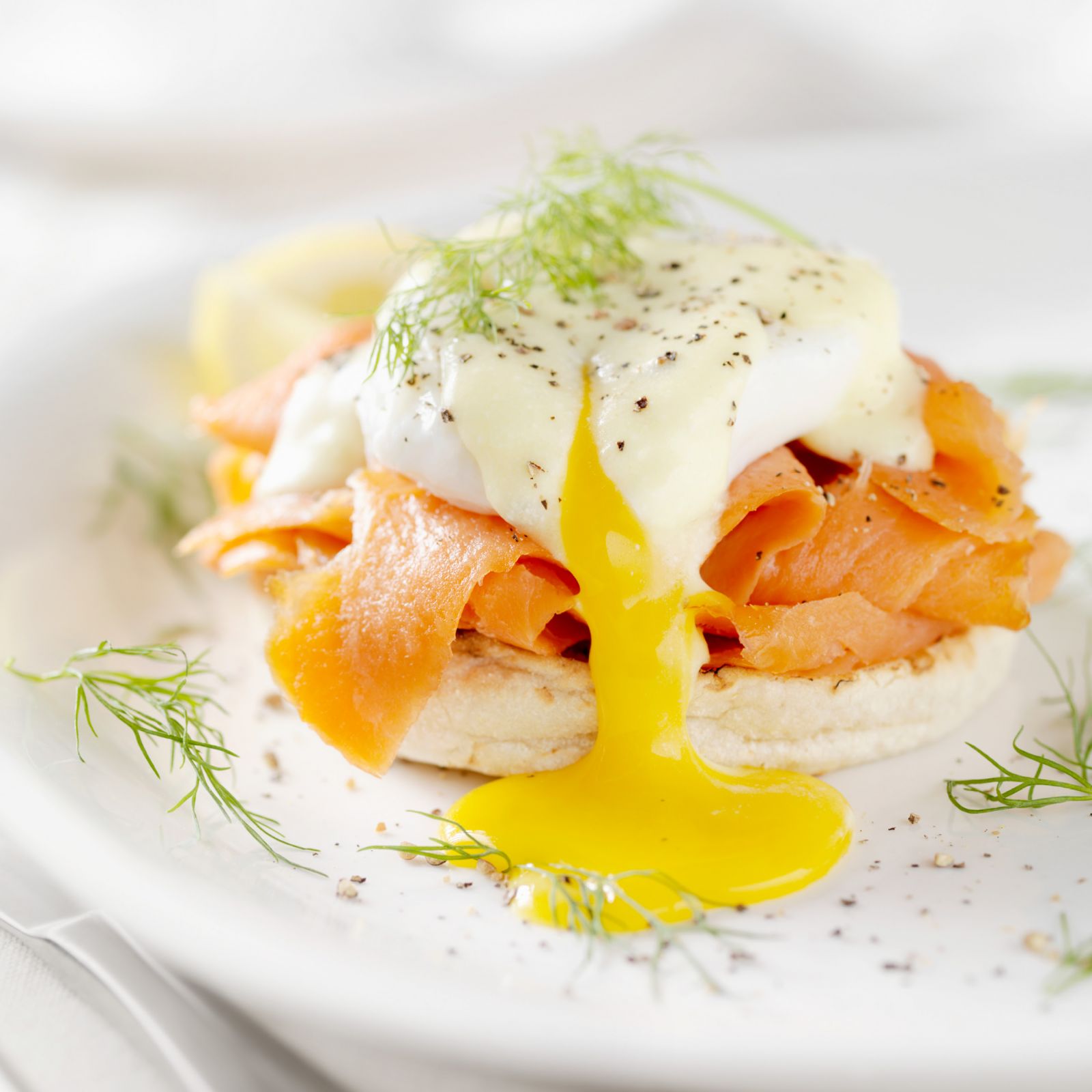 Smoked Salmon Eggs Benedict with Dill Hollandaise
Never made your own hollandaise? Our recipe is quick, easy and foolproof. And if you can't seem to get your poached eggs with the perfect runny yolk then follow our steps for success every time.
How long will it take?
20 minutes
What's the serving size?
Serves 4
---
What do I need?
4 English muffins
8 slices smoked salmon
4 eggs
For the Hollandaise
1 egg yolk
1 tablespoon chopped fresh dill fronds
1 teaspoon water
1 teaspoon lemon juice
Salt
110 grams butter
How do I make it?
For the Hollandaise
Combine egg yolk, water, lemon juice, and a pinch of salt in the bottom of a cup. Use a cup that just fits the head of a stick blender.
Melt butter over high heat, swirling constantly. Transfer butter to a measuring cup.
Place the head of the stick blender into the cup with the egg yolk mix and turn on. Keep the blender running while you slowly add the hot butter. This will emulsify with the egg yolk and lemon juice. Continue until all butter is added. The sauce should be a thick and creamy consistency. Season to taste with salt and pepper. Stir dill gently into the hollandaise.
For the eggs
Place a pot of water on and bring to about 80C – this is the point where the water is just about to simmer (it will look like it is quivering).
To get the perfect eggs you need a fine mesh strainer. Crack an egg into the strainer and swirl around gently until all the excess egg white is drained away. This will leave you with a nice tight egg.
Using the strainer lower the egg into the water on the strainer. Move the strainer around in the water a bit to ensure the egg isn't stuck to it and then roll the egg carefully off.
If cooking multiple eggs, have them cracked in separate dishes and ready to go.
Once eggs are in the water, keep them moving about by flipping them with a slotted spoon every now and then. This will ensure that they cook evenly. They will need about 3 ½ to 4 minutes.
Serve by toasting muffin and topping with smoked salmon, egg and hollandaise sauce.
---
Share this recipe
---
More recipes like this