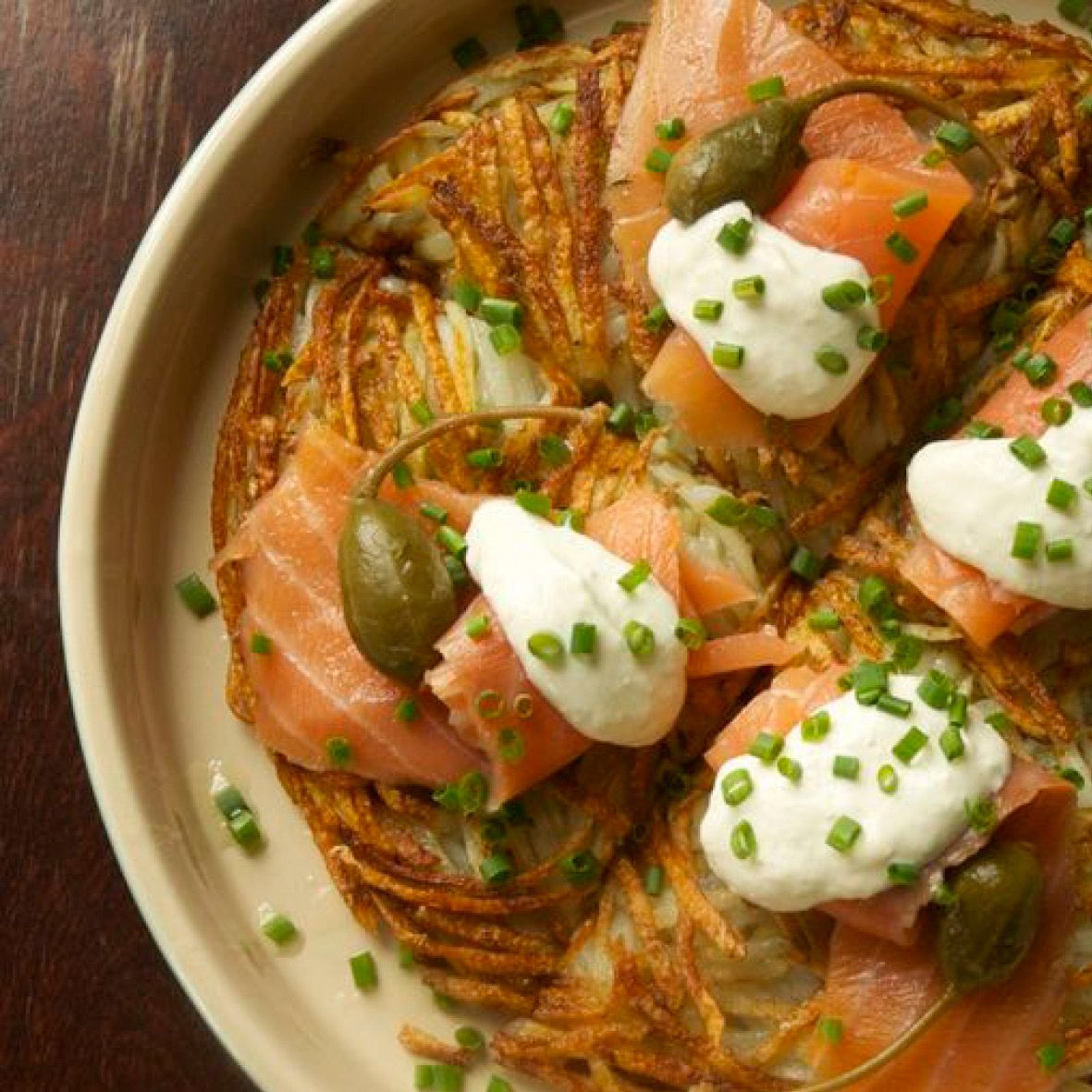 Potato rosti with gravalax
This makes for a great brunch or a good starter for an elegant dinner. The key to success here is to get the inside cooked without burning the crust.
How long will it take?
45 minutes
What's the serving size?
Serves 4
---
What do I need?
500g russet or dutch cream potatoes, scrubbed and roughly peeled
4 tablespoons unsalted butter
2 tablespoons grape seed oil
4 pieces gravlax style smoked salmon
4 caper berries
1/3 cup sour cream
2 teaspoons prepared horseradish
salt and fresh ground white pepper
1 tablespoon fresh chives very finely chopped
How do I make it?
Place a clean tea towel under a mandoline and grate the potatoes using the julienned blade and let them fall right onto the towel.
Bunch up the corner of the towel and rinse the potatoes under cold running water.
Twist the towel forming a tight ball and keep twisting until all the moisture is removed.
Place the potatoes into a bowl and combine with the melted butter. Season with salt and white pepper.
Heat a 25cm nonstick saute pan over medium heat. Add the grape seed oil and then place the potatoes evenly across the bottom of the pan.
When the rosti is ready to flip use an oversize lid or pizza pan and cover the sauté pan. Do this by the sink.
Flip, without hesitation, while holding the pizza pan tightly to the pan, and then slide the cake carefully back into the pan.
Cook the other side of the rosti until crispy. Combine the sour cream with the horseradish and season it with salt and pepper. Roll the salmon slices attractively. Rinse the caper berries. Chop the chives. Arrange the different elements attractively on the rosti, cut, and serve.
Recipe from Food52
---
Share this recipe
---
More recipes like this