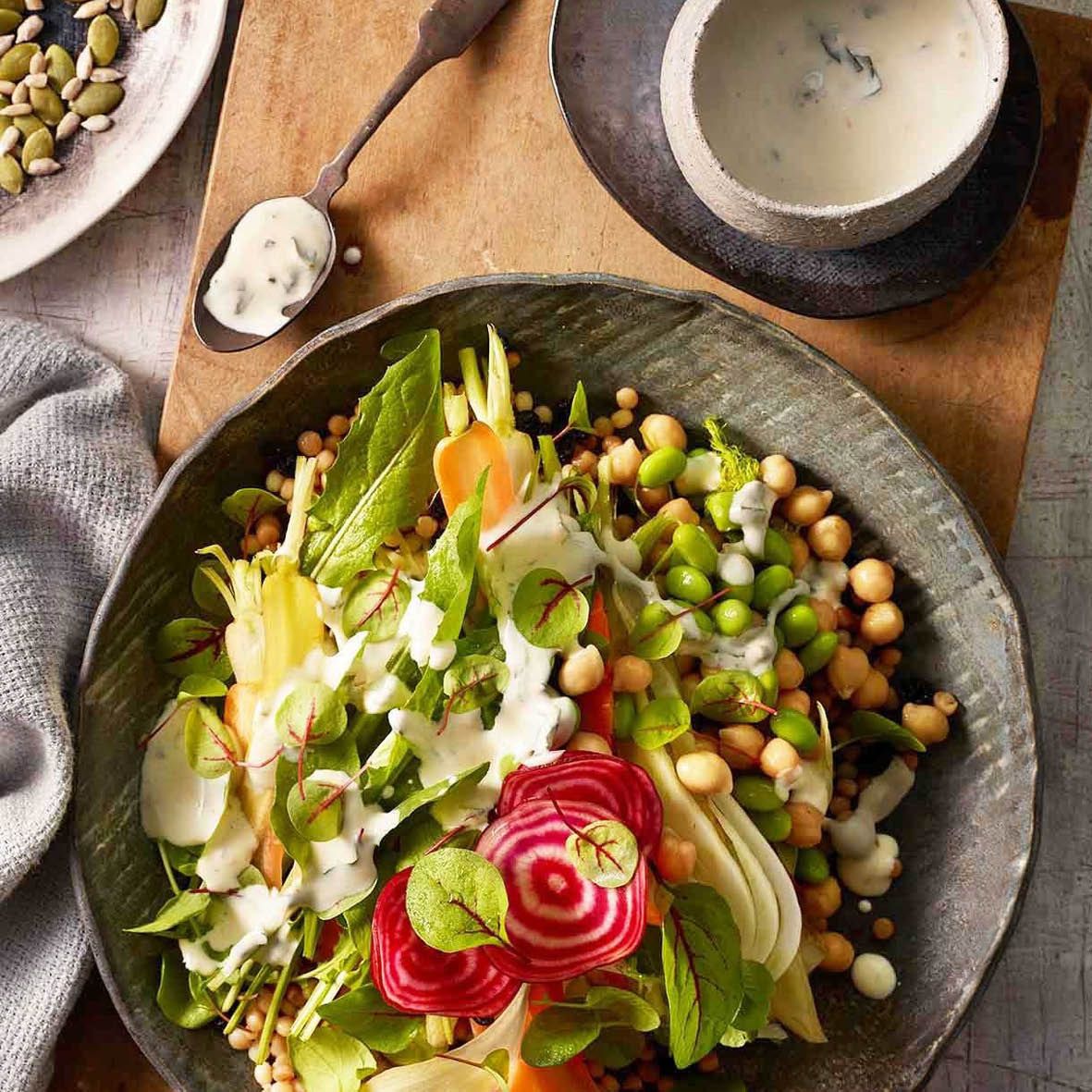 Israeli Couscous Salad Bowl with Orange Basil Yoghurt
A vibrant, fresh and healthy salad to celebrate Australian Organic Awareness Month. Recipe supplied by Jalna.
How long will it take?
30 minutes
What's the serving size?
Serves 4
---
What do I need?
1 tablespoon olive oil
1 ½ cups Israeli couscous
3 cups vegetable stock or water
400g can chickpeas, drained and rinsed
1 medium fennel bulb, trimmed and thinly sliced
1 medium carrot, coarsely grated or pickled carrot (see recipe below)
½ cup edamame
50g mixed salad leaves
3 green onions, finely sliced
1/3 cup combined chopped flat-leaf parsley and mint leaves
¼ cup seed mix (eg. pepitas, sunflower)
2 tbsp currants
1 tbsp lemon juice
Fresh beetroot, shaved
For the Orange Basil Yoghurt
Juice & zest of ½ orange
1 cup Jalna Biodynamic Organic Whole Milk Yoghurt
¼ bunch basil, leaves picked and finely shredded
Salt & cracked black pepper, to taste
For the Pickled Carrots
3 tbsp rice or white wine vinegar
½ tsp sugar
Pinch of salt
2 tablespoons water
2 carrots, peeled thinly into ribbons or thinly sliced
1-2 teaspoons grated ginger
How do I make it?
In a medium saucepan, heat oil over a moderately high heat. Add couscous and stir until begins to colour, stir 4-5 minutes. Add stock and salt to taste and bring to a boil. Reduce the heat, cover and simmer 10 minutes or until tender. Drain any excess liquid.
Meanwhile, make the orange basil yoghurt by combining all ingredients in a medium bowl and whisking until well combined. Set aside for flavours to develop.
In a large bowl toss the couscous with chickpeas, fennel, carrot, edamame, salad leaves, green onion, parsley and mint, seeds, currants and lemon juice. Serve drizzled with orange basil yoghurt.
For the Pickled Carrots
In a small bowl, whisk together the vinegar, sugar, salt and water until the sugar dissolves. Add the sliced carrots and ginger and set aside to pickle for at least 10 minutes or longer if time permits. Best used within a couple of days but can be refrigerated for up to a week.
Note: Add grated raw or cooked beetroot which makes the salad turn a vibrant pink colour. Substitute Israeli couscous with quinoa, amaranth, burghul, red rice, soba noodles or supergrain mixes.
Tips: Add chilli, garlic, red onion, radishes, beetroot, daikon, fennel.
---
Share this recipe
---
More recipes like this