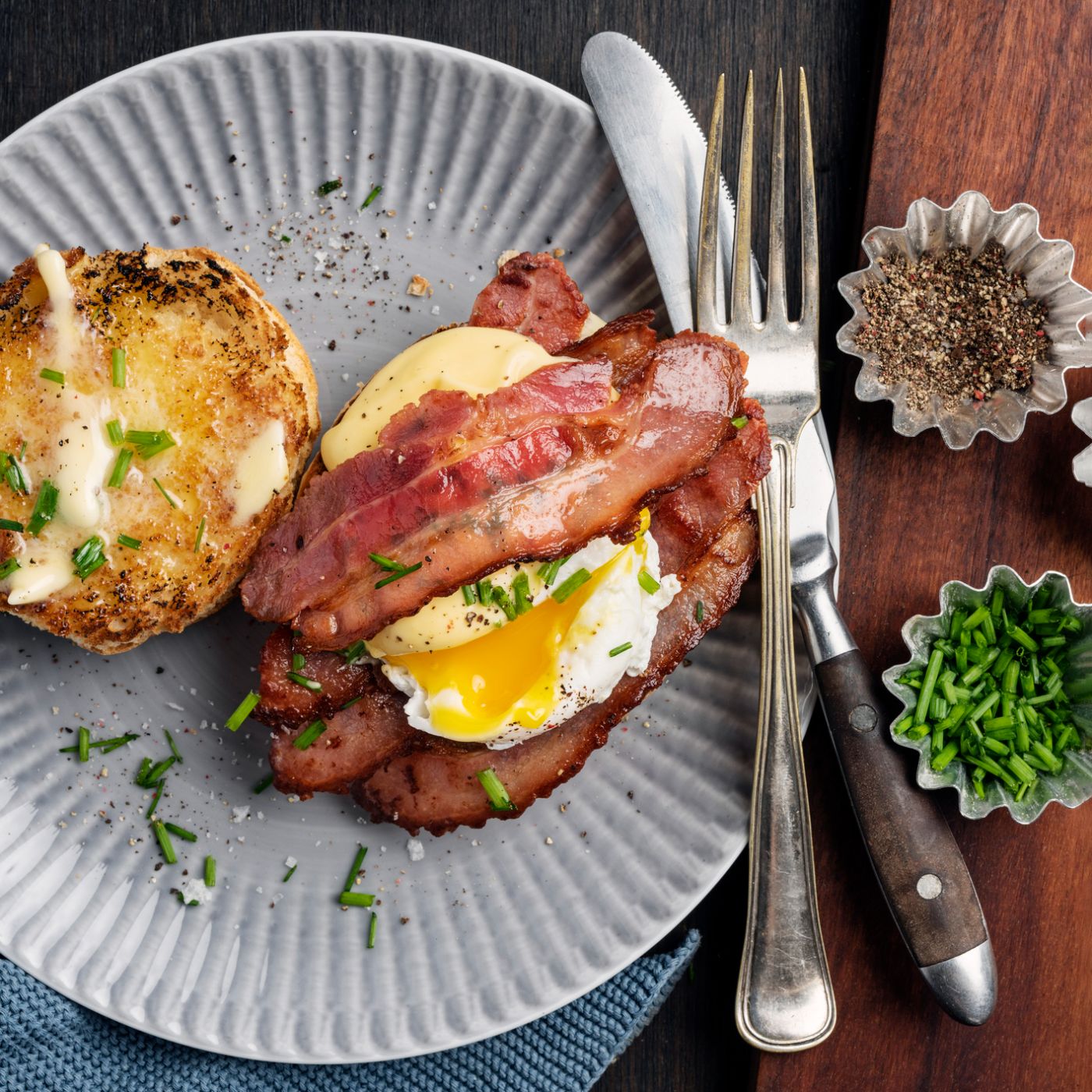 Eggs Benedict
Why go out for Sunday breakfast when you can make the best ever Eggs Benedict at home?
How long will it take?
40 minutes to cook
What's the serving size?
This will make approximately 4 serves (2 eggs each)
---
What do I need?
8 large eggs
4 large egg yolks
2 tablespoons dry white wine
Salt
120g unsalted butter, melted
1 1/2 tablespoons fresh lemon juice
1/4 teaspoon Tabasco sauce
8 rashers of bacon, halved crosswise
150g rocket
2 tablespoons white vinegar
8 English muffins or 8 slices of your favourite bread, toasted
How do I make it?
In a heatproof bowl set over a pot of barely simmering water, whisk the 4 egg yolks with the wine and a pinch of salt until doubled in volume and slightly thickened, about 2 minutes. Gradually add the melted butter, whisking constantly, until a thick, creamy sauce forms, about 5 minutes. Whisk in the lemon juice and Tabasco and season the hollandaise with salt. Keep the hollandaise sauce warm, whisking occasionally.
In a pan, cook the bacon over moderate heat, turning once, until crisp, 6 minutes. Transfer to a paper towel–lined plate. Pour off all but 1 tablespoon of the fat in the pan. Add the rocket, toss quickly in the hot oil and transfer to a plate; season with salt.
Bring a large, deep pot of water to a simmer over moderate heat and add the vinegar. One at a time, break the eggs into a small bowl and pour them into the simmering water, leaving plenty of space between them. Poach the eggs until the whites are set and the yolks are still runny, about 4 minutes. Using a slotted spoon, carefully transfer the eggs to a paper towel-lined plate.
Arrange the toasted bread on plates and top with the bacon, poached eggs, rocket and hollandaise sauce. Serve immediately.
---
Share this recipe
---
More recipes like this